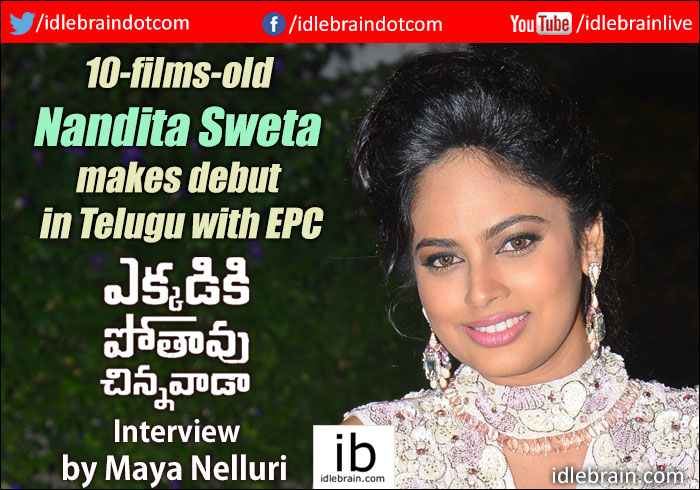 16 November 2016
Hyderabad
People like Nandita Swetha are few and far between. Although sweeping generalisations are often contested, most of us can agree that we tend to lose some of our zeal for life as we grow older. As children we found happiness in simpler things; but adulthood often mutates the search for happiness into an unending to-do list of goals. Lucky are those among us who manage to retain their inner child. Nandita Swetha though seems to be the chosen one. She has a child-like enthusiasm as she speaks about her upcoming Tollywood debut Ekkadiki Pothavu Chinnavada (EPC). Although she has acted in multiple Tamil and Kannada films in the past eight years, it feels like we are speaking to a new comer, solely due to the contagious passion she has for her work. She is confident, excited and eager for Telugu audiences to cast their eyes on her character in the film – Parvati. In this comprehensive interview she lets us into her mind.
Tell us about EPC's Parvati
As you must've seen in the trailers, mine is a very homely character. Her name is Parvati. She is a very intense Tamil girl who sports sarees and big bindis. Everything about her is striking; the way she speaks, looks at you, the audience will connect to everything about her. I even have two action scenes in the film which I enjoyed very much. It was totally new for me but coincidentally I also shot action scenes for my upcoming Selvaraghavan film Nenjam Marappathillai simultaneously. It is quite exciting for me because EPC being my Tollywood debut, I've gotten to showcase so many different aspects of performance. I have a feeling that when people watch the film they will be shocked by everything I've done in my first Telugu film itself.
Are you worried about the effect of demonetisation on the film's release?
I don't think it will affect EPC much. Most of the audiences in the B and C centres just draw money as needed and don't sit on tons of cash. Also, if the movie is good I think people will find a way to watch it and I am very confident about this project.
How was it to work on EPC?
On set everyone treated me like an experienced actress because I've done movies before, be it in a different language. Nikhil is also about 13-14 movies old so he and others would make fun of me and call me a senior actress. It was all in good humour and we had a lot of fun. We did a lot of night shifts so by 2-3AM everyone on set would start getting tired; but I and Nikhil had such a good rapport and energy that it made it much easier. I'm very happy that I got to act with him. Actually both Nikhil and the director were supportive of my perception of the character and gave me full freedom to perform as I saw fit. I think any actor who gets that kind of freedom without the pressure of limitations always does a great job. And it must really show because even before the movie's release, just with the trailers out, people have started to recognise my work. I'd like to thank everyone in my team and those who've been saying good things about my work in EPC.
Did you always want to be an actress?
Honestly, I never dreamt of becoming an actress. I'm from an orthodox family and no one in it thought that we could reach an audience through our talents. But I was completely opposite even from my childhood. Whether it was school or college I would have my hand up and enlist first in any event or competition that took place. I just wanted to be in everything. During one of those times a Kannada director approached me about acting. He then approached my parents but they were totally against it at the time. It was unheard of for us. I strongly believed that when an opportunity comes knocking you have to grab it so I convinced my parents. I gave them many reasons – it was a homely character, I wanted to prove myself, it was an entirely new experience and so on. So I ended up finishing my first film while I was in school itself. The experience was like a holiday because I enjoyed it so much and the movie went on to become a super hit. People started recognising me and appreciating my work. Still, I had promised my parents that I would finish studying regardless of the outcome of the film so I left films for four years. While I was doing my degree I convinced my parents again that I can manage both my education and a career. They said that if I get a good opportunity I can take it. That's how I started acting again.
Why did it take you so long to enter Tollywood?
Everyone would tell me that I got lucky because my debut movies did so well; but there is a lot of effort that goes into selecting the right projects. I go with my gut feeling and wait for the right script in any language. It took me almost four years of listening to scripts to zero in on the right Telugu script for myself to debut with. When it's your first film you want people to accept you and that makes me very nervous. Of course I haven't always been right because some of the movies I've rejected went on to become hits. Still, I am certain that waiting for EPC was the right decision for me and I have a lot of faith in this film.
Do you find any difference between Tollywood and Kollywood?
The biggest difference I found between Tamil and Telugu cinema is that in Telugu actresses are expected to be beautiful in any role. In Tamil I've done plenty of deglamourised roles where I wear whatever the character would wear in real life and appear very natural. But here the audience wants to see their girls as very pretty.
Which of your roles is your favourite?
I take so much time to select my films and roles so all my roles are special to me. If we go by audience appreciation, Kumudha, the character my third film was widely appreciated. In Tamil industry people still call me Kumudha because it became such a popular character. Right now though my current crush is Parvati from EPC (she laughs). It is such an intense and powerful character. I am certain that everyone will fall in love with her as soon as they see her on screen.
What do you do when you are not shooting?
Earlier I would watch a lot of movies in different languages to learn them. But right now I love to sleep! This whole year I've been shooting during the nights so it's become like working night shifts. Now I'm trying to adjust my timings to day time so I sleep any time I get. Apart from that I'm working on myself by working out three hours a day. It is intense but I want to be ready for the new phase of my career. In Tamil cinema your look is supposed to match the character so sometimes I'm required to be thin, sometimes chubbier; but in Telugu there is a certain physique which is expected so I want to be ready to start shooting for Telugu also. Also, I've mostly done homely roles till now but I'm looking forward to trying new looks.
What are your upcoming projects?
In Tamil I'll start shooting for two films soon. I still have four films to be released in the near future. One is the Selvaraghavan film that I mentioned. Another is paired opposite Vijay Sethupathi who is quite popular and it is with a big banner; so the expectations are quite high. I also have a film Ulkuthu where I am paired with my first movie's hero – Dinesh – so a lot of people are looking forward to that as well. As for Telugu I'm waiting for EPC's release before signing anything else.
Where do you see yourself in a couple of years?
If I could plan for a week, it would be amazing! In the cinema world it is difficult to predict so I never plan ahead. Right now I'm looking forward to my two immediate releases because they will determine my future. I also don't like to plan because everything that has happened to me has been like a fairytale. Everything has worked out so amazingly well and my debuts have been blockbusters in Tamil and Kannada. People keep telling me I'm their lucky charm. So if I have a plan that is to give my work my all and try to reach people's expectations. Apart from that, I believe that nothing is truly in our hands.
Quick Quiz
Favourite holiday destination: I hate travelling. For so long now I've been living out of my suitcase for 28 days out of every month. I've even had to do international trips where I had to return on the same day. It is super tiring and I just can't be bothered with sightseeing even when I travel now.
Favourite perfume: Victoria's Secret's mild perfumes. I can't handle strong perfumes.
Favourite singer: There are many but my all time favourite is Sonu Nigam. I love husky voices, probably because mine is also husky (she laughs).
Favourite song from EPC: Masthundi life – I'm in it but it was my favourite since I heard it the first time when I did not know who it was to be picturised on. I also like Chirunama.
Favourite brand/ label: Most of my outfits are from Forever New, Vero Moda, Forever 21. These are my go-to brands whenever I need something in a hurry. Ritu Kumar's designs are amazing and very elegant. I like her stuff and I've even walked as a showstopper for her.
- Maya Nelluri