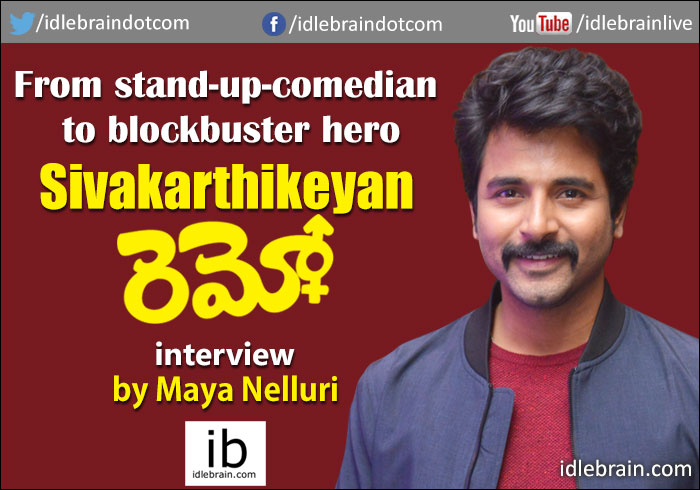 23 November 2016
Hyderabad
Sivakarthikeyan's story is an inspiration to us all. He decided to pursue his passion and started off as a stand-up comedian while pursuing his MBA. From there he moved on to hosting Tamil reality TV shows and award shows before entering Kollywood in 2012. He became Tamil cinema royalty in just a few years – courtesy of his talent, hard work and intelligence. In 2013 alone he had three back-to-back blockbusters on his hands. All that didn't go unnoticed with even superstar Rajinikanth congratulating the hero after his last two releases. Now entering Tollywood, the actor says he is nervous and excited about his Telugu debut - Remo.
Tell us why you decided to enter the entertainment industry.
"I was the first person from my family to get into the entertainment business so I was hesitant at first. I was trying out comedy simultaneously while studying." His work as stand-up comedian was appreciated, even winning him the title of the reality comedy show Kalakka Povathu Yaaru.
"During the last leg of my MBA I had to make a decision. Our college checked with all of us if we were going to go for a placement or if we wanted to venture out on our own. That's when I felt that I should stick to my passion. I was also confident that I would make something of myself because I was very good at my mother-tongue, Tamil, and I knew I had a lot to offer." He went on to host many popular Tamil reality TV series like Athu Ithu Ethu, a comedy game show with celebrity guests, and award shows.
Why did you feel that comedy was the way to go?
"At first I was shy but I realised that everyone around me really enjoyed themselves because of my humour. So I decided to give it a go on stage. I was just being myself and it worked. When I started working in television, I had to change my ammo because it is quite different to working with a live audience. Then when I moved on to cinema, I had to reinvent myself again."
Have you always wanted to be an actor?
"Initially I wasn't sure of what I was going to do but I was sure about one thing – I wanted to entertain people in any way possible. That's what I enjoyed doing. So I tried everything! And once I started on that path I got addicted to the claps. I love the claps! In saying that, I did want to be an actor but I never thought that I would become a hero. I never even dreamt of it. I just wanted to work with all the big stars."
2012 marked not only marked his debut into Kollywood but it was the same year he received much praise and support from his co-star of the movie 3 – Dhanush.
In your first year of Kollywood you worked with Dhanush; you've since spoken about him many times. What is your relationship with him now?
"I will always have a lot of respect for him and refer to him as 'sir'. My humour worked on television but I wanted to check if it does the same on the big screen. Then I thought the most important thing is to have a good team and work alongside a big hero because that is the only way my work would reach a large audience. So when I was offered 3 I took it up. That film gave me so much including my friendship with Dhanush sir and Anirudh. I will always have this respect for him because he gave me credit and recognition. Then people started believing in me as a lead hero who can carry a film on his shoulders."
Be it because of his humility, his ability to evaluate and predict, or the fact that the characters he plays are easily relatable to his audiences, Sivakarthikeyan has radically multiplied his popularity. The year 2013 really drove up Sivakarthikeyan's celebrity status as he had three box-office super hits on his hands – Kedi Billa Killadi Ranga, Ethir Neechal, and Varuthapadatha Valibar Sangam. He is now counted among the top actors of Tamil cinema.
Your rise to stardom was relatively steep in Kollywood – how have you dealt with that?
"I never felt like 'I'm very big now' or that 'I've made it now'! What I've received is much more than anything I ever dreamt of. It scares me a little when I think about it and it drives me to work harder and deliver better films every year."
Which is your favourite role – being a stand-up comedian, host or actor?
"I like everything. If I don't like it, how will anyone else like it! (He laughs) When I was on stage or TV I was mostly just being myself. But now being an actor, it challenges me a lot. It makes me think, focus and concentrate a lot more. I think it makes me a better person by not allowing me to get complacent. I have to keep learning and improving. That might be why I like being an actor about one percent more than the rest of the work I did!"
Now that you are entering Tollywood with Remo, how do you feel?
"This is the beginning of my Telugu film career so I am both nervous and excited. I have loads to learn and I'm waiting for the results. I don't know how it will do here but either way it will be a great learning experience. I am also looking at dubbing my next two to three films into Telugu. I tend to work with short term goals and this is my target as of now. Since I'm a new comer here everything depends on the content. I want to learn what the audience here likes and work accordingly."
How was the experience of playing a woman in Remo?
"I've always been surrounded with lovely women in my family, be it my mother, sisters, wife or daughter. So it was a great experience to play a woman. It was also a massive challenge because we didn't want the character to look awkward or bad on screen. "
Remo was previously released in Tamil this October. It was much appreciated and even received superstar Rajinikanth's seal of approval.
How did you feel about that particular call from Thalaiva himself?
"It felt amazing. To me it was like winning 10 Oscars. I've been a diehard fan of his. I used to put up banners of him for movie releases and watch all his films first day first show. He called me after watching two of my films, Rajini Murugan and Remo and wished me. I honestly could not sleep after that. I was flying! I was on cloud nine!"
And with that he went back to his busy schedule. Sivakarthikeyan is currently shooting for a Mohan Raja film where he stars alongside Nayanthara. Kolavari fame Anirudh will be providing the music.
- Maya Nelluri