Story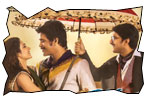 Deva (Nagarjuna) is a gangster who works in incognito mode (nobody knows him how he looks like). Das (Nani) is an MBBS gold medalist with high hopes on future. He is a timid guy with high morals. Shot by the police and with a bullet in his body, Deva enters into a remote clinic run by Das. Rest of the story is about the bonding between the righteous Das and gangster Deva.

Artists Performance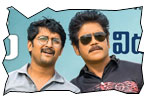 Actors: Nagarjuna is highly glamorous as don in this movie. You can see bare-chested Nagarjuna in the introduction scene of the film and he looks so manly that the actors of current generation will feel jealous about. There is a character arc for him where he transforms from a cold-blooded gangster to a man who understands the value of life and love. Nani steals the show with his performance. He has suited the role perfectly as a timid guy. Nani has a personal charm and an immense ability to generate humor with subtle body language and short dialogues. He provides good comic relief with his character. Rashmika Mandanna who debuted Telugu film industry with strong heroine characters in Chalo and Geetha Govindam does a character of little importance in this movie and she is good. Akanksha Singh plays the role of a newsreader in TV and she is okay. Vennela Kishore, Satya, Naresh, and Srinivas Avasarala make their presence felt. Kunal Kapoor is alright as villain. Naveen Chandra plays an unimportant role.

Technical departments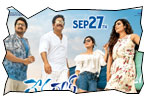 Story - screenplay - direction: Lot of people speculated the story of this film to have similarity with Hollywood film Analyse This. But, this film has nothing to do with the Hollywood film except for the fact that both of the films explore friendship between doc and don. Nagarjuna has done two similar characters earlier (Don and King). And mafia culture in Telugu films is a beaten thing by now. Hence, director Aditya tried to show don character in this film as a glamorous and mostly harmless (we don't get to see how this don operates). The character of doctors offers some variety. The entire plot is set in first half with a small twist at interval. Hence, entire second half had to run on predictable lines. The character arc of don is not organic and looks unconvincing. Flow of narration is not smooth. However, the director has succeeded in generating comedy using doctor character. Emotional scenes in the film doesn't look natural. Nani character trying set up a girl for an ultra-handsome man like Nagarjuna doesn't look convincing. Creativity of director is evident in a song where Nani is shown with normal costumes till he gets convinced. There is not much of conflict between two main leads. Though overpowering with his patronizing attitude, don character turns friendly with doctor character right after few scenes.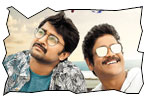 Other departments: Music by Mani Sharma is good. My favorite is Vaaru Veeru song. Most of the songs feature both heroes irrespective of situation, which also is a kind of experimentation. Cinematography by Shamdat is excellent. Visuals are glamourous in most of the film and realistic when needed. Dialogues are nice. Production design is good. Editing by Prawin Pudi is fine. Production values by the prestigious Vyjayanthi banner are grand.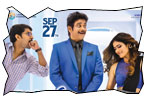 Analysis: The title Devadas is etched in the memory of people as the most intense lover. The makers of multi-starrer Devadas used the iconic title of Devadas as it's about bromance between Deva and Das. Plus points of the film are Nagarjuna, Nani and entertainment. On the flip side, we expect more freshness, organic narration and depth in content when a young director like Sriram Aditya is directing a multistarrer. On a whole, starcast and entertainment dominates this multi-starrer while we walkout with a feeling that the movie could have been better!