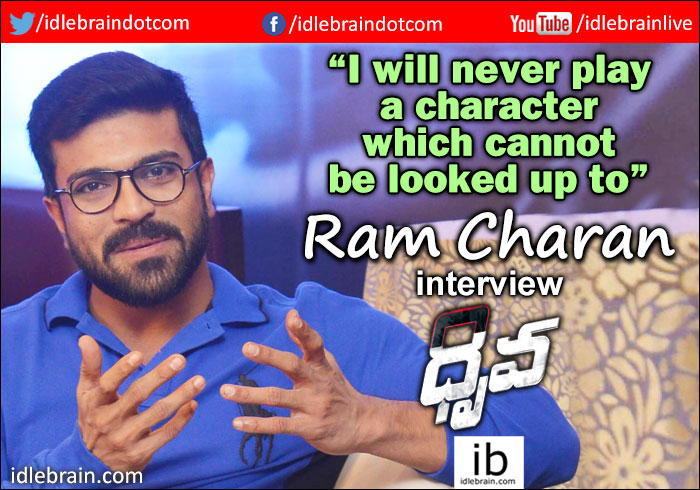 8 December 2016
Hyderabad
As actor Ram Charan gears up for the release of Dhruva on December 9th, he's been on a promotional spree, giving several interviews. Just before flying to the US where he'll be attending the film's premieres, the actor spoke to us about the film and more. Excerpts:
How is the anticipation before the release of Dhruva?
I'm going through mixed feelings; there is tension and at the same time I'm confident too. It's just like the release of any of my other films release but since it's a remake, the tension is a bit more pronounced. Since the story has already proved its mettle, the desire is that we should go a notch higher.
Why did you choose to do a remake?
Well, I don't have ego and don't mind remaking someone else's story. And because it would be new for our audiences, there is nothing wrong in showing it to them. When N.V. Prasad first brought the story to me, I really liked the subject and felt it was a new theme that our people would appreciate. This is just like any hero-centric film we are used to but with a twist in terms of narration.
The last time you tried a remake (Toofan) the result was disastrous...
But I'm really confident about this story and the way it has panned out...
Your transition is interesting. Are you trying for an image makeover?
We just can't be constant like the statue at Tank Bund and have to keep changing with time. The image of previous films and the roles cannot stick to us forever. We need to try out new arenas all the time and need to transition according to each role.
How was the experience of working with Aravind Swamy?
It was obviously great! I was initially tensed because he is such a senior actor. Plus, he has already done the same film earlier and was instrumental in its success. It was amazing sharing screen space with him. He transitioned into a new person on camera and the fact that we made a great bond offscreen made it difficult to perform on camera at times. In fact, he had performed with such conviction in the original that it was difficult for us to even think of someone else for the remake. And why not? He was an asset there and we wanted him in this film too.
Did this film feel like a complete different experience when compared to your previous films, especially since it is a take away from all of your films?
Definitely. Not just new, it felt like I was doing something right... Maybe because of the character and storyline which were very fresh. When I was approached, I found no reason to say no, especially since N.V. Prasad – who understands the masses very well – suggested that I do it. I got a confidence boost and said yes immediately.
Did you do any homework for your role considering you had to play a serious character?
(Laughs) No! I'm not a method actor! But yes the work put into my physical appearance was immense. I've worked as hard as ever but this time the change is more prominently visible.
Were any changes made to the original story?
The structure of the story is the same but we made a few changes here and there. The original subject was really pure and we knew from the start that we had to make alterations to suit our audiences. Surender Reddy has done just that, and might I say, he did it perfectly.
Were you tempted to don the role of Siddarth Abhimanyu, the antagonist?
No. I wasn't. I was really happy to play the protagonist because he is really inspiring. This was a character with very real emotions and he is someone you would want to look up to. Siddarth is definitely a tempting character but not the kind you'd want your kids to look up to and I don't want to play characters which cannot be inspirational.
Was Bruce Lee a lesson for you?
Not just Bruce Lee, every film has got something to teach. And I think with time, the way I choose a story has changed and I should say it is a good change because I am slowly moving out of the zone I was in.
Working with Surender Reddy...
After several deliberations of working together, I finally forced him to okay this remake and I'm glad he agreed because the result is wonderful.