Story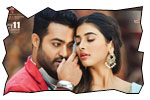 There are two neighboring villages which are headed by two factionists. They keep killing each other's families. Raghava decides to put a stop to it, once his father is killed. He lays low and leads anonymous life. Rest of the story is all about how he is dragged back into it and how he settles disputes peacefully!

Artists Performance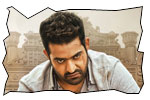 NTR: is excellent as Raghava who wants to bring peace to bloodthirsty dynasties. He has used Rayalaseema slang very effectively. He is excellent in action sequences. There is a Trivikram touch in the film where he touches his thigh using a sword (like thoda kottudu). NTR convinces us with his calm demeanor though the atmosphere is emotionally charged one.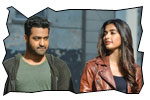 Others: Pooja Hedge is very good as the female lead. She dubbed her voice and it sounds good. Jagapathi Babu looks/sounds menacing. His performance is one of the factors that work for the film. His dubbing is good as he has to show variation of the injured throat. Eesha Rebba plays a small role and she is good. Nice to see Sunil in character role after a long gap and he is very good. Supriya Pathak is cast as grandmother of hero and she is an inspirational person in the film. Her presence is powerful. Rao Ramesh excels in a couple of scenes given to him. Brahmaji played a role that becomes crucial towards climax and he excels. Naga Babu is good as hero's father. Shatru gets an important role and performs well. Naveen Chandra is good as son of villain. His dialogue delivery has suited the character in this film. Eeswari Rao who played Rajni's wife in Kaala comes up with good performance (the climax scene is written on her). Naresh provides some entertainment as a miser lawyer.

Technical departments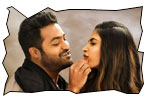 Story - screenplay - direction: We have seen many films on factionism and a few films of hero fighting for peace in faction-ridden areas. There is a familiarity about the backdrop. Almost all films have a powerful flashback mode for heroes. As the first step to be different, the director has narrated the film in linear mode (though the narration happens in flashback mode as a part of a casual conversation). Trivikram is known for entertainment scenes (though not entirely connected to the context of scene/story) and comedy-generating prasa dialogues. He has done away with that forced entertainment and concentrated solely on the story and scenes that drive the story forward. At the same time, the creativity, stylishness, attention to details, deep-dialogues, philosophical outlook etc are intact. He has perfect understanding about how to exhilarate masses with fights and emotions. He has used those fights and emotions to maximum extent whenever needed. As the title Aravinda Sametha suggests, he gave a lot of importance to women in the film. Though his dialogues are brutally massy, he never lost his class touch while writing them. There is a dialogue in the film which sounds extremely crude if you use the real curse word. But, Trivikram wrote it as 'magaadu magaadini chariste ela vuntundo telusa?' (in a scene where hero threatens baddie). The screenplay of the film is good. The emotion in pre-climax flight/conversation with Naveen Chandra is so high that the climax scene that follows doesn't give that much high as hero talks about peace and resists from fighting. There are two scenes in the film where NTR terrorises villains with soft spoken, yet powerful words (no fight. Just dialogues). Trivikram puts a lot of effort in the right direction for this film.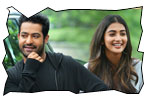 Other departments: Music by SS Thaman is very good. Penimiti song is superbly placed and picturised. Aravinda song is cool. There are couple of emotional/powerful songs which are not there in the songs released prior to the film. Background music scored by Thman is excellent and it helps emotions to elevate. Cinematography by PS is topnotch. The rustic texture is maintained through out in visuals related to Rayalaseema. All important dialogues by Trivikram have a lot of depth and some are entertaining. Production design is excellent. Action sequences are superbly choreographed. Naveen Nooli's editing is perfect. Production values by Haarika & Hassine Creations banner are grand.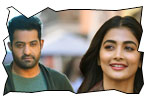 Analysis: Aravinda Sametha is a faction film with Trivikram touch. A mass film with class orientation. Plus points are NTR, Jagapathi Babu, Trivikram's direction, dialogues, cinematography and music. On the flipside, the climax of the film appears to be stretched a bit though it's realistic and goes along with the content of the movie. Since the film deals with the concept of factionism, the violence in the film appears little high. Trivikram sticks to the story and puts the content above his strength of generating comedy. And NTR obliges it with his mass charisma and the class demeanor. You may watch it!