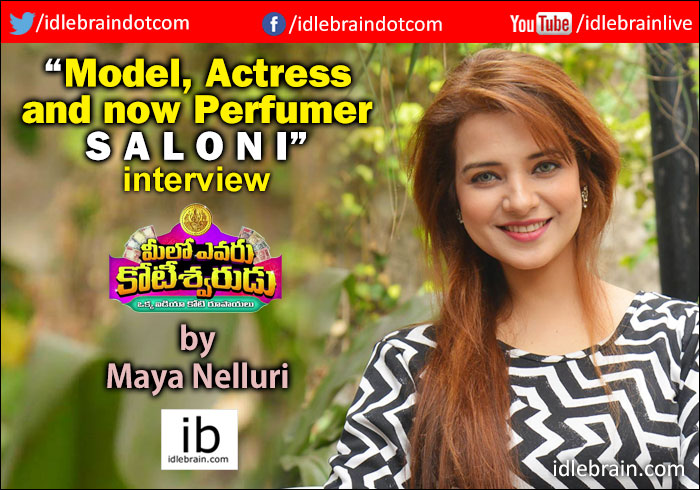 15 December 2016
Hyderabad
While this is our first interview with Saloni at Idlebrain, the warmth she exuded even in the first conversation was certainly refreshing and made us fall for her all over again. The busy-bee cheerfully updated us on her acting career and rare talents in-between shots. There was a message loud and clear throughout the interview, she was grateful for every opportunity she received and continues to count her blessings. Ahead of her upcoming release Meelo Evaru Koteeswarudu, she gets candid about her life to date.
Why did you decide to become an actress?
Acting was a childhood dream for me. It was the aim of my life and my passion. I feel very lucky to be among the few who get to realise their dreams.
You studied Psychology in college; did you also do any acting classes?
When I first told my family my dad didn't want me to act. He said just do an acting course and forget about it. I ended up doing a two month course but never thought about letting it go. I started modelling, then did theatre and suddenly got offered a role in the Hindi film Dil Pardesi Ho Gaya which was my debut.
How useful was your training once you started acting?
It was only after I started going to auditions that I realised training is only about 10% of the learning process. When you go into an audition, performing in front of the camera and multiple people, that's when actors start to shiver and forget their lines. A lot of the times they don't know what the director wants. When I started doing ad shoots I felt that I learnt a lot more because it was on-the-job training. You can compare acting classes to Chemistry where school gives you the theory but you really need hands on experience mixing the chemicals to really understand the process. Imagine the difference between acting in a training room and dancing in freezing temperatures with a saree on (she laughs)!
How was your experience with auditions?
I think auditions are very important. There are people who say, 'I don't want to do auditions,' but that's where you learn what to expect. Auditions help you master your craft and take direction. If we take another example, I think a lot of the 'real' actors come out of theatre. It is a very intense process because you only have one chance to give the take and if you do stumble you have to improvise and keep going. Once you do theatre you learn how to bring out the best in everything. If we compare it with cooking, it's like learning the recipe. Once you do theatre, even if you get given a few of the ingredients during the shoot, you can still make a delicious plate.
After debuting with a Hindi film, you moved to the south. How did that happen?
Once my film released, I started to get regional offers. I always heard that down south the scripts are very authentic. There is a lot of depth and variety in the stories and I felt that when you get that kind of exposure, you evolve as an actor, so I took it up.
You've mentioned that your father did not approve of you acting initially, how does your family deal with it now?
I wasn't from a film background. That's why I always say that I am very fortunate to have had the opportunities to work in my dream career with some of the best directors and actors. My father is a retired Assistant Commissioner of Narcotics and as you can expect he wanted me to get a government job. I told him I can't do a nine-to-five job. My mother was always very supportive of my choices. Once they started to see me on screen and people started recognising my work they were both very proud. Now they are both very supportive. I'm very grateful because I think the support from family can either make you or break you.
Do your parents travel with you while you shoot?
My dad recently started travelling with me but my mother has been ill for quite some time now. Her condition has gotten worse lately because of a brain clot and heart problems. But she's never let that stop me. I take videos of my shoots, when fans approach me, when I go to award shows and so on because that way she gets to be a part of it. She never gets to see it live.
Who would you say you are closest to – your mother or father?
I'm very emotionally attached to my mother but my father is also very important to me. It's like asking a mother to choose between her two kids, it's impossible (she laughs)!
You've worked in Telugu, Hindi, Tamil and Kannada; do you have a favourite?
Honestly language has nothing to do with it because script is what makes a movie good or bad. As a performer I can even perform in gibberish. I speak Hindi so it is easier for me to work in that language. When I do Telugu, Tamil or Kannada I make sure to understand and chew on each word so that when I act, I express correctly.
Which of your previous roles do you feel closest to?
Marayada Ramanna, the Rajamouli film. It is really quite difficult to get the chance to work under his direction so when I got the opportunity I couldn't believe it. When he called me I was thinking, 'is this true?' There was even a song in the movie titled 'raaye raaye Saloni', so it was a very unforgettable experience for me. Apart from that, the film Saawan where Salman Khan acted was also a very big project, and the film Telugu Ammayi where I played the title role is close to me because I became a total 'Telugu ammayi' after that.
Having worked in films with many big name actors, do you see a difference in working with the superstars and the upcoming artists?
The biggest difference is the ability to pull the crowds. If stardom is attached to an actor it is better to work with them because it ensures that the movie will have an audience. The work becomes much easier because you know what you are getting into. With a new-comer a lot depends on the producer's ability to market the film. However talented the actors are, it is important to put in the effort to get the audiences to the theatres. As for the working experience, I've been lucky to work in films with stars like Allu Arjun, Siddharth, Salman Khan, Upendra, Sudeep, Sunil and more. They are all very humble and cooperative so the work becames easy. Right now I'm working with Prudhvi (in Meelo Evaru Koteeswarudu) who is a well-known comedian. So the audience knows that he will make them laugh; it adds to the attraction.
Tell us about your role in Meelo Evaru Koteeswarudu.
I'm playing an out-and-out superficial comedy role. It has equal parts comedy and romance. My character's name is Samantha and Prudhvi's is called Mahesh Babu, so you can imagine! We both play college students and the love story between the both of us makes our track in the film. We don't really share any screen space with the other couple because they are two different tracks.
How do you feel about acting in films with multiple actresses?
In Bombay it is very common to have two actresses in a film so it is quite normal to me. I have no issues doing it, be it in Race Gurram, Chukkalo Chandrudu or others. It really depends on the character I'm playing.
What roles do you want to do in the future?
My dream role would be to do something like Seetha-Geetha or Chaalbaaz where the actress plays a double role. I'm a die-hard Sridevi fan so I'd love to do a dual role where I play the sweet and the tough roles. Apart from that I think I've played a lot of different types of roles like village girls, modern working women, tennis player and so on. In any case, I'll be entertaining audiences. I keep getting complaints from my fans that I'm not seen as much lately so I'm going to make more of an effort to take more projects and be seen more.
Talking about being seen, you are also not on social media?
Everyone keeps asking me to get onto it but I haven't yet. I'm going to do it soon though – maybe even this week!
So what keeps you busy when you are not working?
I'm quite normal when I'm not shooting. I hang out with friends, go to movies, dinners, chat with parents and also dream about a date with my perfect man on a hill-top!
Dreaming of a date with your perfect man! So you haven't found him yet?
I'm still waiting for him (she giggles)! I'm looking for a gentleman who is loyal, humble, taller than me, pleasant looking, healthy and jovial. He should be able to understand my 'PJs' because I can laugh at any joke a hundred times. He also needs to be calm because I have a really bad short-temper – I guess I'm looking for a hot and cold combination! Oh and we should also be able to kiss and make up whenever we fight!
So while you wait for him, is there anything that takes up your mind space?
I'm an avid perfumer. I've been making them for years for my friends and get a lot of compliments. My friends tell me that everyone asks them which brand it is when they wear it. I'm quite proud of them as you can tell because my perfumes linger much longer than what you get in the stores. I mix them myself and it keeps me happy.
How did you get into it?
I've always been a creative person and used to do many short courses whenever I had time. I tried everything from hair styling, rangoli to candle-making. That's how I got into perfume-making.
Can we expect a Saloni brand of perfume in the markets soon?
I'd love to do that, maybe someday. I'd want to make it affordable to everyone. I'm here because of my fans and they are the masses so I wouldn't ever want to disappoint them.
- Maya Nelluri