Story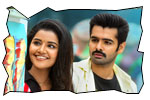 Sanju (Ram) is from kakinada and he gets a job in a Hyderabad IT company. He comes to Hyderabad and stays in the house of his mother's friend (Prakash Raj). Anu (Anupama Parameswaran) is his daughter. Sanju friendship with Anu turns into love as the time progresses. But she is betrothed to another guy by the time he realises that it's love. Rest of the story is all about how Sanju convinces Anu's father.

Artists Performance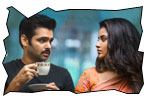 Ram plays the character of a lover and a family boy in his inimitable style. His comedy timing is very good and makes one-liners work. This role is a cakewalk for him as he has done similar characters in his recent films. Anupama Parameswaran is a good as female lead who hides her own feelings. Praneetha Subhash plays another heroine in the film and she is okay. Prakash Raj steals the show as a father who is forced to be a buddy to hero. His comedy timing, get-up, body language and dialogue delivery is very good. He provides entertainment with his reactions in second half. Praveen gets decent role. Satya is under-utilised. Noel Sean is seen in a couple of scenes.
Technical departments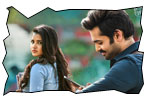 Story - screenplay - direction: The last three stories directed by Trinadha Rao has a common ingredient. That is the father of heroine (Rao Ramesh in Cinema Choopista Maava, Sachin Khedekar in Nenu Local and Prakash Raj in HGPK). All these films are more like a triangular stories among hero, heroine and her father. Story of the film is predictable and screenplay is familier. First half of the film is dealt in a decent way. The whole second half has a single point and revolves only around 3 characters. Hence, it becomes repetitive (Ram using/teasing Prakash Raj). The climax of the film is unconvincing. The confusion comedy created in the scene where Ram and Praneetha go on date is hilarious. Director Trinadha Rao is known for good comedy timing and it works. However, he should have done away with formula in the film though forced friendship between Ram and Prakash Raj offers variety in this routine plot.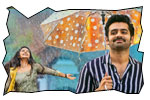 Other departments: Music scored by Devi Sri Prasad is very familiar. My World is Flying song is good. Cinematography by Vijay K Chakravarthy is very good. One-liners written by Prasanna Kumar are good. But lengthy philosophical dialogues are tedious. Production design is decent. Editing is okay. Production values are neat.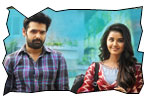 Analysis: First half of the film is decent. Second half has a variety point, but becomes repetitive because most of the scenes involve 3 characters and have the same pattern. Entertainment is handled well. Plus points of the film are Ram, comedy and first half. On the flipside, second half should have been handled in an interesting way. We need to wait and see how crowds embrace HGPK this Dasara season.