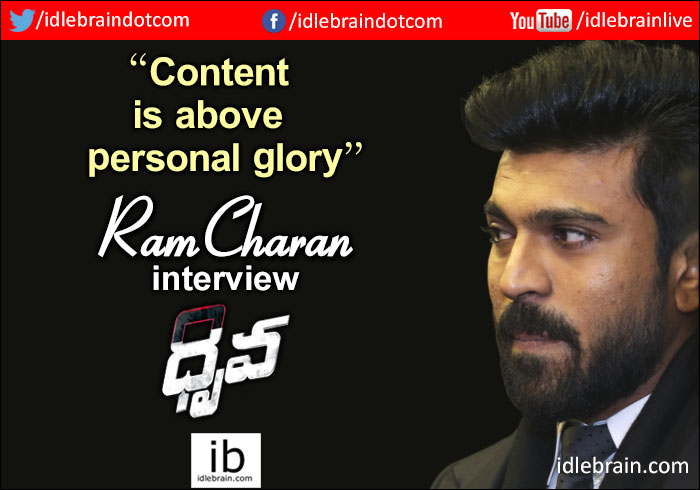 15 December 2016
Hyderabad
Ram Charan has done mostly mass and masala films when his well-intended and different film Orange tanked at box office. After the Bruce Lee's failure, Charan has taken the path less traveled and did content-oriented film Dhruva. After enjoying the success of the film with a series of special shows with USA audiences, Charan is back in Hyderabad. Idlebrain.com has caught with Ram Charan for an exclusive interview -
How did Dhruva happen?
I saw Thani Oruvan on fourth day of release and loved it as an audience. NV Prasad (producer and distributor from Ceded) asked me to act in Telugu remake. I felt happy that a man from such a mass territory like Ceded has envisioned me as a hero for such a class and different film like Thani Oruvan. I saw the film again and okayed it. I felt that the content is way stronger than any hero image. Then I approached Allu Arvind garu.
What are the additions/modifications done for the original script?
Ashta Digbandhanam: The concept of 8 is wonderfully thought out by the director Surender Reddy. It's not there in the original. The concept of Ashta Digbandhanam gave completeness to the film.
Subtle character modification: We made the hero's character not so rigid. The Tamil character was very rigid. The Tamil character doesn't know how to talk to women and he is stiff while interacting with heroine. It was the right way of doing as per the script. We have altered a bit and made hero's character a little flexible in Telugu. We felt that a cop should be flexible enough to deal with anybody (women or elders). The pen clicking mannerism is also new for Telugu version.
Duel between hero and villain?
Villain in the film is an young scientist, Padmasree awardee and an inspirational icon in the society. Hero has to match his intelligence. But, hero and villain don't want to kill each other. It is about changing the perspective and thought process. Such type of rivalry was seen in Hollywood films like Heat (Robert De Niro & Al Pacino) and The Dark Knight (Batman vs Joker). The approach between hero and villain in Dhruva is intelligently designed.
What's the reason for such a rapid physical transformation for Dhruva?
I just wanted to be fit for the role when I accepted the film. Then I thought to myself what I was contributing to the subject. During script modifications in my farm house in Bangalore, Suri came to me and said that since we don't have to contribute much to the script, we have to show some difference with looks. He has added Ashta Digbandhanam concept and altered the characterization. I had opportunity to do six pack during Magadheera and Toofan, but didn't do it as it was not absolutely essential. Suri convinced me to do a six pack for Dhruva and I am happy that everybody is talking about it. The opening scene of the film shows how intelligent the villain is. To counter that and to convince audiences about the gruesome training hero goes through, I had to do a 6 pack.
Tell us about songs in Dhruva?
There are only 2 songs in the original. We had 4 songs in Telugu version. We have made sure that they are short in duration. Music director duo is a good asset to the film and they did fantastic background music. We wanted to songs to be away from the popular taste and it worked well. We (me and Suri) wanted the fourth song (Neethone dance slot) to be a romantic number with montages on hero and heroine. But, Allu Arvind garu insisted that we should have a proper dance number. It was a good call by him.
What is Chiranjeevi response for Dhruva?
He never blatantly said mistakes in my past 7 films. He always appreciated good things in my earlier movies. We never dwell on failures. My dad always thinks that the next generation should achieve more than the present generation. My mom tells him to sit with me and watch DVDs of my films to analyse my work. He feels that I should evolve myself and he doesn't believe in spoon-feeding.
When I returned from USA today morning, dad told me that my performance in Dhruva is better than that of Magadheera. Then I realised that he never spoke like that for the past 7 films. I felt happy to see my father feel proud of my acting.
Villain character dominated hero character for most part of the film?
I just played it to the character. Never asked the director for any changes. Everybody played their parts well. I made sure that content is above our individual glory. There is neither a grand introduction and nor a punch dialogue for hero's first appearance in the movie. The audiences have liked the new way of presenting the hero and villain. I always believed that the villain should be stronger than the hero. If you look at the interval, it's villain who wins when hero is shot. Villain dominates the proceedings till the last 20 minutes of the film.
Did you predict the demonetization to affect the collections on the opening day?
Dhruva is the first major Telugu release after demonetization. We didn't have a choice as we had to release dad's 150th film for Sankranthi and we have to ensure a sufficient gap between these two films. We did expect Dhruva's openings to be 15% - 20% lesser than my previous films. And we had 15% to 20% lesser openings on Friday. The content and positive mouth talk ensured that it picked up from day 2 to result in packed houses. The word of mouth is so powerful that it worked against the blues of demonetization.
You took a bold decision to attend USA premieres for Dhruva. What if the film got rejected?
We were confident about the content of Dhruva. I usually am tensed about releases. I don't even venture out to watch premieres of my films in Hyderabad. I have decided that living in fear is not the solution. I want to jump into ocean first and then to learn swimming. In case of bad reports, we had to cover all centers as we promised them. I have experienced immense appreciation in the first premiere at New Jersey. Our tension was relieved after that show.
Tell us about your future projects?
My next film will be directed by Sukumar and will be produced on Mythi banner. It will go to floors after Sankranthi 2017. It has an interesting story set in the village backdrop. It will be completely opposite to Dhruva in terms of backdrop (from slick city to village). It will also be a completely different from what Sukumar has done in the past. I feel that the strength of Sukumar is his village connect. The plus point of that film is going to be my characterization.
There will be another film in the direction of Koratala Siva.
Tell us about script changes Kathi has undergone for Khaidi No. 150?
There were considerable changes made for Kathi script to suit dad without disturbing the content which Murugadoss has written. These changes have been done to fulfill the expectations movie lovers. These are minute, yet beautiful changes. I have never seen him this enthusiastic even when he worked for his last film 9 years back. He is looking very young. He has worked on himself a lot. He gets up at 5:30 and hits gym. The first take is taken at 8 am every single day. VV Vinayak kept on requesting me to delay dad's visit to set at 8 am. Me, bunny and other heroes have to buckle up now, work harder and be more disciplined. My dad has come with a whip now. He has given his 100%. I just saw a song in edit room. His dances are a feast.
I liked the teaser of Khaidi No. 150. But there are few comments that it looks old-fashioned showcasing vintage Chiranjeevi?
I think the trailer will answer all the doubts that are raised by some after watching teaser. The audio will be released either on 25th of 30th of this month. The movie will be released a couple of days prior to Sankranthi.