Story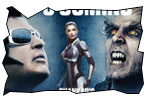 All cellphones in the city of chennai start vanishing into the sky. It gets the entire city people and administration worried. A giant bird (Akshay Kumar) with the formation of cellphones starts killing certain individuals. Dr. Vasikaran (Rajnikanth) is given permission to re-activate his invention Chitti (Rajnikanth) to fight the menace of a birdman. Rest of the story is about how Chitti with the help of his fellow female robot Vennela (Amy Jackson) eliminates the birdman (Pakshiraju).

Artists Performance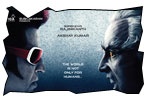 Actors: Rajnikanth has three roles to play in this film and there is variation to each and every role. The 3rd role which is more like a cameo shows a glimpse of his mannerisms and dialogues. He excels. Akshay Kumar looks deadly as birdman. It's physically very challenging to do such a role that needs a prosthetic makeup. He is exceptional. Amy Jackson's role is also a challenging one as she has to act like a robo. Her expressions and body language should look like human, but resemble us of a robo. She has balanced it very well. Most of the film revolves primarily among these three actors.
Technical departments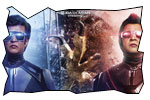 Story - screenplay - direction: Story of the film is about how radiation of cell phone towers is killing birds and in turn how they are causing ecological imbalance which in turn affects human beings. It's a very good storyline which socially relevant (like in all Shankar's films). But there is a primary different in storyline. The villain in this film is a good man who is fighting for a good cause (but in a destructive way). Hence you don't hate the villain. The chitti character is an amalgamation of a robo and super hero. Chitti stops falling caravan with one hand and slowly lands it (just like superman stops and lands an aeroplane full of passengers). Formation technique used in Robo film is exploited to full extent by both villain and hero in 2.0. Screenplay of the film is neat. Direction is very good. However, the entire first half is slow as direction took a lot of time to establish conflict and reveal the villain. The flashback that comes in second half has a heart. The x factor and Rajni's heroism is missing till a glimpse of it is provided by the surprise character in the climax. Shankar sticks to the basics and his strengths and he amplified the scope of this big ticket film. He creates awareness about imminent dangers of cellphone tower radiation.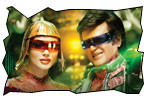 Other departments: Cinematography by Nirav Shah is very good. VFX supervised by Srinivas Mohan are excellent and blends in well on the screen with main content. 2.0 is the first Indian film to be shot fully in 3D and the effects are superb. There is no strain on your eyes and viewing experience is comfortable. Background music by AR Rahman is superb. Two songs in this film are situational. Yanthara Lokapu song is kept for rolling titles after the movie is over. 4D SRL technology developed by Shankar, Rasool and Lyca is excellent. Editing by Anthony is fine. Dialogues are decent. Production design by Muthuraj is of high standards. Action sequences choreographed by the director Shankar are very creative. Production values by Lyca are outstanding.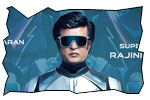 Analysis: The story of the film is different because villain is a good man, but creates mass destruction for a good cause. When hero fights against such a villain, it forms a strange premise. Plus points of the film Rajnikanth, Akshay Kumar, Shankar's grand vision, 3D effects and technical brilliance. On the flipside, the emotions are missing in the film (except for villain's flashback). On a whole, 2.0 is worth a watch and watch in in 3D format!