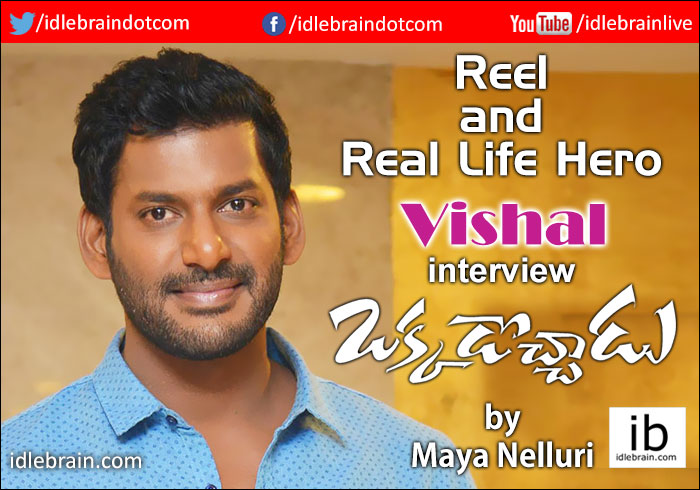 20 December 2016
Hyderabad
Tall, dark and handsome – Vishal is one man who embodies every aspect of this phrase to a T. He entered the film industry as an Assistant Director (AD) and burst on to the screen with Prema Chadarangam (Tamil: Chellamae) over a decade ago. His next – Pandem Kodi (Tamil: Sandakozhi), became a massive blockbuster turning him into a star. Eleven years on this fearless action hero is no different in real life as he fights for every cause he believes in. He is undoubtedly charming, intelligent, conscientious, passionate, and determined to bring about positive change in not just the film industry but the world as a whole. Just ahead of his upcoming release Okkadochadu (Tamil: Kaththi Sandai), we delve into the depths of Vishal's psyche in this exclusive Idlebrain interview.
You are from a popular film family. How did that influence your career?
It is always a blessing when you come from a good background because you can reach out. It was also helpful to know certain things before entering films. But at the same time, I wanted to become a Director on my own merit so I distanced myself from my father's name from the time I started as an AD.

To the uninitiated – Vishal's father was popular film producer G.K. Reddy. His brother Vikram Krishna is also a film producer.
Do you have any plans to direct in the near future?
I've done everything else and since that is the main reason I entered the film industry, I will do it. Not sure when it will be though because every time I plan to direct, it gets pushed another six months.
Being Telugu, is there any reason you decided to concentrate more on Tamil cinema?
I was born and brought up in Chennai. I went to school and college there so I was pretty much a Chennai guy. Before my debut I wanted to direct so I started as an AD in Tamil. Eventually acting happened and it was a blessing that my films were accepted in Telugu as well.
You were bestowed with the 'action hero' tag very early on in your career. How do you feel about it?
My films have equal parts good content and action. Action sells and everyone is aware of that so I'm grateful that I was accepted as an 'action hero'.
You've worked a lot on your body over the years, is it to fit the 'action hero' image?
It's always good to be fit if you are an actor, regardless of whether or not you are seen as an 'action hero'. It's useful to be fit and agile so I stick with a sport along with working out at the gym. Sport helps with endurance and that is equally important. Earlier I used to play cricket; now if I get a chance I like to play squash. In the last year though it's been very hectic so I cycle to and from my home to the shoot locations.
Do you also cycle in Chennai? Is it difficult doing so in public?
Yes, I actually cycle in Chennai a lot and also during my outdoor shoots. I wear a helmet and a mask so people rarely recognise me; but to be honest even when they do recognise me, these days everyone has their own lives to deal with so they don't really bother me much.
Is there a particular exercise regime you stick with to stay in shape?
I do Cross Fit training which has become quite popular of late. I love that. Apart from that, it's important to eat right. By that I don't mean dieting. If you continue to eat the right portions and at the right time you will see the results. It's not always just about lifting weights. Also, some directors want me to gain weight or lose weight depending on the character so a lot of the times my characters determine my look or shape. For example, in the film I'm working on right now, the director wants me to look athletic so I'm required to tone down and not be too muscular or too slim. It is actually quite interesting to see myself in such a varied range of sizes.
Speaking of your characters, what can you tell us about your role in your upcoming film Okkadochadu?
It's a Robin Hood kind of film. There's a lot of comedy and action but apart from that there is a small social message towards the end. It's not going to be preachy because it is something that every one of us would have experienced in our lives. It is actually the main reason I accepted the film, apart from liking the overall script.
There is actually a song in the film about skin tones (Ne Koncham Nalupule), so we can only assume that you are very candid about discussions on skin colour. Have you ever felt any negative effects due to your skin colour?
In the film industry there has never been any discrimination, in fact my colour is my advantage when it comes to reaching audiences. Also in this day and age I don't think we should be pondering over such things. I don't think it matters as much in films or in the society now. As for the song itself, it was just for fun (he says enthusiastically). There was no underlying agenda as such. If anyone stands next to Tamannaah they will look dark, because she is just too fair. And for the cinematographer it poses difficulty when adjusting the lighting because it has to match mine and her skin tone. So Adi came up with the quirky lines inspired by that; and we felt that they would be catchy because they are not regular.
Apart from being an actor, you are also a producer; which role do you like?
Acting any day (he laughs)! Production is for the bravest of the brave. You really need to be strong and grounded. There are many hardships and hurdles involved in bringing out a film.
You've been very vocal about piracy; is there anything else that you would like to change in the film industry?
At one point I felt proud that my opinions about piracy were being heard and that I was paving the way for discussion about it. But now it saddens me that only my name springs up when it comes to piracy. This is a problem that affects everyone in the film industry. There are so many people who invest their time, effort and/or money into each film; and they are all affected negatively by piracy. We have to start at the roots and weed out the culprits. We know who they are but we don't do anything about it. I'm still waiting for the day we all band together and speak out as one against this issue and do something about it.
You've never been afraid to say it as it is and as inspirational as it is, it has caused you some trouble such as the suspension from the producer's council. Do you ever look back and wish you didn't say or do something?
If I feel that something is wrong I have to voice it. I prefer to be spontaneous and I don't fear or think about the aftermath. I'd rather speak out and stand up for what I believe is right.
There has been a lot of commotion about the above mentioned suspension; what is your next step in that regard?
It's being fought in court. As for the elections, they've been announced for February 2017 and my team will participate in them.
On a different note, you also do philanthropic work – what prompted you to do that?
It makes me feel good and happy more than anything else. And I feel that it is my duty to give back to the society for everything they've given me. What I've done is no big deal (he says nonchalantly).

For those of you who haven't already heard, apart from the many philanthropic activities Vishal participates in, he started an educational trust named after his mother (Devi) over a year ago to help educate girls.
Why did you choose to concentrate on girl child education through your trust?
In my opinion it is the most important thing for the betterment of society. My trust reaches out to as many deserving girl students as possible to help them with their education.
Apart from the endeavours mentioned above, you also took on the role of General Secretary for Nadigar Sangam (South Indian Artists Association). How do you manage so many commitments?
I and Karthi have become masters of multi-tasking (he laughs). We sleep about six hours a day and switch responsibilities between the both of us depending on our shoot schedules. That's the reason I try to cycle to my shoots. It's pretty much the only time I get between shooting and attending both offices.
Although it looks like you have no time to spare, you are one of the most eligible bachelors in the industry. Can you tell us what you would look for in a girl (if you find time)?
She has to be completely down to earth and value everything about life.
So, is there any chance for a regular girl to come into your life?
I don't know if they'll match up to my psychotic nature (he laughs)! It's quite difficult. Someone new will find it to be too much of a shock because when everything you see on screen fades away after two, three days, all you're left with is chaos.
There has been a lot of speculation about you marrying Varalakshmi Sharathkumar, can we expect wedding bells anytime soon?
As of now, I'm not yet ready for marriage.
Getting back to films, you've done some off-beat films, is that something you will do in the future too?
Those films come from a place of trying to prove yourself as an actor rather than a hero. Once in a while it is great to do those roles. They bring out something new in you and it is also a surprise for the audience. Actually my next film going to be one such film.
Can you tell us a bit more about that project and also what else we can expect to see you in?
After Okkadochadu, my next release will be in April. It is directed by Mysskin and will be a detective film with a Sherlock Holmes vibe. Apart from that I'm doing another film with debut director Mithran alongside Samantha. And my 25th film will be a sequel of Pandem Kodi.

And with that our interview nearly came to an end and Vishal almost reached the airport to fly back to Chennai. At this point we decided to probe a little bit more to get you a story you haven't heard from him before. In keeping with the airport theme, he let us in on one of his crazy experiences.

"I finished shooting and made it to the flight just in time so I was quite exhausted. I dozed off and woke up to something jabbing my shoulder. I opened my eyes to find a guy cosying up to me and trying to take a selfie while I was sleeping! When I turned to him, he said, 'go back to sleep, I'm just taking a photo'."
- Maya Nelluri