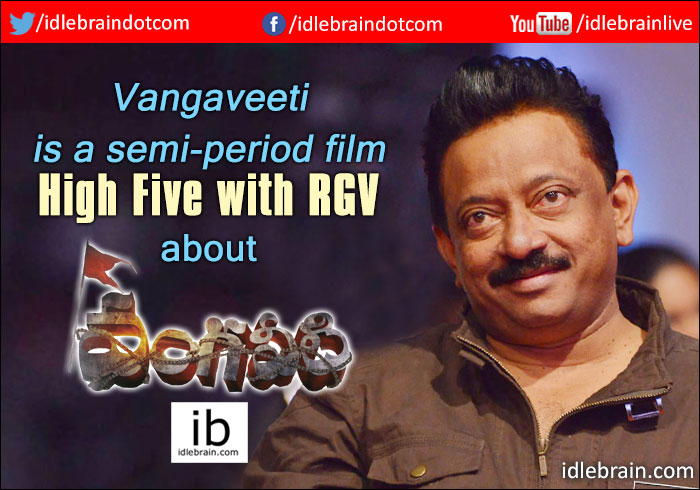 22 December 2016
Hyderabad
1. Where were you when Ranga was murdered?
I wasn't present when Vangaveeti Ranga was killed but I saw him a few times as a by stander on the road while his convoy was passing ...But I was just some 1500 yards away when Devineni Gandhi was killed
2. Can Vangaveeti film be considered as a honest take on reality? Or your interpretation of truth? Or a film made to make money by igniting dormant feelings among two castes involved?
It's honest to the extent of what I sincerely believe to be the truth about what happened ..yes there's a condensation of the story because it's impossible to tell a 26 year spanned story in just 2 hours..There's absolutely nothing in the film to instigate any groups or individuals
3. Your style of making films (in terms of narrative style, sound and camera movements) is rapidly changing and most of the time it is moving away from glossiness people expect on a big screen? How different is it in Vangaveeti film. Can you share any reference to any of your past movies?
I think Vangaveeti's visual style is vastly different from anything I ever did and that's mainly because I never did a semi period film and also style comes from the kind of characters one deals with ..The difference between this and Rakta charitra is that RC is still a commercially formatted film whereas Vangaveeti deals with very humane and vulnerable characters
4. You used to be less media centric at the beginning of your career? And now you are basking on past glory by having functions of your films (like Sathya 2 and latest function). What's the reason. Is it for publicising the film or you like being eulogised by celebrities?
I answered this question a million times and now I am tired.
5. Why do you target Chiranjeevi and Pawan Kalyan on twitter whenever you get an opportunity? Why are you not criticising other actors with the same vigour?
It's not true that I target any particular individual/s I write tweets on anything which interests me ranging from. Supreme Court to Modi to Donald trump to Gods and what not.