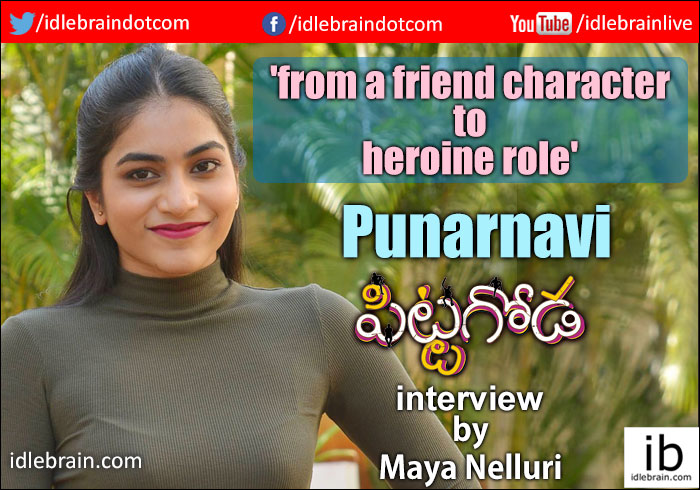 23 December 2016
Hyderabad
Punarnavi was first noticed in her debut film Uyyala Jampala where she played the heroine's friend. Now she's moved up to lead actress with Pittagoda releasing tomorrow. We spoke to her about her voyage into films and plans for the future.

How did your parents react to your decision to pursue acting?
My mom and dad were very supportive. My dad was scared because I was very young when I first started. He wanted me to do theatre and choose something safe as any dad would. My mom just said, 'don't stop studying and do what you like parallelly'. I think they'll always be very supportive whatever I do.
In terms of education, what are you concentrating on right now?
I was in a Vijayawada boarding school for four years until my tenth. Then I came back to Hyderabad and did my 11th in St. Mary's. Right now I'm in my final year studying Psychology and Journalism in Villa Marie.
Why Psychology and Journalism?
I was always the one my friends turned to for solving their problems. It came naturally to me and Psychology is something I have a lot of passion for. It's the same with Journalism and Acting. It is odd to think that one person is equally passionate about three things but that's me. I've always been a multi-tasker since I was a child and it is something I can see myself doing in the future too.
Can you tell us a bit about your acting journey?
I'm a creative person so it was a natural progression. My guru and maternal uncle Madhu Guti was the person I confided in when I first started thinking about acting. He himself is an artist; one of his most popular roles was in Aa Naluguru. When I told him that I was interested in acting, he suggested theatre. I joined the Samahara theatre group which is run by Ratna Shekhar Reddy sir. He saw the potential in me and gave me six months of free classes.
How did Uyyala Jampala happen?
Uyyala Jampala's Director Virinchi sir is a good friend of my guru Madhu so he recommended me to him.
Your character Sunita had a lot of positive response. Did you expect that?
I dint expect to get into films in the first place. It all just happened. And I dint think that the character of Sunita will be so popular but it is a great feeling to think that even after these years, people remember me for it.
Why haven't we seen you for so long since your last film?
I did the Uyyala Jampala when I was just 18. At that time I had to balance a lot of things like school and then college. Most of the offers I received weren't as challenging so I was waiting for the right role; but I did do two other films in between. One was Malli Malli Idi Rani Roju where I did a supporting role. I really liked the story of this film. The dialogue writer of that film was Sai Madhav. I was actually born in his house so we have a close bond. The second was Ee Cinema Super Hit Guarantee which was directed by Chandu. And we've been working on the script and workshops for Pittagoda for over a year because there are 30 people debuting with this film. It all added up to people not seeing me as much as expected on screen.
How was the experience of going from playing a supporting actor to a lead actress?
When I played Sunita I was just being myself so it wasn't difficult. In my current film Pittagoda I play Divya who is someone very smart, minds her own business, and is a 98% topper. She has her own demons to fight and these will be revealed in the film. It is quite different from my natural personality to be timid. Also, during the other films I never felt the burden of the production team relying on me. It is a big responsibility that I felt for the first time. Since I am the only known face in the film it is even more of a responsibility. I had to learn a lot and be disciplined. I grew up so much during the shoot and promotions.
How did you get the opportunity to do Pittagoda?
Sunshine Productions who released Ashta Chamma, Golcoda High-school, and Uyyala Jampala are also bringing out Pittagoda. Anudeep worked in the direction department for Uyyala Jampala. Soon after the film finished he asked me to work with him but I was busy with college. At that point no one like Suresh Babu garu or Ram Mohan sir were associated with the film. Then after some time Ram Mohan sir called me and asked me to come down to the office because they were taking up Anudeep's film. It was a great moment for me because that is the office where I celebrated two of my birthdays during the shoot of Uyyala Jampala.
Can you tell us about the impact Suresh Babu had on your career?
He was someone who witnessed me evolving from Uyyala Jampala times. He told me back then that I have a long future in acting. At the time though I dint think that he would be a big part of it. He has been very supportive of me. During Drishyam he approached me to play the elder daughter's role. I couldn't do it because of many reasons including my exams. He even suggested me to Ram Mohan sir when Pittagoda came up so he was kind enough to give me this opportunity.
Tell us about the story of Pittagoda.
The film is set in the Telangana based town Godavarikhani which is notoriously famous for its extreme temperatures. When it's hot it's super hot and same with the cold. The town houses many coal mining families in its colonies. In the film we see a group of kids from one such colony – what do they do, and how they attempt to become something.
What can we expect from the film?
I want everyone to see it because they will love it. It is an entertainer and everyone will have a smile on their face the whole time, especially when they see the love story unfolding. People will connect to this film because many of us have sat on those walls ourselves. It's a very nostalgic film. You'll have fun watching it – I can assure you that.
What is your plan for the immediate future?
I'm waiting for the release before signing anything new. I don't know what the future holds. Apart from that I'll be graduating in three months so I'm going to take a break after that. I'll be visiting my sister and cousins in Michigan.
Will you be open to doing supporting roles?
Supportive roles are what I grew from so if the characters have depth and meaning I'm open to doing them.
Who would you say are your role models in the film industry?
Every actor works hard so we have to appreciate them all. It is not something everyone can do. As for individuals, I've always looked up to Sridevi. Also Telugu girl Swati who started her career with a show and became a hit actress. I also like Nani, Tamannaah, and many others.
Who are you hoping to work with in the future?
Mani Ratnam garu is my favourite so I've always wanted to associate myself with him. And Rajamouli garu; I was a fan since Chatrapati came out.
- Maya Nelluri