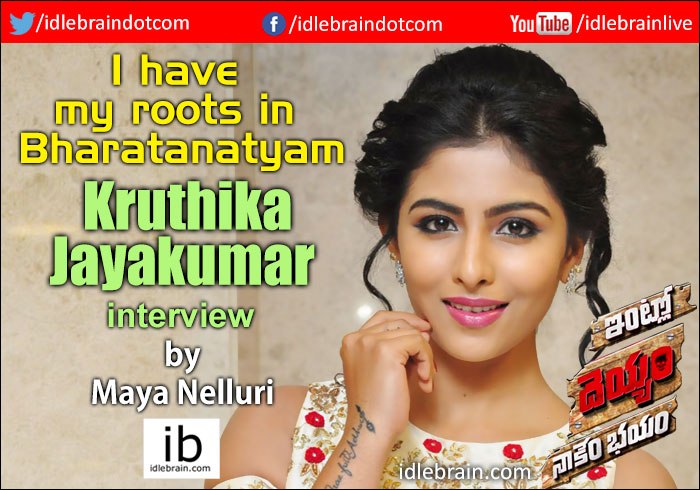 27 December 2016
Hyderabad
Kruthika Jayakumar is the youngest starlet to be making waves in Tollywood right now. Having debuted as Victory Venkatesh's daughter in Drushyam, she quickly became a household name. People identified with her, saw their daughters in her and accepted her. No wonder then that she made a place for herself in Telugu cinema. Currently awaiting the release of Intlo Deyyam Nakem Bhayyam where she stars opposite Allari Naresh, Kruthika speaks exclusively with Idlebrain. The conversation reveals something very intriguing – she is definitely one to watch out for! Of course she has the perfect Telugu actress looks, but there's also her intelligence and understanding of what is required to make it big. We sense a throwback reference to this interview being made in the not so distant future!
How did you get into acting?
It was a total accident. I've been learning Bharatanatyam since I was seven years so it's been 12 years to date. I've performed all over India. On one particular occasion when I was performing in Kerala a director saw me and told my parents that I am very photogenic and that I have a lot of scope in cinema. At that time cine field was a huge taboo in my family so I had never thought about it. Still, he convinced us to send my photos and when I went to the audition Suresh Babu sir was adamant that I was perfect for that role. That's how Drushyam happened.
How was it debuting with Drushyam?
Although I didn't know it at the time, it ended up having a huge impact on my life and career. When I did the film I thought I would be lucky if someone knew my name after its release. Only after the fact I started seeing the reality. My performance was noticed and many people still see me as the 'Drushyam girl' because of the influence that movie and that character had on them. Whether it is Andhra or Telangana, the biggest reason people recognise me in Tollywood is because of Drushyam. Still, I feel like I've evolved since and would really be happy if people see me as more than just the little girl from Drushyam. I hope that IDNB will break that image.
Did you always want to be an actress?
When I used to dance my friends would tell me 'why are you studying so hard? Dancers tend to become actors anyway!' At that point I just laughed it off because I never thought it would happen to me. I was a total tomboy, into books, planes; I was least bothered about beauty, glamour or acting. I just never imagined myself becoming an actress. But everything changed once I did Drushyam. It was as if my being was transformed and I had no other interest but cinema left in me. Now I watch one or two films everyday because I'm trying to catch up and go through all the amazing movies out there.
How did your parents react to your decision to be an actress?
My parents have always supported me with all my endeavours. They said follow your heart but make sure that you finish your studies. I also believe that I need basic education so I'm trying to finish my degree. I'm doing Journalism because I love to write. I figured that if I study something I enjoy it would be easier to complete and also balance with my cinema career.
You've had two other releases in Telugu between Drushyam and IDNB – how was the response to them?
After Drushyam I debuted as a lead in Vinavayya Ramayya but that didn't do well. It went unnoticed. It was a massive blow to me because I put in a lot of effort. Still, I learnt what to do and what not to do and realised that it is part and parcel of working in films. I now feel that since I faced the ups and downs so early on in my career, it gives me a better understanding and ability to deal with them in the future. After that came Rojulu Marayi which was presented by Dil Raju sir. Since Vinavayya Ramayya failed I was afraid to take on another project; but since it came with Dil Raju sir's credentials I felt that it was the right thing to take on. The film itself did very well for a small film. My work was recognised and I received many messages to say that people appreciated my work.
How was your Kannada debut?
My Kannada debut was with Boxer in which I played a blind girl. This was a film I accepted entirely because of the depth of the character. Both the script and the character touched me and I felt I had to do it. At that point I did not know anyone in the Kannada film industry. The film did ok at the box office but not as well as I expected. Still, I have no regrets because I got a lot of satisfaction working on that project.
Tell us about your role in IDNB.
This film is a very big opportunity for me. I got to work with a very well established actor like Allari Naresh, it is for a big production house and with a great director. Essentially it is a make or break film for me and I've tried something quite unique in the film. I play the role of a yoga teacher named Indumathi. She is very pious and is a believer in 'karma' and 'punyam'. Essentially her big struggle in life is to acquire good karma so there is a lot of comedy generated around this topic. There is a very cute love story between my character and Allari Naresh's. In the second half of the film you will see a total transformation – you will see a very different side. I hope that the variations between these two aspects of my character are received well and that my performance will be recognised.
How was the experience of working with Allari Naresh?
He is a Pandora's box of ideas. Whatever topic it is, especially if it is related to films, he has an abundance of ideas. He is so passionate, hardworking and such a brilliant performer. He is also so spontaneous – I'm actually a bit envious of him in that regard. Overall I learnt a lot from him. As for working with him, he is a very sweet co-star and always made sure that I was comfortable working.
What genres do you want to work in next?
I don't have any such barriers. I'm open to everything as long as it gives me the scope to act and portray. I have to say that I quite like historical and period films and think that I would suit such roles. It would be great if I got something like that but I am also looking forward to everything else.
What are your interests outside cinema?
Right now cinema takes up all the space in my mind. Apart from that I've always loved dancing and fitness is something I am very passionate about. I'm a fitness freak rather than just being obsessed with size. I work out like crazy and do a lot of strengthening and weight training exercises. When I'm shooting it's tougher to keep up with working out every day but I still do it either before or after shoot. If I'm home I work out twice a day.
Tell us about your personal life.
I don't have a personal life. I'm not trying to be diplomatic or anything like that. The truth is that with the work schedules and my shuttling between Bangalore and Hyderabad it is essentially impossible to fit another person into my life. Also when I am home I still attend college. It is tough to find a person who can understand this lifestyle. My friends keep telling me to chill but I have a problem – I can't be idle. I am forever doing something or the other. Most people my age won't understand all this I think.
If you do ever find time – what kind of man would you want in your life?
He has to be well read and a good conversationalist. I should be able to discuss a lot of things with him. Apart from that it would be great if he had a sense of humour and was understanding. I come as a package deal so whoever it is he has to be able to deal with it all. In terms of looks I never really bother about it – I've always believed that looks fade. But, it wouldn't hurt if he was tall – I like tall people!
Quick Quiz
Favourite Actor: There is something to like about every actor and I admire a lot of people. If I have to pick someone in Telugu it would be Nani. I love the way he picks his films – they have so much variation and there is a certain charm to everything he does.
Favourite Actress: I love Nitya Menon's work – she speaks with her eyes
Favourite Director: I love Mani Ratnam sir and Gautham Menon sir's films. Although romance isn't my favourite genre, I feel that every film they do, they get the emotions just right and portray everything so beautifully.
- Maya Nelluri