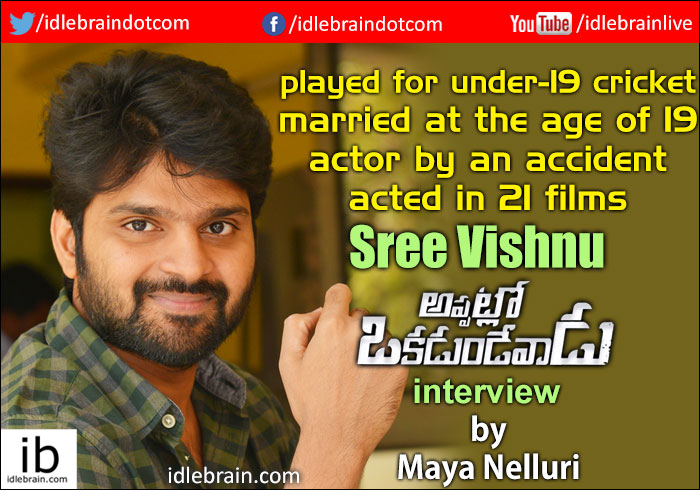 28 December 2016
Hyderabad
Actor Sree Vishnu is turns hero with Appatlo Okadundevadu which is all set to release this Friday. Sree Vishnu was seen on screen in various supporting roles before gaining recognition as Royal Raju in Prema Ishq Kadhal three years ago. He has since spent every waking moment working on his debut as a leading man and is gearing up to take on Tollywood by storm with not just one but three films in his kitty. Read on to find out more.
What was your ambition in life when you were young?
Nothing! To be frank, I never thought of anything particular. I never thought I'd be in films or act or anything like that. And I wasn't very good at studies so my family also did not have very high expectations in that regard.
Well that was an extremely honest answer!
(He laughs)
So, did you end up going to college?
Yes, I did my BBM in Geetham University, Vishakhapatnam.
Did you have any other interests at that point?
I used to play cricket for Andhra Pradesh in the under 19 team.
Why did you decide to move away from cricket?
Many others who were younger than me at that time had already started their professional careers so I felt that after a certain age it is best to concentrate on other avenues. I still love cricket and play every weekend.
What led you into films?
Immediately after college I came into the film industry. This is actually my 11th year in films. Initially I realised that I was very good at writing and wanted to become a director. In Tollywood the process to become a director is to assist other directors. I did not take that route. I did however travel with many who worked in various aspects of filmmaking and observed all the processes. I learned on set to be precise. I also used to write theatre plays. In one such play, there was a problem with an artist and I had to fill in for him. I received a lot of appreciation for that role and ended up performing it several times over for MNCs and so on. After seeing that play one of my friends asked me to act in a short film. That also did really well and it went on from there.
Which of your previous works do you think earned you the most recognition?
I did about 21 films in the last six years where I played various supporting roles. I made sure that each role was different in order to learn from them. I wanted to master emotions and those experiences helped me to do that. If we are talking about recognition, my character of Royal Raju in Prema Ishq Kadhal (2013) got a lot of appreciation. It was only after that film that I got 100% confidence in myself.
Is there any particular hero that you were inspired by?
Before coming into films I used to love Venkatesh. After coming here every actor is an inspiration for me. I didn't take any special training in acting. I learn so much from everyone I see. I correct myself from observation.
How did your family take your decision to enter acting?
My family supported me a lot but I've always been a very shy guy so they were worried about how I would adjust. I also did not have any previous connection to the film industry. Nevertheless they encouraged me and would tell me that I shouldn't continue to be so shy. But after watching a few of my films they were proud and even said that I'm a natural actor. They believe in me.
Is it correct that you were married before entering the film industry?
I got married when I was just 19. It was a love marriage. And within one month of the wedding I entered the film industry.
It all sounds very romantic and filmy. Tell us about it.
(He laughs) Yes, it actually kind of inspired me to get into films. And I want to make a film on my love story so maybe I'll hold on to that information so you can see it on screen! I will definitely make it within the next one, two years.
Any idea of when you will get into directing?
I'd love to direct but I'm not sure when that will be. I'm waiting for the right time.
Tell us about Appatlo Okadundevadu.
Appatlo Okadundevadu is a periodical film set in the nineties. The instances in the film are based on real life events but my character is fictional. It is a sort of biopic of the character I play – Railway Raju – who is an aspiring cricketer. He is initially in the Ranji team and about one or two years away from playing for India. At that time certain issues turn him into a criminal. I have been an aspiring cricketer myself, much like many others who dream of one day playing for India. So I immediately connected to that character. I also felt that it is someone that the audience would relate to.
And what about his other side – the criminal.
The film follows his life from 1990 to 1996 within which time he transforms from cricketer to criminal. I struggled initially to play this aspect because it is very unlike the real me. It was a challenge but I think I'm up to the mark when I look back on the work. One of the main reasons I took on this role is to showcase multiple variations in my debut as a lead and I think both the cricketer and criminal sides allowed me to do that.
Nara Rohith is the other lead in the film. What is his character in this film?
He plays Imtiaz Ali who is much like Dhuryodhana from Mahabharat. He breaks and makes his own rules. But at the same time he is a very straight forward cop, an encounter specialist. I personally think that this is Rohith's career's best role because it is just such a strong character.
Which one of you would you say is the hero or villain of the film?
I would say that my character is the villain for his and his character is the villain for mine. And the story is the hero.
So are you playing a negative role?
No. It is only a villain for Rohit's character. To the audience he is someone relatable and human.
Why did you wait so long before taking on a leading role?
I wanted to launch myself as a hero with a very unique role. I did receive other offers but I waited for the right one and I felt that this was it. In this one film I've shown several different shades so I think that it will be impressive for the audience, well, I'm hoping that it will be! I've put in maximum effort. For the past three years we've been planning this film.
By 'we' who are you referring to?
The production team – the banner – the core team. In fact, in the last three years we worked on three scripts. I and the production team remain constant but the rest are all different. The shoot for the other two films has also been completed. One is titled Maa Abbai and the second is Needi Naadi Oke Kadha. They are slated to release at the end of January, 2017 and March, 2017.
Why was it decided that Appatlo Okkadundevadu would be released first?
Of the three films, both the market and the budget is the biggest for this film so we wanted to get this into market first.
What kind of films would you like to do in the future?
Any film that I can be convincing in, I will do. I don't aspire to do super hero films, I'm very rooted.
- Maya Nelluri