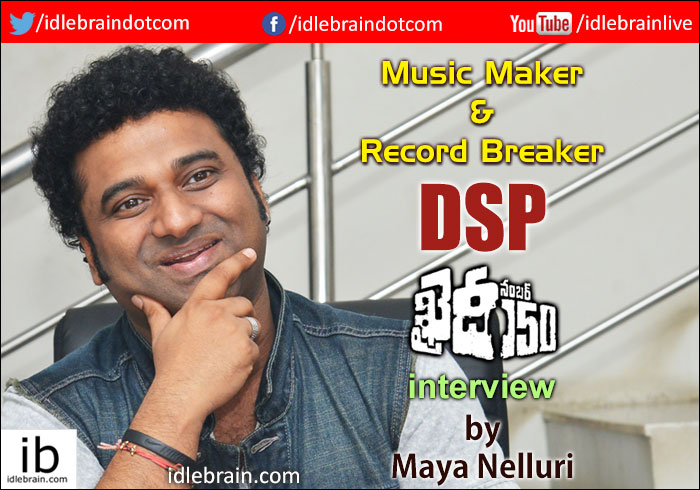 10 January 2017
Hyderabad

In this world there are some who are talented, some are successful, some humble, some fun, some hard-working, some positive, some make time for family, some work 24/7, and some who live life to the fullest. But there is one man who does it all – Devi Sri Prasad. The first time I had the chance to interview him, he inspired me to coin the term 'Devi-licious'. It stuck in my mind not just for the word play but because his music is to ears what double chocolate cake is to taste buds. There is just nothing else out there like it! We are in conversation with the 'rockstar' who made time exclusively to speak to Idlebrain in the middle of his juggernaut schedule. DSP is a man of many talents and he lets us in on how he manages to excel at all of them. And of course his latest record-breaking song 'ammadu let's do kummudu' of Khaidi No.150 is on everyone's mind so we quizzed him about its inception too. Read on.
How did it feel working on one of the most anticipated projects – Khaidi No.150?
I've been a fan of Chiranjeevi sir since my childhood. I love his dancing and grew up on his films so working with him was always very special to me. Khaidi No.150, because it is his 150th film is all the more prestigious and it carried a lot of responsibility. He actually called me to ask to work on the film. I told him that even though this is his 150th film, it will be mine and every technician's first film. That's because every single person working on the project is a Megastar fan. Imagine a bunch of fans working for their icon! It is the stuff of fairytales! Looking back, he even joked about me not having time and asked me to do the film during a Sardaar Gabbar Singh event; that was a one of a kind experience. I think the thing I'm most happy about is that all the songs are receiving so much appreciation. To me it means that I was able to uphold the trust that he had on me.
Speaking of songs, congratulations! All the Khaidi No.150 songs have been hugely successful but two days ago the 'ammadu let's do kummudu' song actually crossed the one crore views mark!
Yes, it has been amazing to watch the response. Whenever any of our work is successful we obviously feel good. With this song, I wanted to make something especially for Chiranjeevi sir, something that carries his signature style, and also something that would be played in every party and club. It was to be my tribute to the legend himself! I wanted the song to sound like him and have the nuances of his speech so I mimicked him in a way. That's why I decided to sing the song myself. It's also why I got him to say 'thammudu lets do kummudu' during the song and 'ammadu let's do kummudu' at the end. He was actually thrilled with it when he heard.
And it's broken several records too!
I'm very happy that it's not just a 'hit', it's a record-breaking hit! The audio company guys are thrilled with the response too because it's done extraordinarily well, especially because it is just a lyrical video with photos. I have to thank each and every person who loves my music, every Chiranjeevi fan, and every music lover who made this song a sensation.
You've worked with Chiranjeevi earlier as well, how does this experience compare to the last?
When I worked for Shankar Dada M.B.B.S. or Shankar Dada Zindabad I witnessed firsthand how much he respects technicians and how encouraging and positive he is towards everything and everyone. He is an inspired soul and inspires all of us. It is truly his greatness; I guess that is why he is a legend. I remember during Shankar Dada times he would come into my car and listen to the songs I was working on. I was so happy watching him because he would close his eyes and start embracing the music and dancing to it right there in the car. During Khaidi No.150, the first song I got him to listen to was 'ratthaalu'. We were in Singapore then and he started grooving to it and was mentally choreographing the song right there. It felt like watching a kid who was excited. I think it is his childlike excitement and energy that allows him to still be able to do the things he does. I don't think anyone in the history of cinema can dance like him at his age. In fact, he's worked out and pulled out all the stops for this film. It's hard for others to keep up with his energy. Another thing that sets him apart is that he has none of the starry airs. In between shots he doesn't go to his caravan, he just grabs a chair and sits there reading. There's no tantrums; nothing! Even if others are tense, he will calm them down and reassure them saying, "You can do it!"
Moving on to the other man of excellence in this film – V.V. Vinayak, tell us about how working with him is.
We've worked on films before and it is always amazing working with him. He is a very simple and nice human being. I know him since my childhood days when he was an Assistant Director. He would come home to work with my father so our family has had a very long association with him. Even though now he is a star director, he hasn't changed a bit. He is the same sweet guy with no airs about him. I call him Vinay bhayya! As for the work experience – he gives all his technicians full liberty and doesn't interfere. His motto is not to give unnecessary tensions to those he works with. And because he has such a good grip of scripts and knows exactly how to present the hero, he always comes out on top. That is why even Chiranjeevi sir trusts him a lot.
In this film, you've composed music, written the lyrics and sung the songs – how do you manage to do it all?
*Laughs* I count composing, singing and writing as one. It is all part of music. Even when I choreograph, dance or perform I feel that it is all part of music. They are all different components of the same element.
Can you tell us about your creative process? What happens once you accept a project?
One compliment I've received from everyone is that I am a great listener. *Laughs* As soon as I take up a project I like to listen to the script, not just the parts I have to work on but the entire thing including the dialogue version. I put aside an entire day because this process can take anywhere up to five – six hours. A lot of the times while narrating, they improvise based on my reactions and expressions. I guess they trust my judgement a lot because I listen like a layman, the audience. To be honest till today I feel that I am an audience first. I watch every film in Telugu, Tamil, English and Hindi as soon as it releases in the theatres. Regardless of how much work I have, I make time to go to the theatre 99% of the time. I book about 10 to 12 tickets every time too because I like to take my friends and colleagues. I'm so famous for it that the theatre guys now call me to which show to book the tickets for as soon as a film releases in Chennai. *Laughs*

Coming back to the process, after listening to the script, I make a graph of the storyline and work out the songs and background scores. I ensure that everything is weaved together because it gives the film a distinctive flavour. I feel that music is another way of conveying the story so I think about what I have to deliver through each song or score. Because my father was a writer, I got into the habit of writing the rough lyrics to a song before presenting it as it helps convey the emotion of it. Then I sit down with the lyrists and work with them. Then I decide who would be best to sing the song and after that I decide on the scale of the song and then do the orchestra. You might think this is a sort of backwards way but it works because everyone including the singers appreciate how well their voices are woven into the music. This happens because I make sure that the scale matches the singer instead of the other way around.
How do you continue to keep your music so fresh after all these years?
I feel that I'm one of the audience first and foremost. I never felt that I'm a composer. That's what keeps me alive and fresh. After I finish a song, I detach myself from it and listen to it like an audience and figure out whether it makes me feel the emotions it's supposed to. If it doesn't, I scrap it and start again. Fortunately, I'm blessed that most times it works out on the first go. Even in Khaidi No.150 all the first tunes were finalised. They just told me, "Do your best, we know you can do it." The first song I gave was 'ratthaalu', then 'sundari', then 'neeru neeru', and then 'ammadu let's do kummudu'. When they heard these, everyone celebrated. In fact Chiranjeevi sir called me and said, "My boy you rock!" He calls me 'boy'. *Laughs*

I'm thankful to every single person involved because they put tremendous trust in me. Now the song 'neeru neeru' is such a huge hit and people are calling it the soul of the film. It was never intended initially because the film doesn't have a political story. Everyone trusted me and went with my vision on this and it worked. Even in my other films, I have to thank all my directors, producers and heroes because they tell me the story and leave me to do my work. I think trust is the most important thing when it comes to work. When people trust you your energy doubles. And I definitely can't work with people who keep interfering. So I feel blessed that everyone I've worked with trusted me.
Do you have any favourites when it comes to the people you work with?
I love to work with new people and people I've worked with. With someone new you discover whole new areas and with the regulars you always rediscover yourselves and find new ways to excel.
Is there anyone that you haven't worked with and want to work with?
Rajinikanth sir! I've been blessed to work with most of the biggest stars in Tollywood, be it the young generation or the classic. Nagarjuna, Venkatesh, Balakrishna, Pavan Kalyan, Mahesh babu, Jr. NTR, Allu Arjun, Ram Charan, Prabhas, you name them, I've worked with them. At the same time I've worked with the biggest names in Kollywood like Kamal sir, Ajith, Vikram. I've even worked with big names in Hindi like Salman Khan. But, growing up in Chennai, you can imagine the kind of euphoria that surrounds the name Rajinikanth. So it is my biggest dream to work with him.
Have you ever been in awe of anyone you've worked with?
Kamal sir and Chiranjeevi sir. I learnt a lot from them. Every time I meet them I'm always in awe of them and get mesmerised by them. Working hard to get somewhere is normal but working so hard even after achieving incomparable success is unimaginable. They are both unique and there's just no one like them. They still have the enthusiasm and energy everyday to want to do something better. When I worked with Kamal sir, he would look at the work and say, "Tomorrow I'll do it better." And Chiranjeevi sir would watch himself even during Khaidi No.150 and say, "There's a small mistake. I have to correct it." Most of the beginners don't have that kind of dedication these days. It's their genuine passion for the craft that makes them what they are.
Who do you consider your mentor in life?
My father Sathyamurthy garu and my guru Mandolin Srinivas anna. He is like family to me and he treats me like his younger brother. From them I learnt confidence, hard work and being my simplest self. They taught me not to bother about anything other than the work I'm doing. "Give 100% to the work and the rest will come," they'd say. And I have to mention my mother. Even when my father was ill, she was the one who stayed strong in our family. When we were young kids, my father had a heart attack. At that time my mother stood by him and was the biggest support. It's because of her that we are all here today. I'd call her the 'Iron Lady' of our family. I think my dad's confidence and my mom's hard work are unlike any other.
What is the one thing that helped you achieve success?
I think it is due to my focus on work and my mentors. Ilayaraja sir and Michael Jackson were my biggest inspirations. They made me think of a career in music. Whether I compose, dance, sing or write – it is because of these two. Since I was a kid, I would follow them. I learnt to compose listening to Ilayaraja sir. And my passion for performance came from Michael Jackson.

I also have to mention my friends – I've got some great ones; and my brother and sister. Although I'm the oldest, they treat me like the youngest and take on all the pressure and don't let anything affect me or my work. My father used to ask my younger brother to accompany me when I would go out! *Laughs* Even now my brother always checks up on me and wants to make sure I'm safe and fine. Not everyone is lucky enough to get a family like this. A clear head and peaceful mind are extremely important; only when you have a family like this who ensure it can you really shine. Even when my father was in the hospital, they would all, including my father, never let me stay overnight because I usually had to start work early the next day. Even my brother-in-law has taken up the responsibility to not let anything affect me.
What upcoming projects can we look forward to from you?
There are quite a few on the cards. Right now there is one with Koratala Siva and Mahesh Babu, one with Sukumar garu and Ram Charan. Another is the Harish Shankar – Allu Arjun film 'DJ'. In February there is a Dil Raju – Nani release 'Nenu Local'. I'm also going to start working on another three films next month. There's also the Boyapati Srinu and Bellamkonda Srinivas film. The shoot for it is currently going on.
- Maya Nelluri