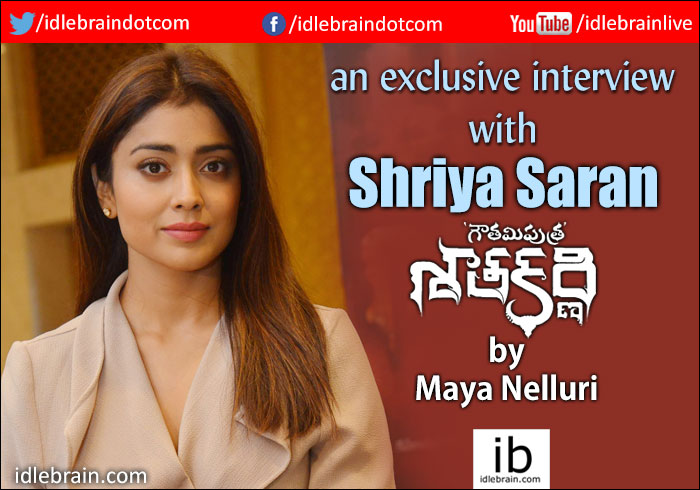 11 January 2017
Hyderabad

Shriya Saran rose to fame with a barrage of Tollywood hits like 'Santhosham', 'Chennakesava Reddy', 'Nuvve Nuvve' and 'Tagore' very early on in her career. Be it because of her acting prowess, beautiful persona or bombshell figure, audiences were wowed by her in every film since. Now starring as the lead actress in the periodic epic Gautamiputra Satakarni, she reveals why she chose to do the film, how it was working with the 'Legend' Balakrishna, and her experiences with the critically acclaimed director Krish. Always one to speak her mind, she also gives us a piece of it when asked about her 'secret to staying on top'. Scroll for more.
What prompted you to sign Gautamiputra Satakarni?
Krish is a very accomplished director so I've wanted to work with him. I've seen his work and he always has an important role for his actresses; the way he tells his story – he has the capacity to play with emotions and make people believe. Also, I felt that this is a story that needed to be told from our history. Surprisingly not many people know about his era. The history of our country was written by the British and has never really been re-written so a lot of very prominent and important stories are not told. As Indians we need to be proud of the stories from our own continent. There are many important people who can shape the way we look at ourselves. Because, let's face it, if you are not aware and proud of your roots it's really difficult to be confident about your future.
This film is about a king who united the whole of our country in 78AD. At that point of time we were very progressive. We had trade relations with Romans, Greeks. He had a vision of bringing everyone together even though we all spoke different languages, ate different food and wore different costumes. He was a person that thought this could happen. I wanted to be part of something like this where you are creating history by telling people about history which most don't know.
This is the second time you are working with Balakrishna, the first was almost at the beginning of your career, was there any difference working with him this time around?
That film (Chennakesava Reddy) was a commercial one. This is also, but it has a soul that is beyond this era. My character in Gautamiputra Satakarni, Vashishtha Devi, is one that will stay in my heart forever. It is also a movie I'll remember forever. As for working with Balayya garu, he's been very supportive and very nice. Even his family is so wonderful. I'd like to thank him for being part of this film. He's given his best to it. In this film I also interacted a lot more with him because I have a very prominent role. When you have a more serious and larger role, you see how the other actors perform and where the emotion is coming from.
How was it working with Krish?
He is so amazing and of the finest directors we have. I'm very thankful to him for telling a story which needs to be told. In fact it was great to work with the entire unit because everyone was so motivated. The film has some great ADs, technicians and the costumes which were designed for me by Neeta Lulla and Aishwarya are truly one of a kind. Baba garu who is the DOP of the film, and therefore the first person you interact with as soon as you finish a shot, made us feel so comfortable. I also had a lovely hair and makeup team who created Vashishtha Devi every day. It was fantastic to have a unit like that because the energy and vibes in a location before we go in front of the camera have a lot to do with what we can put forth on screen. In the same breath I have to mention the producer because you really need a big heart to believe in a film like this.
Apart from Balakrishna, you have been paired with the biggest of stars; do you have a favourite co-star?
I have a great relationship with almost all the people I've worked with. Fortunately, even if it's been years, when we meet in a public space, I can pick up from where we left off because I feel like I've created memories with everyone I've worked with. Their kids remember me and their wives know me very well so it's been beautiful. I bet that if I had to work with any of them again they'll only have nice things to say about me and I about them.
Very few actresses have managed to stay so perfectly in shape and ageless throughout their career. How do you do it?
It's just my genes. My mom hasn't aged at all for the longest time. That is until I grew up and started giving her stress. *Laughs* Jokes apart, everyone in my family looks 15 to 20 years younger than they are. I'm not exaggerating! Someone in their 60s tends to look no older than 35 so I'm lucky that way. But I also do a lot of yoga, work out and take care of myself. Another thing I think is most important is gratitude. Not just for actors, but for everyone, our body is a gift that we are born with. The way our body works, every breath we take is a miracle if you think about it. So we have to be thankful and feel gratitude for it every morning. I feel that it solves a lot of problems. Even if I have a cold or a cough I rarely use medication and instead thank God. Invariably it goes away. But sometimes meds are important.
During the shooting of Gautamiputra Satakarni I fell ill but when you work with Krish you just don't want to miss out on a shoot. He makes the shoot more fun than going on a holiday so you don't want to miss it. At one point we were shooting nights and I had a dry cough. I couldn't sleep during the day so there were 40 to 50 hours at a stretch where I didn't sleep and continued to work. But still, I had reasons to be thankful. I thanked God for everything I have and the fact that I'm working. I was very stubborn actually; I didn't want to take medication for the longest time.
Also, I feel that as an actor, there's not one day that I'm not thankful for being here. That kind of positivity is most important. Looking good or looking young is nothing but resonating positivity. It's something that my mom told me all my life and I used to laugh at her but it is proven scientifically. It's all about the vibrations that you emit and the thoughts that you form. If you are happy in what you are doing, if you practice gratitude and if you take care of your body, you will look great!
Before debuting, you studied dancing. Is that something you continue to do?
The only thing I regret in the last 10 years, apart from doing some very stupid films, is that I left dance for 10 years and I couldn't get back to it. But I've started learning dance again. My first teacher was Shovana Narayan but now I'm learning from Nutan Patwardhan from Bombay. It's something that really keeps me happy.
If you didn't become an actress, what would you have become?
I would have been a dancer. I was also studying art so I would have been an Artist/Dancer.
You rose to the top very early in your career and have managed to stay there after all these years. What do you think is the reason?
I don't think it's about being at the top. Honestly, as an actor, I feel it's one of the few professions that allows you to work at any age. I'm very grateful and I feel blessed to be here. I think it's mainly the media in India where the journalists say 'five years, 10 years, 15 years'. Nowhere else in the world people think that way. You will not have a journalist say to Julia Roberts, 'so you've been around for 20 years'. It just doesn't happen. It's an Indian thing I feel. It's as if the perception is that the actresses are only there for glamour. Forget about all journalists. As a woman journalist I don't think you should ask that because you are telling people that actresses are just here to do bubbly roles with songs when that's not true. There are so many examples in world cinema where women of all ages shine. In 'Julia and Julia' we have Meryl Streep who is the star of the film. And how old was she there? She did 'Iron Lady'. What was her age then? And actresses everywhere are doing some great work. Take 'The Blind Side' for example, there's this woman in her 40s who takes care of a child and makes him something. There are numerous examples I can give which can happen here as well. So it's just the mindset that needs to be changed. And this can only be done by journalists.
Taking a step back, what Shriya calls out is the blatant double-standards that exist in the Indian film industry today. True, even though I'm a female journalist, I found it reasonable to ask her to divulge her 'secret' to staying on top now that she has some-how passed the expected time span that female actresses are allowed to play heroines in. Although there are many amazing actresses who have made 'come-backs' recently there is a sort of regressive attitude that has developed in cinema in more modern times. If we look further back, actresses like Bhanumati, Anjali Devi, Savitri, Jamuna, Vanisri and many others reigned supreme for many decades each and that too after embracing marriage and children in some cases. May be it is time to stop asking our top actresses this question?
Can you tell us about your upcoming projects?
Apart from this release I have 'Tadka' where I play a very smart and mature Radio Jockey from Goa who loves food. This is with Nana Patekar. After that I have a Tamil film with Simbu.
- Maya Nelluri