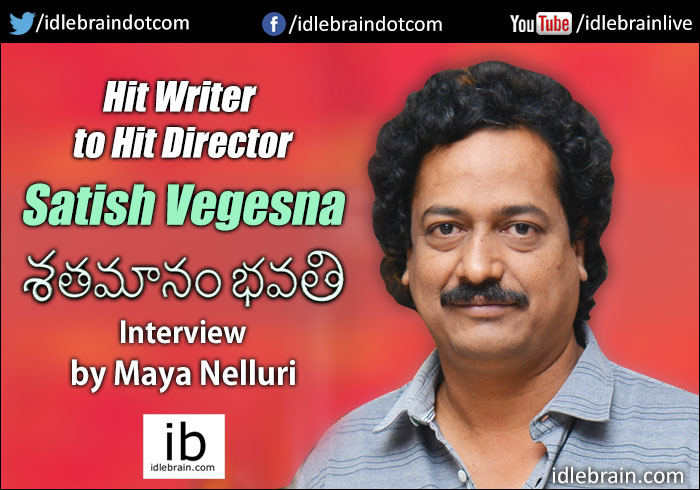 23 January 2017
Hyderabad

"I'm crazy about cinema is a common dialogue if you speak to anyone in this field, and I'm one of the clichés! Naaku cinema ante pichi," starts our conversation with Sathamanam Bhavati's director Satish Vegesna. He is candid as he describes his ascent in Tollywood as a writer before his descent; when after his first film he was labelled a 'flop director'. Now that his latest film has proven his directing abilities, he reminisces about the times when people doubted him and the humour he found in their drastically changed perceptions now that he is a 'hit'. "People talk, I didn't let it affect me then and I don't let it affect me now!" We were definitely in for a no-nonsense interview if there ever was one; and we loved it! Read on!
When would you say the writing bug first bit you?
I was interested in writing from a young age. In college I used to write poetry which was published in newspapers, magazines and so forth. I was also a huge Jandhyala fan. Jandhyala ante pichi! He was such a great writer. Imagine writing Sankarabharanam, and then a commercial film like Adavi Ramudu, and then a comedy like Srivariki Premalekha. I realised that as a writer one can write so many characters and emotions after witnessing his work. So I liked him immensely. I think that only a writer has the ability to present exactly what he thinks in a brilliant way. Take for example in Sathamanam Bhavati, every technician and cast member has been appreciated and I've received a lot of appreciation as a director. But I've received so much more adulation for the dialogues.
While we were casting, every girl who came to audition used to have tears in their eyes when we asked them to say, 'chinnapudu school nunchi raadam araganta late aithene gummamlo edirichuse amma, nenu Australia nunchi ravadam inni rojulu late aithe yentha edirichustundo alochinchaleka poyanu.' Only a writer has the power to move people like that. People tell me that the climax receives has the audience clapping. The message there, 'jeetamiche vallakosam nalugu gantalu ekkuva panicheyyadaniki mee deggara time untundi, kaani jeevithanni ichina thallidandrulakosam nalugu rojulu ochi vellalera,' is one that can only be told positively by a writer. I always liked writing and that's why I came into it. We should always do what we like and what we are good at to be a success in life.
Tell us about your entry into Tollywood as a writer.
I worked in Hyderabad's Eenadu office for seven years. During that time I would watch movies and rewrite the dialogues in the scenes. When I showed it to my colleagues they really liked what they heard and encouraged me to try my luck in films. It was then that a friend of mine Bobby Shankar was working as an AD (assistant director) for Muppalaneni Siva garu. He told me that Siva garu always encourages new writers and therefore I should meet him. I did. The first time I narrated a comedy track which he liked and went on to use in Lawrence's Speed Dancer movie in 1999. He also said that he will give me a larger role in his next movie. That turned out to be Priya O Priya with Abbas, Naveen and Simran. I was given the title 'Rachana Sahakaram'. After that I worked on Raja which starred Venkatesh and Soundarya, and Nuvvu Vastavani with Nagarjuna and Simran. Siva garu trusted me all the while and also introduced me as a solo writer for Maa Pelliki Randi starring J.D. Chakravarthi and Sakshi. From there I was officially a writer.
What would you say was your big break as a writer?
Thotti Gang with EVV garu and also Kabaddi Kabaddi. After that I worked on several films with him and Allari Naresh.
Did you have any troubles as a writer?
I would say no. Muppalaneni Siva garu trusted me and gave me my first film. I think if you give it your all then those around you encourage you so I did not have a problem getting into films. After that I got picked up due to my work. Super Good Films saw my work in Raja and gave me Nuvvu Vastavani. Similarly seeing my work in Suresh Production's Nee Premakai, Ramanaidu garu recommended me to EEV garu's Hai movie. EVV garu saw that and gave me Thotti Gang. It went on like that. Once someone trusted me I made sure to keep it up and they also encouraged me seeing this.
Why did you choose Dongala Bandi as your first directorial venture?
I worked on several films with Allari Naresh and EVV garu so for me working with Naresh was a no brainer. We had discussed the concept of the film, a group of funny youngsters heading out on a treasure hunt and thought it would be an innovative approach to comedy. He liked it, we liked it, but it did not do well.
How was the experience of your first film being labelled a flop?
In the industry it is like this – Hit isthe andaru mana chuttu tirgutaru, flop isthe manam andari chuttu tirgali. *Laughs* The thing is as a writer if a film becomes a hit, we receive credit but if a film flops the fingers are pointed at the director or others more. Since I was the director for this film, there weren't many takers for my work for a while. So during that time people started telling me things like, 'why don't you just work as a writer; not every writer is cut out to be a director.'
Harish Shankar and I are friends. During the filming of Autograph, he was the co-director and I was the writer so we travelled a lot together and we would often discuss ideas. Luckily in that gap he was about to do Gabbar Singh and he called me up to say, 'why not write in the mean time.' So we ended up working on three films – Gabbar Singh, Ramaya Vastavayya, and Subramanyam For Sale. During this time I was acquainted with Dil Raju garu who was the producer of the last two films. Then once I decided to get back into directing and thought of this script, I told Raju garu the story. And that's how Sathamanam Bhavati happened.
So, would you say that you struggled a lot more as a director?
I did not have any struggles as a writer. Once I moved from writer to director and gave a flop, the struggles started. If you are chosen as a director for a film, it is a six month posting. In the cinema field there are more struggles than anything else. The hits are few and far between. If you take medicine for example, you study for a certain period and then your life is settled as a doctor. But in films, it is not like that. You cannot relax because you got a hit in your kitty. You have to constantly persevere. Today Sathamanam Bhavati is a hit but the next person won't blindly give me a movie immediately. I have to narrate, and the whole process starts again.
I honestly struggled a lot after the 2008 flop because it is difficult to get people to believe in you after a flop. And in that time there are a lot of people talking [negatively]. I had to make sure that I didn't pay heed to that and continued to work on the scripts and continued to pitch. We have to really believe in ourselves first to succeed here. Even my family would ask me at that time why I'm choosing to struggle. I would tell them, 'we started swimming. And now that we're in the middle of the journey, it will take us the same amount of time to go to the other shore as it will to go back to the first shore. So why swim back. If we are swimming, we might as well reach our goals.' So it is because of swimming through all the obstacles that now we are here talking about Sathamanam Bhavati.
Were your family members supportive of your film career?
My family said that if you are confident you should do what you believe in. I was actually at a crossroads when I was in Eenadu because I was transferred to Kurnool. If I continued with Eenadu then there would be no looking back because it was a settled job with a fixed salary. With cinema, there were no guarantees. But since cinema was my dream and I believe that when you have the chance to go for your dream, you should, I chose to resign at that point. If we are ok with however things are going then you can continue. There is a dialogue in Aakalirajyam, 'Elagaina bathikeyalante elagaina bathikesevadni. Elage bathakalanukunnanu.' Just like that I wanted to be in cinema.

Although my family supported it, others like relatives and friends discouraged me saying, 'why leave an Eenadu job which is almost like a government job.' They said why did you risk it since you are already married. They felt how will I make it when there are so many others wishing for the same. Now the same people say to me, 'we always knew you would be in such a good position. We thought so long ago.' The thing is even when your family is happy with your decision, there are more often than not many relatives or friends who discourage even your family for letting you pursue your dreams. Then when you achieve your dreams, I don't know if they forget what they said or think that because everyone else is saying it, they should too. But it amazes me when they say things like, 'we told people that our boy would be in such a good position in the future.' I didn't listen to what people said then and I don't listen now! People talk so you just have to do what you have to do!
What did your wife say?
My wife didn't say anything because she trusted that I will do something. I told her then that my PF (final settlement amount) would be 30,000. At the time my monthly salary was 5,000 so 30,000 set us up for six months. I told her that I will definitely get a movie in that time. And as expected I became the solo writer for Maa Pelliki Randi within that time. After that there was a time where there were no movies so there was a small struggle. But even then I told her, 'every struggler will have his day, regardless of when the success finally arrives. We should never slip up until we reach the goal. We shouldn't lose sight because all the years of effort will be wasted if you do.' Also, I say everything openly at my home. My opinion is that you should say it as it is. If I don't tell them the truth and keep them in some fabricated reality, when the bubble bursts they will lose all trust. They will be hurt. But since I didn't do that, they were a part of my journey; they understood in the difficult times and celebrated in the happy times.
Why did you choose to come back into direction with Sathamanam Bhavati?
Frankly, I gave two flop films so for people to trust me and give me a film or for the audience to want to come to theatre and watch the film, it has to be something new or it has to connect to the audience in a different way. If it is a regular film, either the producer or the hero will think twice because in those genres there's already a lot of directors who've proven themselves. So for someone to say no to the others and give me the direction there has to be a unique aspect and an emotional connection in the script or dialogues. That's the reason I chose this script. I wanted to take a problem that is common place in today's world and shine light on it to show people something positive. Raju garu's banner is also known for producing films with family values so he has the knack of perfectly judging the stories and shaping them to reach audiences. He believed in the story even more than me. He said to me that this is a great story and will definitely connect to the audience once the script is worked on perfectly. That's why we ended up working on the script for almost a year and a half.
The story of Sathamanam Bhavati is quite an emotional one, is it something you wrote with personal experience?
Although the story is about NRIs, it is not meant only for them. Practically speaking, I stay in Nizampet and my mother stays in SR Nagar, and even then I can't go and see her every day. Whatever the reasons are, there is a gap now between parents and children. Some people questioned me saying is it just the NRIs? Of course not, there are people like that everywhere. But for a film, we took a cinematic liberty and showed a longer distance. I could have also shown someone in Calcutta or Delhi but the audience won't become quite so involved then. They will think why can't he/she just catch a train or a flight and come down? But if we say Australia or Canada it makes an impact.
To be honest even those living in cities, many of them visit their villages maybe once a year. In many places people have written that this is a tri-generational film, but it is not just that. It is the emotions of the three generations. During our grandparents' time, it was combined family – they all lived together. Even after their kids were married, they lived together. In the next generation they started moving out to cities or going overseas for work or studies. In this generation the story is quite different. The kids come home and the son is in his room on Whatsapp whereas the daughter is watching a movie in her room. Today the situation is such that even in the same house all the people don't sit in the same room or spend time together. The emotions are lacking. Bhandhalu bhandutvalu, manushulu duranga undale thappa valla emotions inka relations eppudu deggarigane undali. This is the story I wanted to tell so I did.
Coming to the success of Sathamanam Bhavati, how are you feeling now?
I'm very happy. There are actually two reasons for it. *Laughs* One is that I've now evolved from the 'flop director' label to the 'hit director' label. The bigger thing is the feeling that if we really believe in a story and tell that story, people will receive it. Apart from the collections, it is the appreciation which really amazes me. So many people are moved by it and connect to it so that is what really makes me happy. Even today, ten days after the release, people still call me and it's not just them talking, they give the phone to their mothers, fathers. People have actually changed after watching the film. After seeing the movie, people called me and told me that earlier when they had one or two days leave, they didn't really feel like going to their villages but now they are waiting to go and see their families.
There's some who said that even though they live in the same house they don't really speak much but now they want to make an effort to talk to their parents. One boy wrote to me on FB saying that he is the only son and his parents wanted him to go abroad to study and settle well like others. He watched the movie and then took his parents again. After watching the movie they came out and hugged him and said, 'you don't have to go anywhere, you stay with us.' He wrote that he is very happy now because he doesn't have to leave his parents and go.

The thing is without parents we are nowhere so there is obviously an appreciation for them. But nowadays with our busy schedules negligence has crept in. I'm happy that at least some people have started to see that because of this film. One of my friends messaged me saying that while coming out of the theatre in Dubai he overheard a couple speaking. The husband said to the wife, 'we have to go to India next week.' When she asked why, he said because he wants to see his parents. Apart from the commercial success this film has seen, I'm very happy that this film will remain in time as a memorable one.
What are your future projects?
I'm thinking. *Laughs* This movie gave me a lot of responsibility along with success. I want to do good films even in the future. A lot of people who called me said to me that they were happy to watch a movie with no vulgarity and no unnecessary exposing where people have to look away if they are with family. Even in my future movies I want to make sure that an entire family can come and watch the film together.
What advice would you give the youngsters who want to be just like you?
I personally don't have any idols as such because in this field we all have our own struggles. If we keep aiming to be someone, and we don't, it will hurt us deeply. Only our effort is in our hands; the audience decides the success of it.
- Maya Nelluri