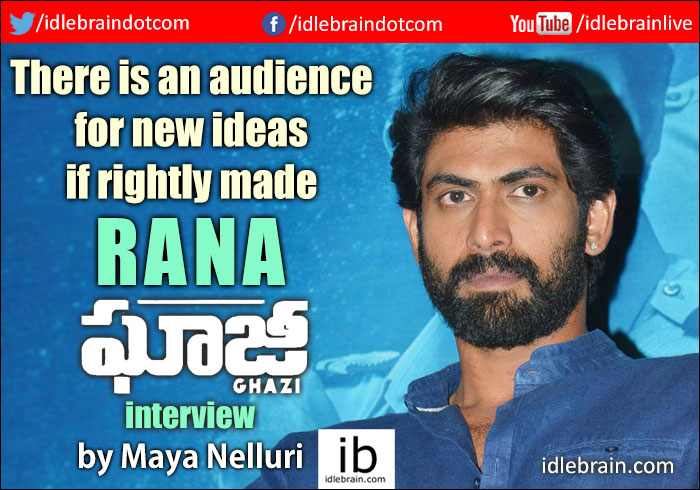 22 February 2017
Hyderabad

True to his name, Rana emanates royalty. The first thing that comes to mind while trying to describe him is a Greek God. On second thought, even those Gods might envy him. So it makes total sense that he is voted into the most desirable men list every year. But Rana wasn't always like this. He talks about his life before acting, Ghazi, and Baahubali 2 in this exclusive interview.
How did Ghazi happen?
When I was in the midst of shooting for Baahubali, I was on the lookout for new content and stories. Ghazi didn't happen the conventional way where I'm narrated a story and then I decide. A producer friend of mine, Ram Mohan, saw a submarine set being built. It was a miniature version with a budget of about 50 lakhs which was being made for a short film by Sankalp. He was planning to make a short film for the festivals. When I was told about it I realised that the story had real potential but there was some work to be done still. We spent almost six months writing it to understand if it could be made into a film. It wasn't going to be a regular film because there were to be no comedy scenes, songs or other things one expects from an Indian film.
And even though it was a war story, it wasn't an army film that people have seen on cinema before and can relate to. It was to be shot in a submarine and was an underwater war story. So, we picked six writers who understood this genre and worked on the script. After that we worked with the director to prep him. Prior to this he had done a short film which was shot on an iPhone. He knew the content and aced it but we also needed some experienced top technicians to support him so they came on board and made it what it is today.
Why did you decide to release it in Hindi, Telugu and Tamil?
It is a national issue so it makes sense to make it in Hindi. The story also took place outside Vizag so Telugu is apt. Tamil cinema also is very accepting of new content and even though it had a limited release there it's done extremely well.
In general, the films I've done, I've done so in different languages because the content blends into that language. They are told in the language that makes most sense. Right now I'm working on a political drama which is set in Ananthapur so that will be in Telugu only. Then there is another film which is set in 1945 when there were no separate Telugu and Tamil states, it happened in the Madras presidency so it will be done in Tamil and Telugu.
What challenges did you face while shooting Ghazi?
Shooting in a submarine was entirely new so there were no reference points. We had to figure out everything ourselves. That is the reason it took a year and a half to finish. It was a lot of trial and error. In fact the first submarine we built had some issues so we had to rework the whole thing and build a whole new one which was pre-lit. Even the underwater action scenes were unique because it isn't really done in Indian cinema.
Also, none of us were inside a submarine before. I saw one in Vizag long ago but that was about it. To understand the functionality of it was important. Sankalp works in detail, he had mapped out the smallest details to ensure that the film was as authentic as possible. He even had manuals for the instruments which would help each of us understand our role in the film. That's probably why the film looks so authentic. It doesn't look like actors just put inside the set. And our prior workshops really helped. Once Kay Kay and Rahul came on board it became a much bigger film. We were able to execute a much better quality of film than was expected. I feel like this film was destined because it just happened and everything fell in place.
How do you feel about the accolades Ghazi has been receiving?
I feel very happy about everything that is coming our way. It gives us strength to make more films like this and commission them. Sadly the way things work is that the box office decides what genres are made. So it's been very good because now that one film has worked, it gives confidence to the actors and others to make more such films.
Do you like your new title as the War Star?
*laughs* Yes, it started with Ghazi, and after this will be Baahubali 2. I'm also shooting for a period piece which is set in 1945. It is about a soldier who fought with Subhash Chandra Bose so that's another war tale. I guess I look like I'm made for war films and I really enjoy doing them. These are all episodes that we might have studied in History books. To be able to recreate such important instances and transport the audience into a certain world which existed many years ago is really great and a lot of fun.
How has Baahubali affected you?
In seven years of my acting career I've been with Baahubali for four of them so that is pretty much the majority of my acting life. A film like that has opened up so many opportunities. It was a regional film which became a national hit. That's when you can see that language is no barrier. It's only the content which works. It's given me a lot of strength and confidence to make newer content. Because of it I knew that if done right there is an audience for new ideas. Ghazi is actually a film born out of that. I don't know if Ghazi would have happened if there was no Baahubali. Now Ghazi has become a big Hindi, Telugu and Tamil film so it really is content which makes it.
Is it difficult to give so much time to one film?
No, it's not a problem because I did other films as well during that time. And films live forever. It's very few times that we get a chance to be part of a film like Baahubali which is so big and recreate a world that size. So as an actor and also a film maker who is trying to make new content, this film has really opened up so many avenues.
What can we expect from Baahubali 2?
You can expect something really massive which you haven't seen before. It is far bigger, more dramatic, more emotionally gripping than Baahubali 1. For all of us part two was always going to be bigger than part one because part one introduces the characters and the drama happens in part two. So for us it was always the more exciting film and finally it's coming close.
You ran a VFX studio and produced films before you became an actor; tell us a bit about that?
I grew up in cinema. I started working in it when I was 19 years. I understand different aspects. For example I've worked in VFX for eight years of my life and did 80 films so I had the knowledge to make a film like Ghazi. There's a lot of other technical knowledge I have which I learnt before I became an actor. I equally enjoy all aspects because for me it's all cinema.
Coming from a family of legends, do you think it was beneficial or detrimental?
It was of course beneficial because of all the knowledge they gave me. Right from my childhood I grew up with so much cinema knowledge that it would take people years to catch up. I knew how to edit when I was in sixth grade and I could mix sound by tenth grade. All that was because I was from a film family.
Also, my granddad worked on different kinds of films, my father did different things and my uncle did something else. Now that I've come in, I'm doing different things again. So we are all learning and getting better – the idea is to get better at cinema and do newer things.
Coming to your personal life, how do you feel about the rumours that have been or are out there?
Rumours are rumours. What other people think of me is not my problem, it's theirs. *laughs* That's never stressed me out. I'm somebody who works across India and do so many things. I host events; I do endorsements and do more things than sometimes actors who are much bigger than me do. So I've broken paths in many ways. You could see me in a night club, coffee shops, editing rooms, and many other places that actors are not generally seen at. But if rumours are what people want to write about then it's cool with me. I don't really care so much.
So, can we ask you who you are seeing right now?
I'm single right now.
You've regularly been ranked among the most desirable. How does that feel?
I feel blessed and humbled by that because if you guys saw me when I was doing visual effects you'd be surprised. I used to be a very fat guy sitting at a desk and operating a computer. That was who I was before. To go from that to now, I've had a lot of support. Now when I see those articles I forward it to my friends who knew me then. I also don't do cinema which is normal. I don't have glamorous roles or songs – I don't play a hero. I play a character. I played politician, warrior, and navy officer. I'm happy that even though I'm doing cinema which is out of the box, I'm recognised in the glamour world.
What are your plans for this year?
Right now I've got Ghazi in the theatres, Baahubali 2 which is getting ready to come out. I'm also shooting for two other films. One is a political drama in Telugu with Teja and it is a home production. Then there is the period war film. These two will take up much of my year. I'm also bringing out some films this year. I've commissioned one with director Ravikanth who did Kshnam. I'm producing it and it will star new comers so I'm looking forward to that as well.
- Maya Nelluri