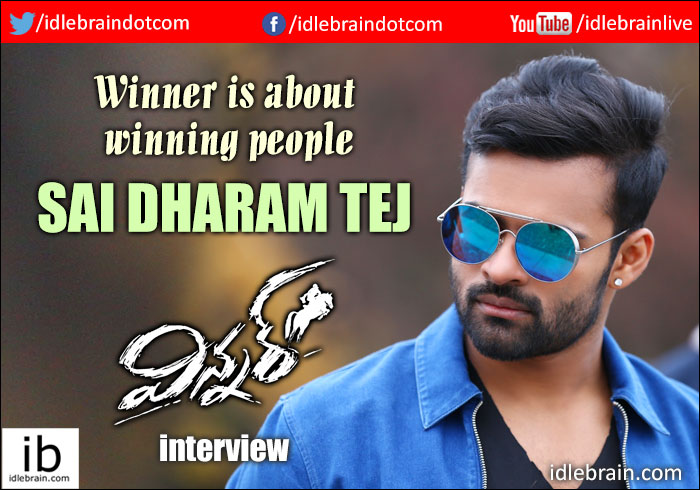 22 February 2017
Hyderabad

Sai Dharam Tej has scored four hits in his 6-films career so far. He is known for spontaneity in acting and humbleness in personality. In an exclusive interview with idlebrain.com, Sai Dharam Tej talks about his 24 February release Winner -
You had your career best grosser Supreme followed by a disappointing film Thikka in the last year. How do you analyse it?
Both these films were good when story was narrated to me. The director executed the film the way he narrated for Supreme. Things have gone wrong when we tried to translate the script onto the screen for Thikka.
Tell us about winner?
Gopichand Malineni has narrated another script to me at first. Then Veligonda Srinivas narrated the story of Winner to me. I loved the new backdrop of horserace and horse jockey. I think there was only one film in India that's made with horserace as the backdrop before. There is lot of scope for emotion and entertainment in the film.
Winner is a story about a guy and how he wins over people and love.
Jagapathi Babu acted as my father. We had already worked together for Pilla Nuvvu Leni Jeevitham. It's a great opportunity to work with such an elegant, poised and charming gentleman. I learnt a lot from him. He has guided me really well. I had a great learning experience.
It must have been difficult to ride horses?
I had a nominal training at Hyderabad Polo and Riding Club when I entered the films. Once I went for actual race for this film, stunt master Kalyan taught me from practical perspective.
Did you watch any Hollywood horse films for references?
Films like Sea Biscuit deal extensively about horses, jockeying and races. I didn't watch any films for research. But, I had been to Hyderabad and Bangalore race courses to observe the body language of jockeys. I learnt that ideally jockey should be of short height (4.10 to 4.11 ft) and weight shouldn't be more than 45kg as he should be shorter and lighter than the horse he is going to ride. We take a lot of cinematic liberty though.
Gopichand is known for minimum guarantee commercial films. How is Winner going to be in that aspect?
Gopichand Malineni is a kind of person who puts 100% effort into the film. With the way he handled the subject of Winner, he will into next league after the film's release.
How is it working with a senior cinematographer like Chota K Naidu?
I knew him from my childhood and I used to call him Chota mama. The entire shooting atmosphere is like a bunch of kids controled by Chota mama. He showcased me in the best possible way for Winner.
Thaman has given good music?
Yes. He has given good quality music for Winner. His music for my last film Thikka also got a lot of appreciation. I bond a lot with Thaman over cricket. I think that's the reason why he always gives best music for me. I need to thank Mahesh Babu garu, Samantha, Anirudh, Raviteja garu, Murugadoss sir for launching songs over twitter.
Your producers Nallamalupu Bujji and Tagore Madhu possess two contrasting personalities. How was the experience?
They played good cop and bad cop (giggles). A story of this span need a huge budget. This is my highest budgeted film. They haven't compromised and I want to thank them for their big heart to spend so much (because the script demanded it).
Tell us about horse races and horse in this film?
We don't get permission to use stunt horses on horse racetracks in India. We tried various places like Durban, Kentucky and Bulgaria. Finally we had to shoot in Turkey as they allowed stunt horse to race on the track.
My horse is 18 years old and it has 16 years of movie experience. It has acted in many Hollywood films (Hercules) and war movies of different languages like German and Italian. The horse is a Spanish breed one brought from Bulgaria.
You were supposed to do Shatamanam Bhavathi film. Sharwanand scored his career best with it. Any regrets?
There were issues with my dates and Dil Raju wanted to release it for Sankranthi. Megastar's Khaidi No 150 was slated for Sankranthi. Hence I opted out. I am very happy about success of that film because Sharwanand is close friend of mine. He is also the best friend of Charan. Sharwanand is a sweet person. I am very happy that both Sharwanand and Dil Raju scored a big hit this Sankranthi.
You have tweeted positively on the release day of Balakrishna's Gautamiputra Satakarni. You always make sure that you appreciate where its due?
Balakrishna garu has done 100 films. He is a legend like his father. Being an actor I know how accomplished one has to be to be able to complete 100 films.
How did you take disappointment of Thikka?
My mother always tells me to cherish successes and learn from failures. Next time, if I am not happy I discuss with director and producer at pre-production stage itself.
What do you think will work for Winner?
I thinks songs, visuals, scenes involving me/jagapathi and climax sequence.
Tell us about your future films?
Jawaan will be my next film. It will be directed by BVS Ravi and movie will go to floors in March. I am doing a 15-minutes cameo in Krishna Vamsi's Nakshatram film.
- jeevi