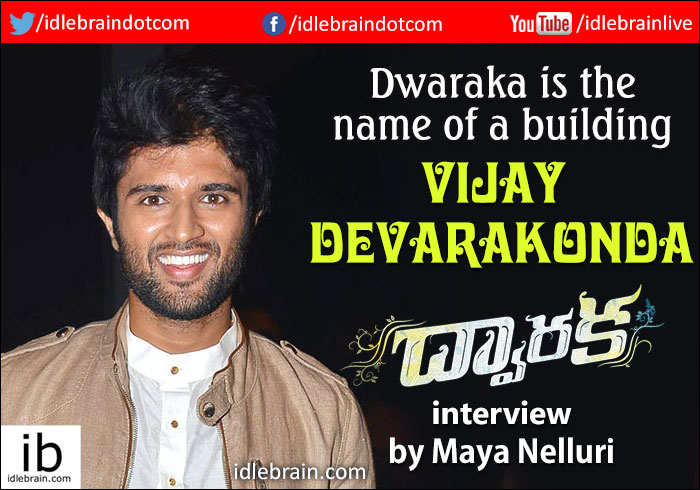 27 February 2017
Hyderabad
If the viral teaser of Arjun Reddy is anything to go by, Pelli Choopulu's super lovable lead Vijay Deverakonda is all set to blow your mind with his upcoming releases. And we aren't just talking about the soon-to-release Dwaraka either. In this in-depth introduction to Vijay on Idlebrain, we get inside the mind of the man of the hour and find out the entire list of projects he's got up his sleeve. Read on!

Why did you want to become an actor?
I think it was many small decisions and events that lead me to where I am now. For example I was in a hostel until my tenth. If I continued in the hostel system further I probably would have done my MBA and gotten into a blue collar job but at the time my father decided to bring me back home for Inter. A few years later, it was while I was doing BCom that I first decided to do theatre. I was just exploring things at the time but I really liked it. I loved the stage!

Also, I was always a restless person who was inclined towards the creative fields. Even while I was studying, I was into extra-curricular activities like drama. I was an imaginative soul, read a lot and enjoyed story telling. It wasn't that I set out to become an actor initially but I knew that storytelling was something that pulled me towards itself. I knew that I couldn't do a regular job. I was too ambitious; I wanted to be recognised and wanted to make good money. I knew that success in films would mean a lot of money. And films have the ability to catapult your fame. Imagine us sitting here talking about Leonardo DiCaprio. He doesn't know us nor does he care about us but we probably had several conversations about him in our life. I always saw the big picture. Even when I used to do theatre, I wouldn't agree to perform in front of smaller crowds because I loved performing to large audiences. And what has bigger audience than cinema?

Having started off with minor roles, was it difficult to get a break?
Yes. It took two years for me to get Yevade Subramanyam (YS). By then I was already considering the possibility that I would never get a break; so I was thinking of back up options. Filmmaking was however my first love so I was figuring out what else I could do in the industry. I almost finished a full script and even directed a short film to test out my abilities. It was just around then that YS happened.

Did you have any help in the film industry?
My father was a Television film director and he directed some very popular serials. But he didn't quite like the environment, he wasn't creatively satisfied and the money also wasn't working out so he stopped doing them around 2007. But his experience of struggling in the industry, having come from a village, really helped me in my journey. The advice he passed on to me is priceless and he continues to push me and my boundaries. I feel that the value of that advice is greater than any other kind of help. That is not to say that there weren't times that I wished I had an 'industry father' who could launch me. Now it is all fine, but my father actually apologised to me several times earlier saying that he is sorry he isn't a big time film personality who could give me a launch pad.

How did the rest of your family react to your film aspirations?
Luckily my family is very supportive and leave the choice up to us regarding our lives. They even try to make the choice available to us. My mother did say consider doing an MBA as a backup but even she always asked me to follow my dreams. The rest of my family, I guess out of concern, wanted me to do a stable job while trying to make it as an actor but I knew that acting takes everything you've got so I would tell them yes, but I wouldn't do it. Now of course they are all super happy.

How has the success of Pelli Choopulu changed things for you?
A lot has changed. It's brought me more options which is superb. It is so nice to have choice rather than fighting for that one film. Now I can select from a bunch of scripts and choose to work with people I like. That's the most enjoyable part. I can even get a film funded if I like it now. It's a sort of creative power which is cool to have.

It seems that you are choosing your film scripts quite carefully – is that so?
I don't think I'm careful. I just make sure that I completely like the script. I like films to be logical. I like to feel like it could happen or it could have happened. Also, I choose the film if the story excites me and it feels like something I would love to listen to or watch when I'm with a bunch of friends. If something excites me as an actor and I can enjoy it, then I do it.

Tell us about your upcoming film Dwaraka.
It is a story I heard before Pelli Choopulu. I actually signed three films together which I was to shoot back-to-back. The third was Arjun Reddy. Dwaraka is a film I felt very engaged with because it is about the domino effect that exists everywhere. One small instance can change someone's life. Just like my father pulling me out of the hostel.

This movie is based around a character who is struggling for survival and he happens to jump into the building called Dwaraka. The name was chosen symbolically because just like Krishna's Dwaraka, this building too houses people of every kind. There are lawyers, politicians, people who are envious, who are good, bad and so on. Our director is an atheist so the film is a different take on the idea of God. There are subtle elements spread throughout the film that bring forth questions like is money God? Because a person with money is the one making the decisions in this world. Or is it love? It could've been a very dark film but that is not how we wanted it made so it was shot in a commercial way to allow everyone to enjoy it. I hope that people see what I see in this film and really enjoy it!

And what about Arjun Reddy? It is really making waves with the youth right now!
It is essentially a love story. It's a guy's journey over a four year period where he starts off as a medical college student and goes through the years. But the core of the story is applicable to anyone so it is relatable to everyone. The reason I chose this film was its strong characterisation of the lead and also because I was in awe of the scenes that were written. It was a story that I would like to listen to. And I saw the great vision the director had. There was a lot of scope to do something unique.

What projects are you going to be working on this year?
I'm currently shooting for supernatural thriller. The director is Rahul Sankrytan and it is by GA2 and UV. Shooting of another film by Parasuram (also by Geetha Arts) will start shortly. After that will be a film with director Nandini Reddy. Then another directed by Bharat Kamma. I will also be doing a film with Kranti Madhav and Deva Katta. I'm hoping to finish as many as possible this year!

That is quite a line up! Where do you see yourself in five years?
Hopefully alive! *laughs* Life is so unpredictable. My only wish and strong desire is to blow people's mind with whatever I do. Wanting every film of mine to be mind-blowing might be asking too much but I will strive for my best. I want to continue exploring the opportunities out there.
- Maya Nelluri