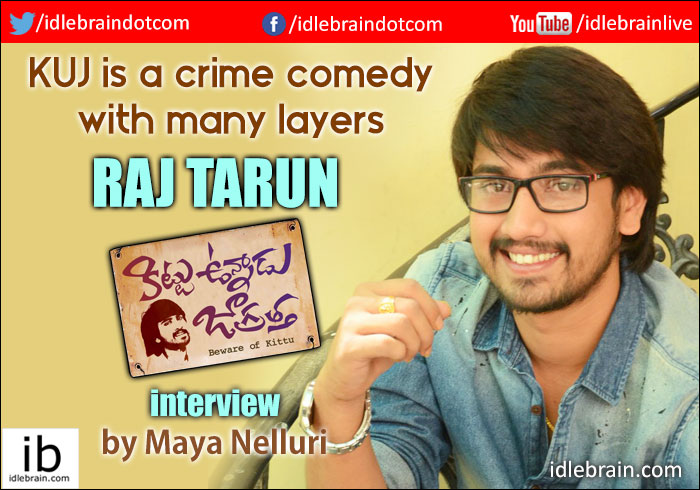 2 March 2017
Hyderabad
Uyyala Jampala's surprise find Raj Tarun has since cemented his place in Tollywood as a leading man. He has starred in an array of entertaining films and is getting ready for the release of another unique concept – KittuUnnadu Jagratha.
Tell us about your role in Kittu Unnadu Jagratha.
I play a dog kidnapper; I kidnap them for ransom and leave them. The movie itself is a crime comedy and completely entertaining. Although it is a love story, it is so much more, there are so many layers. We show the after effects of love; there's a great cast and a lot more to look forward to.
How was it working with director Vamsi Krishna?
It was great working with him. He has worked for many years in the film industry and has a lot of clarity about his work. It made the whole process very easy. Everything was done very fast. He also gives his actors a lot of freedom so we enjoyed that.
Tell us about your equation with the actress Anu Emanuel.
Anu is a matured actress. She was born and brought up in US, and she is a Malayalee, so she doesn't know Telugu. Still, she would study the script, learn all her lines and say them herself. But if the lines change she'll stop the shoot just like a jilted lover stops his love's marriage. *laughs* She is also very honest so she says everything as is if she is uncomfortable or if she has any issues. There is no need to guess with her so that makes working with her quite easy.
You've tasted success right from the first film Uyyala Jampala – did you expect that? 
Not actually! I never thought I'd be an actor in films. It just happened.
You also did the screenplay and writing for that first film – how did you manage that? 
I was an AD for the film and we worked on the script much before the actors were chosen so there was no problem. Once the script was done they started looking for actors and they asked me.
Did you set out to be an actor?
No. For a year and half we worked on the film's script and pre-production. After that much time spent, we are totally involved in the film. At that point when they called me one day and asked me I said yes. Even while I was acting, I was still doing the AD's job. *laughs* It was only after it released that I realised what happened. Even then I thought after that I would go back to direction. I was actually afraid people will say that movie is good but hero is bad! *laughs*
Are you still planning to become a director? 
Yes, definitely. I'm not sure when but I will do it once I finalise a script that excites me.
How do you choose your roles?
I don't choose my roles; I choose scripts. If I'm excited about the script then I decide to do it. After that I think about my character and work on it. It is not my way to develop a role and then build a story around it; I don't think that would work also.
What do you enjoy most about acting? 
I like the entire process of making film. It's not about acting, writing, editing, or anything else. Regardless of what the work is, even if it is doing the lighting or pushing the trolley, I enjoy everything equally. I love everything about cinema.
What do you dislike about acting? 
I like everything to do with the film making itself as I mentioned but it's the things outside of it that concern me. I don't like the gossips but it is a part of the job so have to face it. I can't do anything about it.
Do you have a dream role? 
I don't have any such thing. I am happy choosing from the exciting offers that come to me.
Do you every get star struck? 
I've always been a huge Mahesh Babu fan. I would watch every show on the first day for every one of his movies regardless of how it is.
What are your upcoming projects?
Andagaadu which is being directed by Velligonda Srinivas garu is almost ready for release. After that is a movie I'm doing with Annapurna studios. 40% of that film is completed already. Then I will be doing a film with Dil Raju garu.
- Maya Nelluri