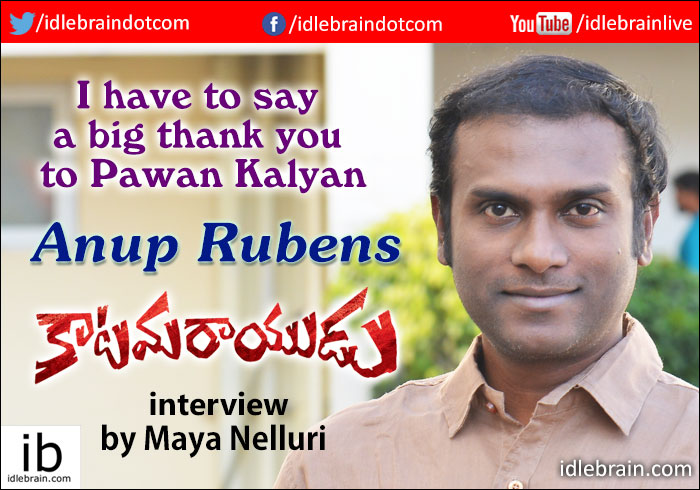 27 March 2017
Hyderabad
"Music is the universal language of mankind," theorised the celebrated poet Henry Wadsworth Longfellow. Musicians then have the power to connect to the entire world, which is unlike any other individual. Anup Rubens is one such man whose talent gave us musical hits like Ishq, Manam, Gopala Gopala, Temper and now Katamarayudu. Regardless of where in the world you reside, you cannot forget his memorable tunes. He makes you dream, feel, smile, cry, laugh and travel into the world of melody. We spoke to him about his journey so far and his equation with Pawan Kalyan. Read on.
Tell us about your life before you entered the film industry.
I have been into music since my childhood. And from my 10th I would work on shows and recordings. After my degree I came into films. At that time I never thought I could make music my career or that I would become a Music Director. It just happened. When I first started doing recordings, it was for a livelihood. That led me to films because people liked my work and started calling me. If I did not get into films or music, I would've become a business man. I hated the nine to five jobs and I knew I could never do that. So earlier I used to think that I would become a businessman. But fortunately now I'm doing what I love.
How did your movie career start?
My first movie was Chitram where I was a keyboard player. It was a young team and great to start with.  
Was it a struggle to further your career?
When I was a keyboard player I played for many popular films like Santhosham, Nuvve Nenu, Jayam. I saw success there but when I started my career as a Music Director (MD), I worked on a few films which were average or below average at the box office. And as you can imagine, success is important in any field. Still, I wasn't disheartened by it. I continued to work on my craft and do my best. My parents always taught me to just keep working, they would say that then everything will fall in place. The first hit film for me as a MD was Prema Kavali which ran for over 100 days. Then it was Ishq. Luckily after this I've had almost a 90% success rate with my films. The thing is music also depends on the film and the script. Even in my earlier films there were songs that were appreciated but they did not reach as many people because of the success or lack thereof of the films.
Which project do you think really changed your career?
I think Ishq was a major film, followed by Gunde Jaari Gallanthayyinde, Loukyam, Manam, Gopala Gopala, Temper, Katamarayudu and others. According to me, my best was Manam because it was a huge multi-starrer and the 1st in my career. The fact that it had three generations and also ANR sir made it extremely special. I have to thank the producer Nag sir and the director Vikram sir for choosing me for such a huge film.
After Manam came Gopala Gopala and now Katamarayudu. Tell us about your experience with Pawan Kalyan.
I have to say a huge thanks to Pawan Kalyan sir; also Sharath Marrar sir for his support and Dolly sir, the director. Also a big thank you to everyone for making the songs of Katamarayudu a hit. 
Coming to Pawan Kalyan sir, I have to say that Gopala Gopala was the best thing that happened to me in my career after Manam. I signed it straight after Manam and it was a massive opportunity for me because it was a film starring two of the biggest stars – Pawan Kalyan sir and Venkatesh sir. There was one particular song Bhaje Bhaje that I composed for when both of them would be on screen. When I did the initial work for it and sent it to Sharath sir, he got Pawan sir to listen to it. At that point I hadn't yet met Pawan sir or interacted with him. Despite being such a big star, he called me immediately after listening to the song. I was doing the background music for Gopala Gopala when he called. I can still clearly remember the conversation. He said, 'Hello, it's Pawan Kalyan speaking.' He said that he listened to the song and really liked it. He even told me that I had a bright future and spoke for a good 10 minutes encouraging me. By the end of the conversation I did not even realise that I had come out of the studio and was walking on the main road. *Laughs* That's the affect sir has!
At that time he said, 'We will definitely work together again.' But I wondered if that would happen. I had heard that he was a man of his word and I experienced it first hand when I got to work with him for Katamarayudu. During this film I got to meet him a couple of times and had such a memorable time. I cannot explain how unbelievably down-to-earth and simple he is. The way he receives you when you go to him is like a friend, it's the best part about it. I used to take my laptop to the shoot and play him songs. He would close his eyes, immerse himself in the music, and would give me feedback to boost my energy. His positive and kind words really resonated with me. I have huge respect for him
You've worked with hit directors and debut directors. How does the experience differ?
There is a speciality in every director or person. Established directors have clarity; they know the process, loop holes and what it takes so it's easy to work with them. We can also learn from them. Take for example Puri sir, Teja sir, Vikram Kumar sir, or Dolly sir. I've done 3-4 movies with them and still each time I work with them I learn something new. That's the best part in working with them. As for the new directors, they have new ideas and it helps me create new output. The way they design and narrate the story will all be fresh so that also helps me a lot. In both instances I learn and grow.
Of all the movies you've worked on, which is your favourite? 
All are my favourite because I have a special connection with each of them. But there are a couple as I mentioned earlier that made their marks in my career. I didn't expect to be chosen to work for a family like ANR sirs. Second would be Gopala Gopala. Then there is Bhuddah Hoga Terra Baap where Puri sir chose me to work on the Bollywood Amitabh Bachchan starrer. My first film with Jr. NTR Temper was great and Ishq is also my favourite.  
Who do you think is your biggest competitor today? 
I like to think of my previous hits is my competitor. *Laughs* I always have to give better music compared to my last film. That's what people expect and I also want to give better music each time. As for the rest of the competition, it is healthy to have talented peers because when I listen to great work from other MD's it inspires me to do better. It's not a competition but it helps us grow when we hear good work.
Whose work did you like the most in recent times?
In Telugu I especially like DSP, Thaman and Keeravani's work.
If you were given a choice to be reborn as a MD, who would you choose to be born as? Anoop Rubens! *Laughs*
People listen to music to relax but since that is our work, how do you relax?
*Laughs* My relaxation is also music. I keep changing the genres I listen to. But I have to say that sometimes I enjoy silence also. 
- Maya Nelluri