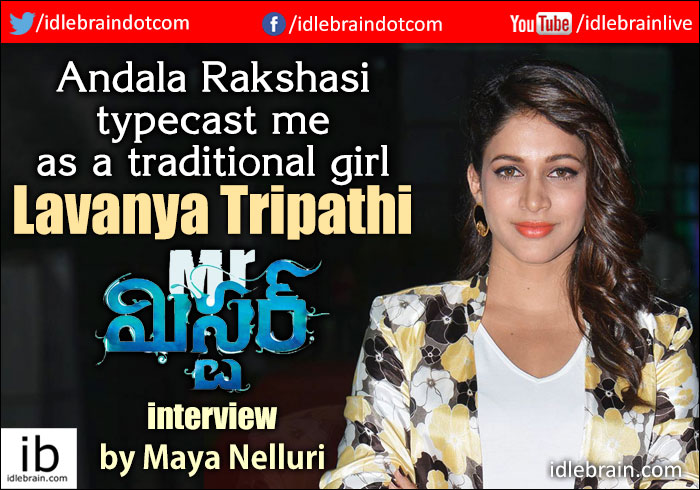 10 April 2017
Hyderabad
Lavanya Tripathi's million watt dimpled smile is enough to warrant her place in the spotlight. But when you add to that hard work, self-belief and talent, you can be sure that this girl was meant to go places. In this candid interview the cheerful actress opens up about her upcoming film Mister. The film is set to hit the screens this Friday, the 14th.
Tell us about how your debut film Andala Rakshasi came to feature you.
At the time I was doing commercials in Bombay and was a little bored of it. So I took a month's break to focus on films. I actually thought I was too young before that to even try films. On one of those days a friend of mine called me and asked me to come immediately to meet her. She said come as you are, without any makeup. That's when I first met the director's friend. He took a few pictures of me and sometime later the director had come to meet me. When we met the first time, we just talked and by the end of it he told me I was selected. There wasn't even an audition. It was difficult to believe at first. Now when I think back, it seems like it worked out quite easily for me. *Laughs*
Can you tell us about the on-screen work you did before Andala Rakshasi?
Even before I had turned 18 I won the Miss Uttarakhand title. At that point I thought to myself that if I could do that, I could do anything. I wanted to pursue a career but my mother said that she would only allow me to move to Bombay if I managed to secure a job before I got there. It seemed like an impossible task but it was probably destiny because soon enough someone had come to Dehradun where I was living and selected me for a project. When I moved to Bombay though there were two years when I was only studying. Then I got into commercials.
One day when I had just finished shooting a television commercial with Shah Rukh Khan, I was sitting in the café nearby. A man approached me and told me that I would be perfect for a role in a serial that he was casting. I actually wanted to get into films and wasn't interested in serials but I did that one. I think I must have accepted it because I got carried away; there is usually a lengthy process for these things but they didn't even want me to audition. Apart from that one instance, I was always very particular about what work I accepted or even which auditions I went to. I believe in quality over quantity.
I guess it makes sense then that your success ratio is quite high – do you have a secret formula to determine if a movie will become a success?
*Laughs* I don't think there is a formula but I think one should believe in the project they are working on or only accept one that you believe. If you don't believe in a story, you shouldn't do it. As for the success of the films, I think it was a mixture of hard work and luck for me. In some cases if the movie did not do well, I might have lost offers but luckily they worked. In any case though, I believe that you must always give your best. The film may work or flop but the actor must never fail.
That is quite a powerful message.
Yes, regardless of the result of the film, it is important that you give your best. People should end up talking about your character separate from the fate of the film.
How are you enjoying your success?
I've never really thought about it because I'm never satisfied. Someone asked me what I thought was my best work but I couldn't think of anything because I never thought I performed well. I get competitive with myself. I try to take it positively since constantly trying to improve myself might eventually lead me to be happy with myself on screen. I can say that to date, I never really got time to enjoy the success.
The majority of the roles you portray are very traditional – is that a conscious choice?
As a model I never did salwar or saree shoots. *Laughs* To be honest I didn't even have a single Indian outfit earlier; I would have to go and buy something even to go even to a temple. Ironically because of my characterisation in my first movie I think I've been featured in such looks since. I suit both traditional and modern outfits but I think I've done enough traditional looks. The thing I find most irritating is when people say to me, "Please don't wear such clothes." I'm quite different in my real life and what I wear is my personal choice. I do however understand that that's how audiences are used to seeing me and expect that.
In saying that, I don't mean that I want to shed all my clothes. Unfortunately, glamorous, which is seen as the only alternative to traditional, has a weird connotation here. Yesteryear's actresses would be covered head to toe and still look amazingly glam. It is all about how you hold and carry yourself. And girls these days wear desi and modern outfits so it's only normal to show a balance. Still, I don't want to give the audience a sudden shock by totally shedding my traditional avatar.
So will we be seeing a different Lavanya in future films?
I definitely want to experiment with my roles and that means my looks as well. I agree that Indian women look the best in sarees and possibly Indian men like to see women in sarees. But I am an actress and I want to do extremely different roles on screen. Even when you look back, the characters I've played were vastly different. In Soggade Chinni Nayana, I was a woman who was married for three years, in Srirastu Subhamastu I played a college girl. Now in Mister I'm doing something quite different again.
You've stayed clear of any sort of controversies in your career – how is that possible?
You are possibly the fourth person to ask me that in recent times. *Smiles* Actually I feel nice when I hear that. I'm a very private person and I feel that the amount of my personal life I want to expose should be entirely up to me. The day I'm confident about the person I'm with, I will announce it myself. I'm like every other girl who wants love and happiness in her life, but for now I would rather have people talk about my acting rather than my personal life. *Laughs* Especially since I'm putting in all my energies into my career.
Tell us about your next film Mister.
I've never enjoyed doing a movie and playing my character as much as I did with Mister. I've actually never laughed so much. In my debut film I just used to cry. *Laughs* Bhale Bhale Magadivoy was a great story but my character didn't have a lot of depth; it was essentially Nani's film. With Mister, I'm sure people will fall in love with my character in the film. I also think that the film will be received well and people will be thoroughly entertained. It's a travel-triangular-love story that perfectly blends emotions and comedy. You won't find a dull moment!
How was the experience of working with an accomplished director such as Srinu Vytla?
I learnt so much from him. Being such a senior and successful director he would still work like he was debuting. By that I mean he worked so hard. He would enact every scene for us and show us each and every expression. He was so good that I couldn't catch the depth of many things. It was amazing to see him working. I think everyone should do something similar where they release themselves of any preconceptions after each project and start the process of learning again.
Tell us about your co-star Varun Tej.
He is a very sensible and great actor. At just three films old he already has a massive fan following. I think what's going to really stand out is that he hasn't tried comedy earlier; he's done really well in Mister.
You've got Radha coming up to release pretty soon too.
Yes. Radha is a pakka commercial film. I don't have much to do in it as with many commercial films where girls are cast to look pretty. *Laughs* I play a college-going girl-next-door. It is a totally fun-filled film and I'm sure the film will do really well. It was also a lot of fun working with Sharwanand and his comedy timing is amazing.
What are your other upcoming projects?
I'm doing a very realistic suspense/ family drama alongside Naga Chaitanya. I actually wear no makeup at all in the film. I have to say I'm very happy with the line-up I have coming up.
Will you prefer to stick with Tollywood or branch out in the future?
I prefer Telugu cinema and like working here but I think I will start branching out too. I don't think it will be too difficult. I think as an actor if you are good, you will do well anywhere.  
- Maya Nelluri