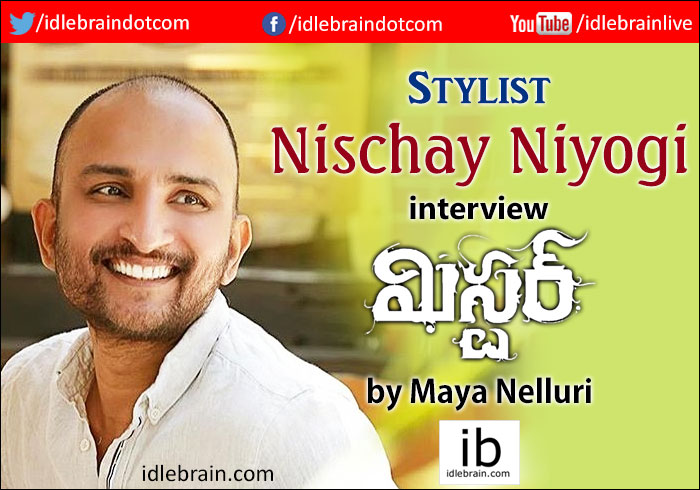 12 April 2017
Hyderabad
Hyderabad-born, London-qualified, Mumbai-based Stylist-par-none Nischay Niyogi gave us the in-depth interview we've all been waiting for about the latest trend in Tollywood – Styling! Phew! Well that took a long breath to read out! Coming back to the man of the hour; Nischay gave Varun Tej his much appreciated look in Loafer and is now excited about seeing him transform into Mister (releasing 14th April). Read on to hear about fashion, films and more.
How did you get into fashion? 
This goes back to college when I was studying art. I was surrounded by fashion students and used to do their illustrations. From the beginning I had the love for fashion inside me so was pulled towards it more and more. Once I finished my degree I decided to take up fashion. That's I went to study in London. I was accepted directly into second year because of my art background. I graduated from the London College of Fashion specialising in women's wear and then took up styling there. I was head hunted by an Asian women's bridal magazine based in London. That's where I interned, worked and trained under the Editor. When I came to India I took up styling in a major way and started freelancing. One thing lead to another and I ended up in Telugu films.
Why did you decide to leave London?
I stayed in London for 11 years but life became a little monotonous and I was missing home. The thing is you are bombarded with news about India in the UK so I was reminded of it all the time. At that point I thought it's been a while since I visited India so decided to take a three month holiday. Once I got here, the longer I stayed, the more I didn't want to go back. This may sound bad in some ways but the lifestyle in India is a lot easier because in the UK you have to do everything yourself like cooking, cleaning. Here you can hire help. I guess I got used to the comfort of being with family and the rest of it and never ended up going back. Also, when I moved to Mumbai from Hyderabad, my career really took off. I was saving much more than I was earning in the UK so there was no reason to go back.  

How did you enter Tollywood?
My first film was with Director V. N. Aditya. I owe him my journey because it was he who gave me a break. He's actually a family friend and when he came to know that I got back from the UK, he asked me to style his entire film's cast. The film was titled Rainbow. It was quite a daunting task for me because of how the industry works and also because of the culture shock. I was away from India for so long and didn't really keep up with Telugu cinema then. And once I got the opportunity, there was barely any time for me to even check out where to buy things. The city had changed so much. But this was my big break and I wanted to get everything right so I used to work 18 to20 hours a day. Unfortunately, the film didn't do well but it gave me an insight into how Tollywood works. I've done many films after that but I will always owe my journey to Rainbow and V. N. Aditya.
You live in Mumbai now, how do you manage to juggle working in Telugu cinema with your career there?
Juggling between cities or countries is not an issue because I love my job and travelling. In fact, if you tell me that there will be a lot of travel involved with the movie I'll say I'm in. *Laughs* Also, when you love your work everything is easier. And not many films right now are shot exclusively in Hyderabad so it's not necessary that I live in Hyderabad to work in Telugu films. The only thing I lose when I do Tollywood movies is the money I would make during that period in Mumbai. I am not really someone who will just do the shopping for the film and leave my assistant there during the shoot. I like to be present on the sets. I have a strong need to stay in touch with my roots in Hyderabad so even though I don't make as much money here, I make it a point to do at least one Telugu film every year. To be honest, right now the only things that bring me to Hyderabad are the meetings with the film's unit or the shoots.  Eventually I'll move to Hyderabad but now is not the right time for it. Maybe I'm bored of Bombay or get too home sick.
You identify as a Stylist. Can you tell us the difference between a Stylist and a Designer?
A designer is usually focused on a particular niche such as jewellery, shoes, accessories, traditional wear, western wear, and so on. Stylists put the entire look together. He or she can pick up different brands and put them together. There is always a debate about whether Designers can style or if Stylists can design. There are some who've done both and I think you can do it if you have a deep understanding of the area.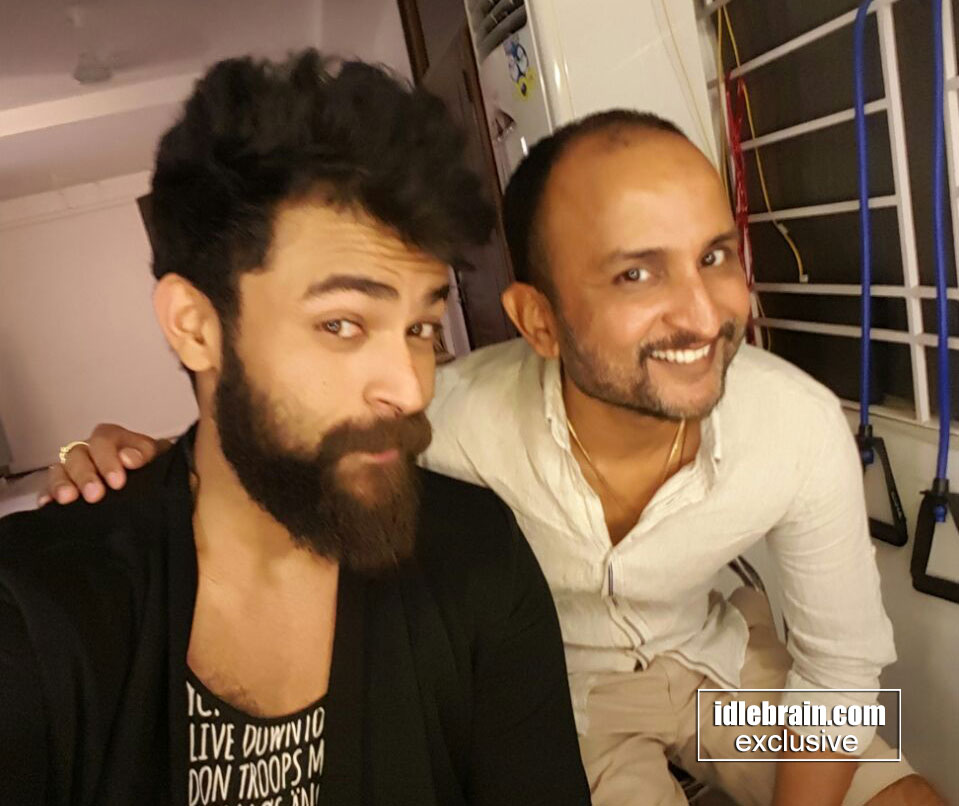 What does styling entail?
Styling is very technical, you have to understand the requirements of the entire project, body form, body shape, colours; and then there is also the aspect of coordination with the rest of the people and mood of the scene.  You really need to understand the whole movie and characters so that you can give them a specific style statement. In some situations when this is done right, these style statements become a huge hit.
For example, when I was a young kid in school I came to Bombay to shop. Back then Hyderabad's fashion options were far behind Mumbai's. So when I was there I shopped for some t-shirts and pyjamas. When I got back to Hyderabad I was wearing the same combination. That's when V. N. Aditya, who at that time was assisting for the film Bavagaru Bagunnara, saw me. If you think back, you'll remember Chiranjeevi sir's t-shirt and checker pants combination became a massive fashion trend.  Even though I've never mentioned this to anyone till now, it just came to mind when I was thinking of examples. Imagine if Aditya didn't see me wearing that outfit and suggest it to his team?!  In Tollywood uniqueness is appreciated. Sometimes it goes wrong but when they get it right, it can cause a huge ripple in the industry. Of course we already know that what our heroes and heroines wear greatly influences the general public's fashion choices. So essentially it is our responsibility to get it right and do something unique.
There is confusion between the term Stylist and Costume Designer in films, can you clarify that for us?
The term costume designing comes from an earlier era where the majority of films were mythological. To explain the different titles in movie terms they used to call it costume designing because it was based on different eras. It takes the industry some time to get used to new terms. If you think back to ten years ago, that's when the term Stylist started being adapted. Earlier the Costumers used to look at catalogues and pick out stuff. The terminology is changing in this area just like in others where hotels are now called restaurants; shops are boutiques and so on.
In today's date if we study fashion at an international college, costume designing and fashion designing are treated as entirely separate genres. Fashion is something you create. Fashion is looking ahead. When you look at re-creating looks from different eras then it is costume designing. Sometimes we adapt and modify earlier styles like polka dots, military pants etc.
There is another confusion with the titles; that is between a Hair Stylist and Fashion Stylist. Barbers are no longer called Barbers, they are Hair Stylists. And if you just say Stylist, it is assumed that it is to do with hair. So we've had to adapt either Fashion Stylist or Costume Stylist. For the most part it's the latter because most films do not require as much infusion of fashion.  
So, do you also design?
I have a men's wear label therefore it's named after me - Nischay Niyogi. It's not a brand so it doesn't have a name separate from mine. I've put out several collections but I don't participate in the fashion shows – maybe it's time I did. I've also got a men's wear video blog – thebigblogjob.com in the pipeline and about to launch. It's ready to go with content already in the library but I've just not had time to take a breather to get these other projects going. The thing is I'm so busy with styling in Mumbai and working on films. Apart from Tollywood, I'm also working on a Arjun Rampal film.
Who are all the Tollywood actors and actresses you've worked with?
Rana I've styled for magazines and news papers, Allu Arjun for Badrinath, Naga Chaitanya for Southscope, Allu Sirish for Kotha Janta, Manoj Manchu for Gunturodu, and now Varun Tej for Mister (and before that for Loafer). I'm also doing the songs for an upcoming film Sharabha starring Mishti and Akash.  
What about in Bollywood?
I've worked with many actors starting from Anil Kapoor, Madhuri Dixit, Juhi Chawla, Raveena Tandon to Ranveer Singh, Aditya Roy Kapoor, Vivek Oberoi, Sonakshi Sinha, Priyanka Chopra, Kangana Ranaut, Shraddha Kapoor, and more.
Is it different working in Tollywood compared to Bollywood?
Now-a-days many Bollywood films are based on South films. *Laughs* But yes there is a difference, in the South everything is more planned and takes less time to complete. The technical aspects of South movies are also a par above. I feel they are more creative with their dialogues, screen play, plot etc. Here it is also far more disciplined and punctual. 7AM call time means that you are ready at 7AM with makeup and costume. In Bollywood if the hero comes at 10AM and decides he's too tired, anything can happen! Here people are tasked with specific jobs and there is someone who'll wake u up and make sure you are ready at the reception to get picked up for location on time. They are superb with following up. That's how the movies start and end so fast. The average time to finish a film is between two to two-and-half months. That's also why the maximum number of films are made here. Even the money is good.
How was it working on Mister with Director Srinu Vaitla and styling Varun Tej?
I worked earlier with Varun Tej on Loafer. Even though the film wasn't a break through, his look was much appreciated all over. After that Varun trusted me with other films as well. We were meant to do one more between Loafer and Mister but that didn't happen. We both understand each other so it has been a great experience.
As for working with Srinu Vaitla sir, he knew exactly how he wanted to show Varun and he took great care in shaping his look right from makeup, hair and costumes. He is very sweet, polite and a very nice man to work with, if you know and understand what he wants and execute the same.
- Maya Nelluri