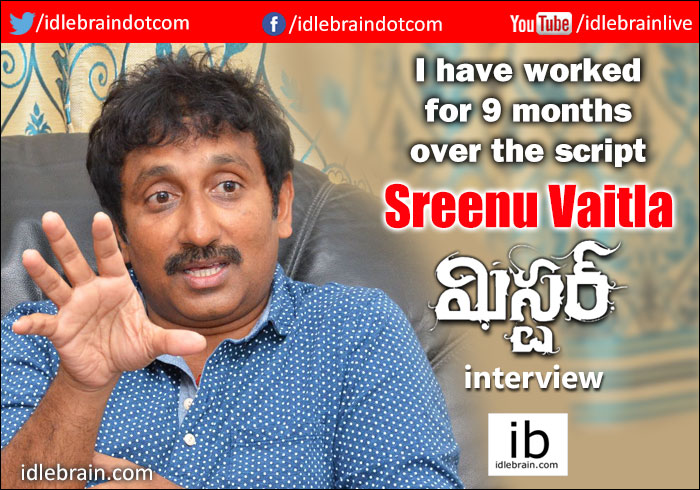 14 April 2017
Hyderabad
Sreenu Vaitla who is going through lean patch now has changed his orientation and is coming up with a triangular love story with travel backdrop. Here are excerpts of our exclusive interview
Since King film, you had always worked with big stars. What is the reason for casting an upcoming actor like Varun Tej for your latest film Mister?
After Baadshah, we (me and Gopi Mohan) realised that it's a signal from audiences that our pattern of (bakra kind of) comedy is becoming repetitive. Luckily, Baadshah worked well at box office and became a profitable project.
After that I had to do Aagadu. It was the only film I regretted doing in my entire career. It was my mistake. I take the entire responsibility. Mahesh Babu has blindly trusted me and did whatever I asked him to do. The result of Aagadu has created a panic in me. I had a flop in my career after a successful streak of hits for 9 years.
I have done Bruce Lee as a follow up. It also didn't do well at box office. In retrospect, I did Bruce Lee because I felt that people might think I was not getting projects if I had to wait for the right script. I also completely blame myself for the failure of Bruce Lee.
After Aagadu and Bruce Lee, I had realised that I should do a film with nice content, pleasing visuals and rich emotions. I had a story idea. That is when Gopichand told me the story line of Mister. I loved it very much. I narrated that story to a star hero. He has also got excited with the story. He said that the last half an hour was going to be the highlight. In between, a film of that star hero was gearing up for the release. During that time, I started having second thoughts. I realised that I might have to modify the script to balance his star image. Both of us decided that we shouldn't do it together as it had to be done with an actor with no big image. This proves that big stars of Telugu cinema don't look at the latest result of director to offer a film.
I wanted to do this film with Varun as I see honesty in performance and genuinity in his looks. That's when Tagore Madhu and Nallamalupu Bujji approached me with Varun Tej's dates. That's how Mister film happened.
Tell us about Mister?
Mister is a difficult film to make. There is something unique about this triangular love story with all three characters having backstories. It was a complex job to have commercial elements and entertainment without disturbing the genuinity of the story. We have worked on the script for 9 months to get it in proper shape.
I have done this film with a lot of passion. Mister has to be superior in all aspects compared to my earlier films. For example, entire Turkey episode of Dookudu was shot in Istanbul city only. For Mister, we have shot in 11 cities of Spain.
I had always wanted to shoot a bus travel in misty places. But, we hardly find such locations in Telugu states. There is a place called Baba Budangiri near Chikmagalur. There is a lot of greenery and mist over there in the month of September. It was impossible to shoot over there due to mist. We used to get clear shots only for an hour or two every day. When we sent teaser to Mickey, he asked me if the mist was a visual effect. Units of four films have tried during that time and returned empty-handed.
Just for a scene, I went to Kerala and shot it over there.
We didn't shoot even a single scene in Hyderabad. The closest location is at least 200 km away from Hyderabad.
Mister is a film in which I enjoyed the process of filmmaking the most. I used to have success in mind while shooting for my earlier films. Mister is a film that I enjoyed the journey of filmmaking. I made this movie with 100% commitment and 0% compromise.
Tell us about the entertainment in Mister?
There is a quality entertainment in second half. Raghu Babu, Srinivasa Reddy and Tejaswini have good entertainment scenes together in Spain. Pruthvi, Abhay (Pelli Choopulu) and Shaking Seshu (Jabardasth) characters are funny and they join the travel. Shakalaka Shankar and Master Bharath's characters are very good in the second half. There is a surprise in second half which generates tremendous entertainment. There is no Brahmanandam in my film after many years.
Technical departments:
KV Guhan is a terrific cinematographer who has excellent track record in shooting outdoor locations. He has given an extraordinary visuals. I saw final copy yesterday and DI (color grading) is superb. This is my first film with Mickey. He has a class pattern and my films have beat songs. I am very happy with the songs. Scoring background music for a multi-layered story like this is very difficult. I gave the first half of the film in 3 months ahead to him. He has taken 60 days to do re-recording and came up with fabulous work. Satish has choreographed foreign songs. Prem Rakshit has choreographed 3 songs and Varun Tej danced well in those songs. Sridhar Seepana started his career as dialogue writer with Namo Venkatesa. He has written nice dialogues for this film. My wife Roopa Vaitla has designed nice costumes to heroines (especially Lavanya). My younger daughter Pinky has dubbed the voice of a foreign boy. When she overheard about my requirement over phone, she volunteered to do it. Everybody will be surprised with her dubbing.
You saw the film. What do you think will work for Mister?
It's a fresh film with good emotional connect. No other film has come in Telugu with such a variety triangular love aspect. It's a perfect blend where genuine story meets commercial elements without disturbing the balance. I am very confident about film's success. Gopi Mohan has complimented me that Mister is my best work till date.
80% of your films are entertainment based films. Don't you think you are losing out on exploring more genres and becoming more versatile as a director?
I love to do variety films with single thread lines. But, the revenues are limited for such subjects as they tend to cater to niche market. The taste of audiences is different in each territory - Ceded, Nizam, Andhra and USA. Whenever I meet somebody, they always tell very specifically that comedy in my films is good. May be, I will produce and direct niche films to satisfy that thirst in me.
You are going through a lean patch when a couple of your contemporaries are doing exceptionally well. How does the competition and comparison affect you?
I was never happy when I was successful. I work hard during failures to prove myself. I don't own success. I feel little sad when somebody try to compare and comment negatively about me. I have learned to balance things and ignore negativity. Success is not guaranteed to anybody. We need to work sincerely and leave the rest to audiences.
There are rumours that you had cut down your remuneration for Mister?
I never gave importance to remuneration in my career. There were several instances where I was not paid full. When a film is gearing up for the release, I am least interested in pressing producer for remaining amount as I am more interested in fine-tuning the film till the last minute.
Madhu and Bujji wanted to do a good film by spending more on production. I reduced my remuneration so that it would not burden the producers.
Next film?
I have a couple of story ideas. We have to develop them.