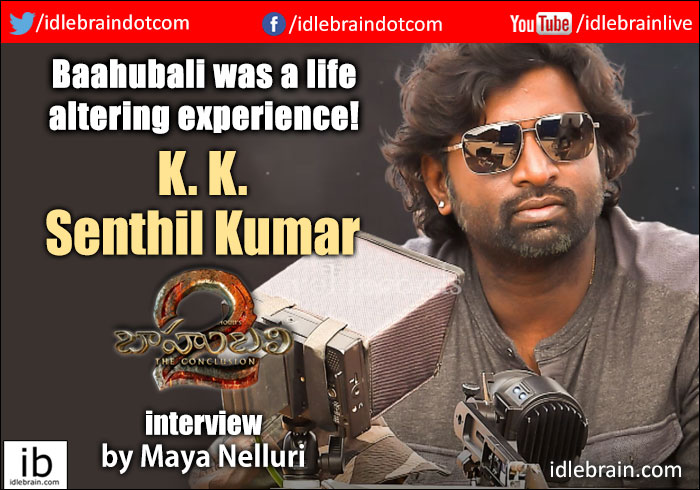 25 April 2017
Hyderabad
Baahubali. Regardless of which language you speak or where in the world you live, you would have come across this name. And it is Director of Photography(DOP) K. K. Senthil Kumar who captured on camera every scene of this epic two part film. Baahubali 2: The Conclusion is just days away from hitting the theatres as we speak to its DOP about what the movie entailed for him and what he intends to do now that he has finished his five year project!
You are quite possibly the most wanted DOP in the country today. When you started out in the film industry, was that your goal?
*Laughs* When I started off I just wanted to do some good work. I don't know if what you said is true or not but I am very proud of the way my career has progressed.
How was the experience of working on a film like Baahubali?
It is definitely a life altering experience. It was like studying at a university or college for five years; it changes you for life. Working with so many talented people really humbled me. It's not just my work; it is team work which is more important to deliver results. So it's ingrained in me now that the team is more important than an individual and any challenge can be pulled off as a team.
There's so much praise already out there for your work. What do you think you brought to Baahubali, as opposed to if another DOP had worked on it?
I don't know if anyone else could have replaced me. Whatever you see on screen is possibly because I am involved in it. I don't think anyone could have done a better job or something like that. *Laughs* Actually I don't know if anyone could have done anything close to what I have done.
How would you describe director Rajamouli?
Rajamouli is a master storyteller. He is a visionary film director. He has a vision in mind and till his vision is achieved he won't be satisfied; it keeps you on the edge, wondering if you reached his expectations. He's always pushing himself and his team to give the best. If you take his film career, from when he started off, he challenged himself and the team with every project he took on. In order to work with him, you need to be prepared to accept those challenges. Because I worked with him earlier and also putting all my film career experience to use, I was able to achieve the results of Baahubali. Working with him is challenging but also exciting because he's pushing not just Telugu cinema but also Indian cinema to next level. Working with him is satisfying, challenging and very taxing.
You've been associated with Ramajouli for the best part of the last 13 years. Will you continue to work together in the future?
It is definitely a great relationship which is giving great results so I see it going further. I would love to work with him as long as possible because he is a great visionary director. I love challenges and he creates new ones with every project; these are great learning experiences and they push your limits.
How does one maintain such a healthy working relationship, when the scope of the project is so large that it puts unheard of pressure on everyone involved?
Pressure is definitely there; the kind of love and passion that we all had towards the film kept us going. It is a benchmark film which was bound to take time. Once we understood each other and because we respect for each other, working together became second nature and it helped overcome the pressures.
For Baahubali, the time, effort, number of technicians, essentially every requirement is larger compared to other films. How did your team have to change or grow to match the requirements?
Right from when we started working on Baahubali we knew it was going to be a very large scale production. We did spend more than a year on pre-production trying to understand the vision the director had. When you are working on a film like this where so much money and so many people are involved, you cannot afford to make any mistakes. You have to be totally prepared with your homework to handle such a large workload and also people. Preparation helps know beforehand what is required and when. For example, for some shots we need some specific equipment or we have multiple camera setups. I roped in former assistants turned cinematographers to help me. My team and me were very much prepared to handle any situation.
How was it working with such an amazing cast?
The kind of passion everyone showed towards their craft or part, and the fact that everyone was willing to go the extra mile was great. It is thanks to our director who was pushing every single one of us to give their best. It is definitely an amazing experience to see so many talented people coming together and giving it all they've got. The result that you are seeing was bound to happen. The kind of passion and faith Prabhas had on the film (and the director) is unbelievable. Someone like Anushka who plays an old woman and then also a young one, it was experimental and she pulled it off amazingly well. Tamannaah who plays the role of a warrior for the first time played the role perfectly. When you watch Sathyaraj and Ramya Krishna or Nassar sir on the set, it doesn't look like they are acting, they are living their characters. When they perform so well, it becomes a challenge; you don't want to miss anything and you want to present them in the best possible way. Sometimes it's mesmerising to watch them and you get lost in their performances so you have to snap out of it to ensure that they are being captured in the correct way. *Laughs* It was a challenge, to keep myself focused with such actors on set.
Virtual Reality is a fairly new concept been launched via Baahubali 2: The Conclusion. Was it difficult for you to also take on that responsibility?
The sword of Baahubali is a completely different film and is approximately 12 minutes long. I'm fortunate to be associated with it. We don't shoot it like we do for conventional films. It was a learning experience where we figured out how to use this new medium to convey our story. It was quite exciting. Generally when you shoot for films with regular cameras, there are certain norms you follow; you can't follow the same norms with these VR cameras. It is an entirely new field and I'm very happy to be associated with one of the first films of its kind. It's probably one of the first films of its kind.
Tell us about the Imax format that Baahubali 2: The Conclusion was shot in.
It's one of the first South Indian films to be released in Imax format. This is big film, and you need a giant screen to enjoy this film. Imax is a larger screen where you can enjoy around 20% more of Baahubali in this format than in regular cinemascope theaters.
You've said that you still consider Eega your most challenging project, why is that?
When we started working on Eega there was no reference point of how it could be done anywhere in the world! We don't know how a fly sees the world so I didn't know how to start; but we pulled it off convincingly. Trying to get the angles right from the viewpoint of the fly is an enormous task. Also, when the main character is an imaginary one that isn't actually on the set, meaning that the principle character (hero) is not visible on set, figuring out how to shoot it requires a lot of homework, thinking, and rethinking. It was a thinking film. With Baahubali there are references out there in the world to help us envision the results. That's why I found Eega more challenging.
For the laymen among us, how many departments have to work together in perfect unison for a single scene in a film like Eega to be made?
When it comes to visuals, the camera department, art department, costume, and makeup and more importantly VFX have to work in cohesion with the director. Actors also play a very important role. Take Sudeep for example in Eega; he had to work alongside a principal character that wasn't on the set. It really has to be the perfect combination of all these departments for a film like Eega to look the way it did.
You've worked on both extremely large scale films and you've also done fairly simple stories. Which do you prefer?
I started off working on a low budget film so my journey from that to Baahubali has been quite dramatic. Both have their own challenges. Whether it is a VFX film or one with a very simple story, they both have their own challenges. Neither is easy. I like the whole process so I don't have a preference. I enjoy the journey in both types of films; the process of interacting with people and trying to get an idea onto the big screen is a great one. It is an evolving process which I enjoy in any scale.
You've spent so much of the past five years on Baahubali, how did that affect your family?
I have two young sons who are now seven and five years. My second son was actually just a baby when I started working on Baahubali so I've not been involved in his growing up process. It is something I really missed but whenever I got time I would spend it with my family. Obviously it's thanks to my wife who really held the fort on the home front. She took care of everything including the kids, finances, home, everything. It is thanks to her that I could concentrate without any disturbance. I could just get up and go to work. I'm very fortunate that she is so cooperative. She is definitely my 'better half'! *Laughs*
What are your plans after the release? Any holidays coming up?
We have to go. *Laughs* Till now I haven't had the chance to holiday or spend much time with my family. More than me they deserve the holiday so once Baahubali releases we'll definitely be heading somewhere.
What is your next project?
I've been so involved with Baahubali, even till yesterday. There was no time to think. I also did not want to think about other films because I didn't want any deviation from my focus. Once I sign a film, I want my focus to be entirely that. I'll take some time now and decide.
- Maya Nelluri