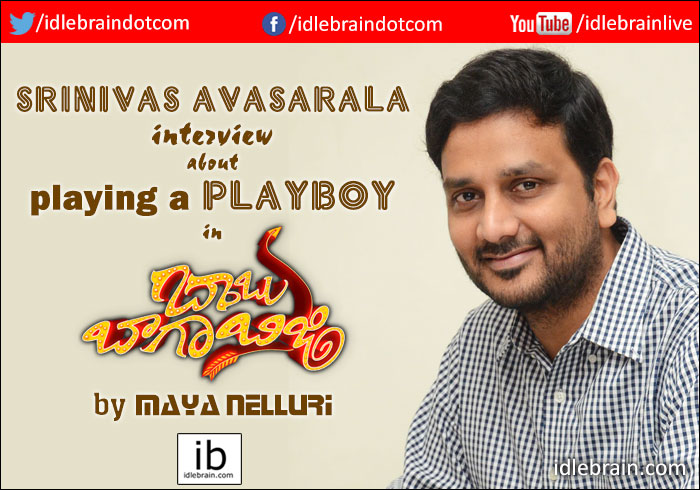 3 May 2017
Hyderabad
One version of Alfred Hitchcock's famous quote reads, "Cinema is life with all the dull bits cut out." Maybe that's why so many are fascinated by it, be it as audience, technicians, actors or critics. Speaking to the multi-talented Srinivas Avasarala gives one a similar experience – there are no boring bits. His ideas are unique and he is unapologetically confident about his choices. In this exclusive interview we learnt about his life before and after Ashta Chamma, including details of his upcoming release Babu Baaga Busy.
You did your Masters in Engineering before you turned your focus towards films. What made you change careers?
I think the question should have been, 'You are interested in making films so why did you decide to do your Masters in Engineering?' *Laughs* I guess that answers the question. I was always interested in film-making.
You've studied Engineering, Screen Writing and Acting in the US; you even worked as an AD (Assistant Director) for Blind Ambition. Why did you decide to move back to India and work here?
I wanted to work here. I was born and brought up here so I feel I can only express myself clearly and truly in my own language. Luckily my first acting offer – Ashta Chamma, was in Telugu and I had to move back to Hyderabad. So things happened from there.
So you received the offer before moving back to Hyderabad?
Yes, I was in the US when I got the offer. I prepared an audition tape of myself of about ten minutes. In it I performed ten scenes, some that I wrote and some from plays like Shakespearian ones. I had that handy because I was auditioning over there. Back then YouTube was there but it wasn't so popular that people would put up their short films or audition tapes on there. There was a casting call, on Idlebrain actually. I sent in my tape and I got picked.
You've done direction, writing and acting, which do you like best?
Writing. Because it's a very solitary process and I think it's the most creative of all jobs. You are not limited by budgets, cast or anything. You are creating a world and giving life to it. I get a great kick out of it. Directing is a means to carry my writing to the audiences in a visual form. So essentially directing a film is a vessel for my writing.
Of your many films, which of your roles did you like the best?
I'm very happy with what Ashta Chamma did for me. People still remember me by my role in that film. But I don't think I put that much effort into it, I wasn't a very mature actor back then. I have done well in my film Oohalu Gusagusalade. And I also liked myself in Raja Cheyyi Vesthe, Pilla Zamindar, Gentleman and Anthaku Mundu Aa Tarvata.
How has your acting changed since Ashta Chamma?
Some things have gotten better and something have gotten worse. I have done far too many films which made me look like a fool on screen. *Laughs* So there is a baggage when I get in front of the camera, like what is this role going to do. Back when I was doing Ashta Chamma I didn't have that fear. Some things have gotten better. I was secure back then too as an actor but now I've gotten a lot more relaxed. I don't mean that in a negative way. Being relaxed is the first step to becoming a good actor according to what they teach in film school. It took me seven years to master the relaxation step. Now the second step is to know where to put your hands. I really feel awkward about my hands. I think Sanjeev Kumar's role in Sholey must be the easiest in that regard. *Laughs*
Is there a dream project that you want to do and you haven't done yet?
I don't look that far into the future. Right now I'm excited about the ideas I'm writing about. Few other ideas came to me but I decided not to pursue them. My priority right now are the scripts I'm working on. As for acting, I'm much more settled compared to when I started. I'm not chasing after any roles. I'm excited about one project which I might start in August. My outlook towards acting in the future is to make every role of mine an award winning one. It's not my job to complain about whether other actors have messed up their lines, or the director not directing right or anything else. I'm at a stage where I want to do justice to every role I play.
For all these years since your debut you've maintained a clean image, why did you decide to take on controversial roles like the one in Gentleman and now Babu Baaga Busy (BBB)?
I wasn't trying to build an image with my films. I wasn't trying to carefully build a loyal audience or anything like that. I took up what excited me. Even when I wanted to direct many people advised against it. They asked me not to focus on directing while I'm still making it as an actor. They also said that if I choose to direct I should choose more commercial scripts. But I feel that you should work for the excitement that an idea gives you. Most projects that I've worked on were only because the ideas excited me. Same thing happened with Gentleman and BBB as well.
Are you not afraid of what a movie like BBB might do to your image?
As I am evolving as an actor, my audience also evolves. If some people find it uncomfortable watching me in such roles, I am aware that they might not follow my work in the future. As I mentioned, I'm not doing anything to build my audience. I do what excites me and hope that others will like it too. I cannot tailor my choice of movies based upon others.
On a personal level, are you the good guy that you've usually played or more like the new avatar that you've taken on in BBB?
*Laughs* Let us assume that I did a violent film and I've killed 40 people on screen. Will you ask me the same question? Would you say, 'Are you the really nice guy or have you committed murders in real life?' Then why do you think that the same thing doesn't apply to this film as well? *Laughs* To be honest, work is work. I'd rather not bring in personal issues into work. Some people asked me how my parents reacted when I told them about me working on BBB. I said my parents and I don't talk about work and even if I did discuss it with them, it isn't really anyone else's business to judge what my parents said and ponder about their morals. These are personal issues. There is no need to bring my parents or morality into the questions just because the film deals with sexual content. There was even someone who asked me that in the trailers I'm talking about my 'score' so what is my score in real life?! *Laughs* Since then I realised that just because someone thinks it's their right to ask such questions, I don't need to answer them.
How do you think BBB will do in Telugu?
I picked Hunter (the original on which BBB was based) because I liked the story and writing. Once the film was done I was happy with how it turned out. I'll leave the decision to the audience. Even if it doesn't work, I'll still feel that it was the right choice and stand by my decision; but I do think that this film will work because it is very close to human nature and most people, so people will relate to it.
You've transitioned to lead hero with this film. Does that mean that you will only look at doing lead roles from now or are you open to any role?
I'd like to be known as an actor. I like acting in roles that demand something. I don't call myself a hero because I did some films as a lead or a comedian because I've done comedy. I want to take a path of excitement as an actor, whether it be a five minute cameo or a full length role.
What is the strategy behind releasing BBB a week after Bahubali? Isn't it risky?
It's not my job to worry about that. Initially even I had my fears about it but the makers and distributers know how to do their job and I trust them to do the right thing for the movie.
In another of your upcoming films, Ami Tumi, it sounds like you have a Telangana dialect, tell us about that.
After Ashta Chamma, after these years, we've come back to that genre. Ami Tumi's sense of humour and it's dialogues remind us of Ashta Chamma. You can expect something along those lines. The characters are a little wackier than you would find in real life. It's basically about a bunch of crazy people
What will be your next directorial venture?
I just started working on a thriller. I have the story in place and I am hashing out the screenplay. I want that to be my next venture. Within a month or two we will have a better idea of the details.
Your films Oohalu Gusagusalade and Jo Achyutananda did really well in the US. Will you be concentrating on the overseas market more in the future?
It wasn't a deliberate decision to cater to people in US with those films. Still, I've been branded as an A-centre director. Overseas also counts as an A-centre I guess. I think the audience there laps up the urban sense of humour more. Also, I feel that the overseas audience are more open to watching films without stars. Films with stars do well of course but even without an A-list actor they are more open to giving a good film a chance. In saying that I don't think I can make films to cater to any specific market; it has to happen naturally. I try to do justice to the idea I get and I write it, without any preconceptions about where it will take me. A film has to find its own audience.
What other films will we be seeing you in?
Apart from BBB and Ami Tumi, I'm acting in Vi Anand's next film with Allu Sirish in a very prominent role. That's one role I'm excited about. There is also a remake of Oru Vadakkan Selfie. I'm also discussing a project with director Neelakanta garu. He is planning a sequel to his National Award winning film Show. It will be called Second Show. I'm quite excited about that as well. There is also one more with Sanghamitra Arts which I'm very keen on doing because of the role.
- Maya Nelluri