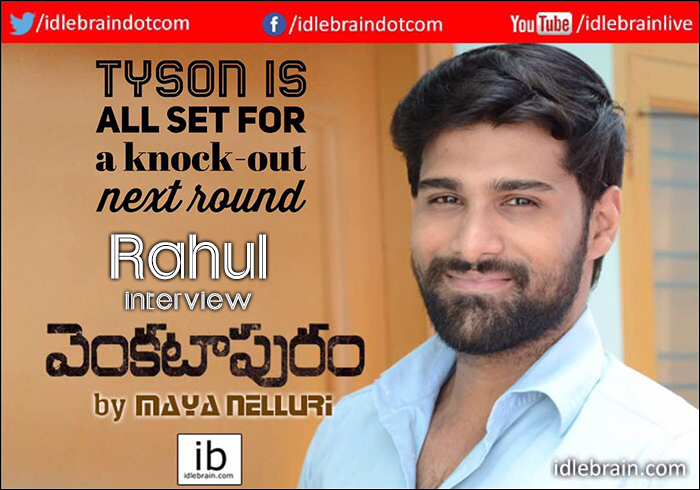 8 May 2017
Hyderabad
It's been a decade since Happy Days released; but no amount of time can dilute the love every Telugu student felt for Rahul, aka Tyson. His role was a run-away hit and girls were swooning over his every word. Vaadu kuda mana friend e kada ra! It was as if Tyson embodied all the goodness that we like to imagine exists in the world – undying love, unconditional friendship, sacrifice and so much more. Surprisingly, speaking to Rahul even ten years later brings about the same emotions. The man is just as lovable, if not more, in real life. He is frank, funny and now quietly confident that his upcoming release Venkatapuram will rejuvenate the affection Telugu audiences had for Tyson. This time though the girls will get a lot more from this unconventional Telugu hero. You can of course expect his unique dialogue delivery, but you will also witness a few scenes featuring Rahul's six-pack. Read on to find out what else to expect from the film and also what he thinks about the fake news that he is married. Oh, and, spoiler alert! Want to know who encouraged Rahul to transform his body? It was none other than the bhai himself – Salman Khan! Details of that meeting ahead...
You were picked for Happy Days when you were just 17, how did that happen?
I was a chubby kid growing up; I actually weighed over 100kg. When I just finished school I started getting conscious about it and did all I could to shed the weight. That transformation had many people encouraging me to try for films. At that point I wasn't too sure where my life was headed. I had no formal training in acting but my interest in films was amplified by my friends. There was one in particular who was taking acting classes because he wanted to become an actor; I thought I would join him, mainly because I wasn't doing anything else then. Over the next year films became my sole focus. And I found out about the casting call for Happy Days.
Anish Kurivilla, who was part of Shekhar Kammula sir's team, was my family friend. I contacted him and told him that I would like to audition. The next day itself I recorded a demo on a handy cam and took some photos of myself to submit. Within an hour of submitting them, the co-director Praveena contacted me and asked me to come in for an audition. After a couple of auditions I started doing the workshops for the film. Initially I was to do another role in the film but the guy who was meant to do the role of Tyson fell through and unbeknown to me, Praveena decided to try me out for the role. She took me aside, gave me glasses and asked me to read out Tyson's dialogues. Then I was told that I was picked to play Tyson. At that point I was mentally fixed that I would be doing another role and I thought Tyson is a very boring character, I just didn't want to do it. I even messaged them back saying that I wasn't interested in that role, put my phone to charge at home and went to watch a movie. By the time I got back there were tons of messages. After that Sai Kiran sir and Anish, who thought of me as a younger brother, both spoke to me and said that I'm giving up a great opportunity. Anish even told me to not sign the film unless I was a 100% sure because there were many other deserving people who would love the role. I told him that if I decide to take it up, I will do the role to the best of my abilities, and that is what I did.
Once Happy Days and Tyson became such a huge hit, how did you feel?
Different people have different reasons for getting into films. I did not care for money or fame. Films were my passion. Also, the atmosphere that Shekhar sir created during the shoot was so positive that we were sure we had a good film on our hands. Therefore, the popularity did not come as a total surprise and I was quite level headed. To be honest, my struggle only started after the film. I had a very sheltered upbringing until then and never really faced rejection. Even my entry into films wasn't riddled with struggle. I was chosen from the first audition of my life. I ended up thinking that the future would also be that easy.
And it wasn't?
No. During the shooting of Happy Days itself I was in discussions with a popular director but it fell through. I was one of the last from the cast to sign my next project. That was when I got a call from VN Aditya sir for Rainbow. At that time he was working on Aata with Siddharth. He had also done a few films with Nagarjuna sir and we were all such huge fans of his. So I did not even think twice about signing it when he called me and told me that he will be producing the film. Frankly, Rainbow was a wash out and even my other films did not do anything to help my career. When I actually showed the film to Dil Raju sir he said that he didn't like the film but he liked my acting so he would produce my next. We even did pre-production for six months on a script. Unfortunately, it was too close to Vikram sir's Nana which released just then and we had to call off the idea.
During the same period my father passed away so I was desolate. All this happened before I turned 20 so I felt overwhelmed. I did not have financial burdens so it was fine even if I didn't immediately earn money; I ended up letting go of the films that came to me in that period. After that VN Aditya sir called me with a Ramanaidu production project – Mugguru. While it did OK at the box office, it did nothing for my career. Then came the problems with my family business. My mother was taking care of it after my father passed but things were getting ugly. Debts had piled up and there were legal issues. Ultimately the family business was and is my bread and butter and it allows me to do what I love – films. It was my responsibility as a son so I took it upon myself to sort it out. Thankfully I was able to do it. Around the same time Maruthi sir called to say that he and KS Ramarao sir have a project in mind in which they want me. To be honest, for all these three films, I did not even listen to the script. They were such big names; I did not feel like I had any authority to even ask for a script reading.
So that's when Love You Bangaram happened?
Yes, I worked very hard on that film but it was a huge blow to me. I faced a lot of criticism for it and ended up a failure by the time I turned 25. I was totally shaken up mentally and emotionally. That's when I started to evaluate what I'm doing with my life. I knew that success or failure couldn't be predetermined but I should be judging whether the story is good or bad. Until then I saw myself as too inexperienced to judge a script because I had minimal training and my family wasn't from a film background. I decided to quit films and went back to working in my business for almost a year.
To be honest I really missed films then. I decided that since my business woes were sorted I should train further in filmmaking and acting. I ended up going to New York to do it and I read every book that I could lay my hands on as well. It really taught me a lot. During that time I came across the director of Venkatapuram – Venu. When he narrated the script to me, I told him that I was interested and once I get enough confidence about the story I could pitch it. We ended up working on it for six months once I got back from New York. I also met the producer Shreyas Srinivas through Maruthi sir. He was interested in doing a horror-comedy film with me but I didn't feel that was the right move for me. I thought of pitching Venkatapuram to him and sent him a message at 3AM one night, expecting a no. By the time I woke up he asked us to come and meet him that day. Within the day the project was on. He had seen my evolution and knew that I would now only take on a film if I was 100% confident. He knew that I had that clarity and I guess he trusted that.
Tell us about Venkatapuram.
Venkatapuram is an Investigative-Revenge-Thriller. Essentially the film revolves around four characters, one of whom is killed. As for my character, the film focuses on why he went to Venkatapuram with a kodavali.
How is this going to be different to your previous films?
Apart from the genre's uniqueness, the way we (director and me) handled the making of the film is also very different. For my earlier films I watched the film a day before the release or on the day with the audience. I had no idea beforehand about the potential response. For Venkatapuram, when 50-60% of the film was done, we saw the rushes and determined the shortfalls. We scrutinised it at every turn. We showed the rushes to sensible film persons to get their feedback.
We were also organised with the budgeting. We pitched a small budget film so we allocated funds to each aspect right at the beginning. We did not want to compromise on anything towards the end. We knew we needed a good DOP, Music Director and Editor to maintain a high quality. We managed to rope in Sai Prakash as DOP, Achu as Music Director and Madhu as Editor. All the technicians worked on the film for a fraction of their usual remuneration because they were equally confident and invested in the film. Achu even said that this is the best background score of his career. There was unfortunately an instance when we overshot the budget but my cousin who saw the rushes was so convinced that he decided to invest and finish the film. Once the film was completed, we did several tech screenings to ensure that there were no mistakes. We've had a lot of good reviews so we are confident. Regardless of the box office outcome of the film, I am confident that we did a good, honest film. I am creatively satisfied with it and am sure that after Happy Days, this film will be my best to date.
So tell us about why you decided to go shirtless in this film.
While I was grooming myself for the film, I met Salman Khan through a friend. I was inspired that such a big star still works so much on himself. I thought it was time to work on my body. He put me onto a trainer. Once I started I got addicted to the gym and then got into martial arts. I knew that there was a lot of scope for action in Venkatapuram so I had to be in good shape. There were scenes which required me to prove my fitness so you will be seeing me shirtless in a couple of them.
That brings us to the special woman in your life. Why are there online videos claiming to show you with your wife and child?
*Laughs* Honestly, I think I'm to blame for this misunderstanding. I have a twin sister and we are obviously very close. She is married and has a young child. I am obsessed with my niece and always put up my pictures with her on every platform calling her 'my baby'. There's also a picture floating around out there with my mother, sister, me and my niece, so I think people assumed that they were my wife and kid. *Laughs*
OK, what about this rumour out there that you are not of Telugu origin?
*Laughs* Really? Where do people think I am from? I am actually born and brought up in Hyderabad. A true blue Telugu guy!
Tell us about your personality of-screen.
I am a very quite person. Give me an interview and I can talk a lot but usually I'm quite shy. *Laughs* I do know a lot of people in Hyderabad because I grew up here. Having studied in Hyderabad Public School, I was in similar circles as other film related people. I also have a lot of friends in Bombay too. But it is more as acquaintances and I don't really socialise. I'm most comfortable with my childhood friends. My life actually revolves around them.
Have you signed any other films?
We just started the pre-production of my next film which is an adventure-drama. It will be produced by K Productions who presented Baahubali in Tamil. I travelled with the director of this film as well for a long time. He is very sensible and the script is entirely new. When I first heard the story I was sure that regardless of the result of Venkatapuram, we have to make this film. There is a lot of scope for performance and VFX in this film. The budget of it is actually higher than all my past films put together so it is my biggest project yet. I'm equal parts nervous and excited.
- Maya Nelluri