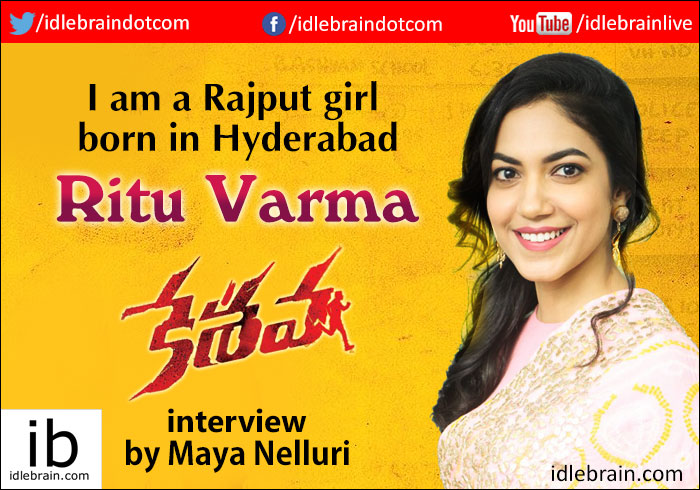 17 May 2017
Hyderabad
The beautiful and talented Ritu Varma has become a poster girl of the perfect Telugu ammai after the super success of her film Pelli Choopulu. She played a very realistic character in the film which has catapulted her career. But did you know that although she is born in Hyderabad, she is actually a Rajput? And that she is now looking to vary her roles and break out of the stereotypical girl-next-door characters? Read about that and what she has to say about her upcoming film Keshava in this exclusive interview.
What prompted you to enter films?
It wasn't a childhood dream nor did I ever think of acting when I was growing up. Although I was shy I did take part in a lot of cultural activities during school. When I finished college I took part in a beauty pageant. I was the first runner up and ended up doing modelling in Hyderabad after that for about four to five months. During that time Tarun Bhasckar approached me to do a short film - Anukokunda. I was very hesitant at first because up to that point I was modelling and although I was comfortable in front of the camera, acting was an entirely different ball game. Still, he convinced me and since we were friends from earlier I thought that I would do it for the experience. That film won awards, my performance in it was appreciated and it was even screened at Cannes in the short film corner. It was actually the only one from India to be screened there in that year. After that film I started getting feature film offers and thought that I should try it. But once I started acting I realised that I like it so much that now I can't imagine doing anything else. I really believe in destiny and I guess this was my destiny. 

Although Pelli Choopulu is considered to be your breakthrough film, you've done other films before it. How did they help or hinder your career?
In everyone's career there is a turning point and Pelli Choopulu was that for me. I believe that the right things happen at the right time. I'm quite happy with how my career started and progressed. My initial films helped me a lot with gaining experience and honing my craft. I'm someone who never dreamed of acting or planned to get into films so for me to come this far and also having done a National Award winning film has been a great experience.
After Pelli Choopulu how has life changed for you?
Now people know that I can perform and I've got the tag of a performer. They've appreciated my acting in Pelli Choopulu. I have to thank Tarun Bhascker for showing that side of me and giving me that character. It has earned me respect as an actor. But I do have to say here that the success hasn't gotten to any member of our team. We are all the same hard working people. 

You've now been signed for Dhruva Natchathiram opposite Vikram. Tell us about your Tamil debut and about your experience working with the superstar.
I've always admired Vikram sir and I have a lot of respect for him as an actor. The kind of films he does and the amount of hard-work and dedication he puts into his films is commendable. He always tries to do something different and he is so passionate about acting. You can see that with the wide variety of roles he does. I didn't think that I would get to work with him so early in my career so I am very happy about that. Even as a person he's extremely down-to-earth, very humble, very considerate actor and an amazing person to work with. 

As for being signed in Tamil, I know Telugu so Tamil isn't an alien language to me. I did take a crash course for a month a year ago in Tamil and that helped me. Also, I made sure to learn the dialogues and that I go prepared on to the set. I don't like wasting time on set. If I'm not prepared, I get nervous. Knowing what you are doing and saying is very important. And they are very sweet to give me the dialogues a couple of days before so that I can come prepared.
How is your schedule looking right now?
I've just wrapped up a schedule for Dhruva Natchathiram. I'm currently really busy promoting Keshava. And a week after afterwards I will start shooting again for it. For the next two to three months I will be busy with Dhruva Natchathiram itself. I haven't yet singed anything else in Telugu but I will be announcing something soon.
Tell us about your role in Keshava.
I play a Law student and we all study in same college. I'm a simple, smart town girl who is very curious about why Nikhil's character is on a mission to take revenge. Once she finds out why he is doing it she supports him and stays by his side.
In Keshava and also your previous couple of films, you've done the girl-next-door kind of roles; is that what you want to stick to in the future?
No, I don't want to be typecast into any particular type of roles. In Dhruva Natchathiram I have a completely different role, you'll see me in a different avatar; and in the future also I will look at diversifying. The thing is after Pelli Choopulu a lot of people see me as a typical Telugu ammai. It left a strong impression on the audience. But as an actor I want to do different things, not just a girl-next-door kind of roles.
So are you a typical Telugu ammai?
I am born and brought up in Hyderabad but I am North Indian, Rajput to be exact and we speak Hindi at home.
Do you have any dream role in mind?
I don't know about a dream role but I would love to do an action film. I'm quite athletic so can do it and I would also prepare for the role. I would also like to do a period film.
Tell us about your experience of working with director Sudheer.
I was very excited to work with Sudheer because I had seen Swamy Ra Ra and I loved the taking of the film. I feel that it was a path breaking film of sorts. And when I heard the script for Keshava, I loved the concept. The hero of the film has a heart disorder so how he overcomes that and seeks revenge made for quite an interesting story. I was kicked about that. Also Sudheer is very clear about his ideas and extremely focused on set. I think he's chosen the best people whether it be the cast or crew to do justice to the film. His preproduction work was also very strong. In a film like this, every detail is important and he's made sure that the tiniest details were paid attention to. Everything was perfectly in place by the time we started shooting for the film. He basically loves films and he is very passionate so working him was an amazing experience.
And how was it being cast opposite Nikhil?
He's proven himself again and again in the past years.  Very few actors do films that are as varied as his or take such risks in their career but he has selected his films exceptionally well. He's set a bench mark for himself. In Keshava, his characterisation is amazing and so complex. Although the story was intense, he had to play it subtly which is a difficult combination to master. Also, although in real life he has a lot of energy, in this role he couldn't be over expressive so he has played that perfectly.
What are your expectations for Keshava?
We've got good responses for the trailer so I hope people like it. No one can predict the box office results but I know that we've done a good film. We've tried a totally new concept and made an honest attempt at a different type of cinema.
- Maya Nelluri