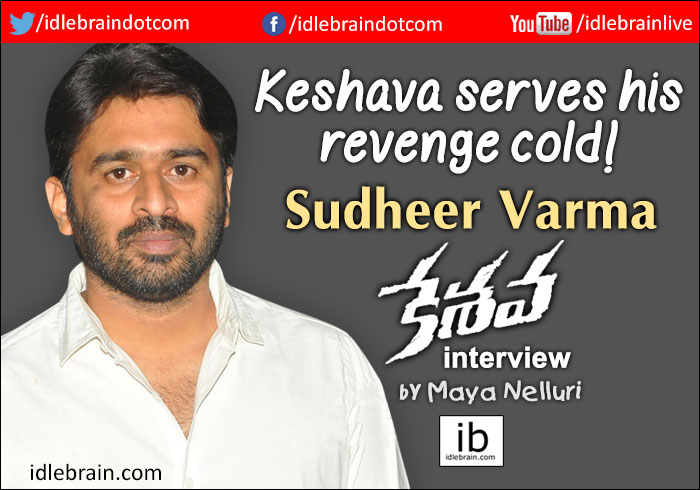 18 May 2017
Hyderabad
Director Sudheer Varma stepped into the spotlight with Swamy Ra Ra. The film not only became the face of new-age Tollywood cinema but also opened doors for smaller budget films to enter the big leagues. While his success was seen as an overnight one by many, his journey to becoming a director was a decade long. In this interview he talks about how life has changed since his days as an assistant director, the lessons he learned from his second film Dochay and also delves into how Keshava came into being. This director is known to say it like it is so brace yourselves for a no-nonsense interview.
You've worked as an assistant director before you became a director; how has life changed since then?
To my friends I am the same before or after becoming a director. Within myself though, I get tenser now. When you are an AD you pitch ideas to the director and it is up to him/her to take the final call. There is someone above you to take the responsibility. The director's job is to make the decision and he reaps the rewards or failures as well so to be an AD is easier. Now that I am the director, I have to make the decisions. Everyone is relying on me so I have the responsibility to make the right decision. When you plan a film you have to consider many things. But for Keshava I'm least tensed because I'm very confident about the film.
After the success of Swamy Ra Ra, Dochay didn't do as well, how did u deal with those different situations?
When you get success, you will definitely be happy because success is happiness. When Dochay didn't do well I felt bad for many reasons, one of which was for Naga Chaitanya because he trusted me a lot. I still owe him a super hit! And I hope that I can do it for him in the future, as soon as possible. That's one of my goals. It's true that you learn from your success but you learn a lot more from your failures. So, after Dochay, I learned a lot and will definitely not repeat those mistakes in my future projects.
What were the lessons you learned from Dochay?
The biggest lesson was to never let success get to you. I got carried away with the success of Swamy Ra Ra and took a few decisions which were crucial to the film lightly. I learned that every aspect of the film is important and nothing should be taken lightly in a film. Now I ensure that before the film hits the sets, all other aspects have been worked on.
Who or what is your screen play style inspired by?
I'm influenced largely by foreign films. I am a huge fan of Quentin Tarantino, Christopher Nolen, and Martin Scorsese so their work has been very important in my learning. As for my style, whenever I do a film I watch a lot of films from the same genre. If I see anything interesting, I adapt it. The story structure is mine and in place even before I've thought of inspiration. After that I might adapt some scenes in my films from others. Still, I do the screenplay to suit our audience. I don't want the audience to disconnect from the film so I make sure our audience relates to it.
You've said earlier that you copied certain scenes in your first film Swamy Ra Ra from other films and even listed some. Should we expect the same from in Keshava?
Whatever I do I am inspired from many other films. But it is not that I do exactly what is in another scene; I don't put it in the same way. If I'm inspired by anything, I adapt it to our sensibilities and audience. I don't copy the story; but I may copy an idea. For example, if my script requires that the hero kill someone, I see references where someone kills, if I find something interesting then I adapt the way the scene is styled into my movie. Not only my past films but even in my future films I will do that; that's me.
Tell us about how you went about creating the script for Keshava.
I wanted to make a film with Nikhil and the first thing I wanted to do was to move away from the genre of crime-comedy because I'd done that already in Swamy Ra Ra and Dochay. Then I got the idea for Keshava from an incident I had come across. From that I made this fictional story and I thought it would be very apt for Nikhil because even though he's tried many different scripts, this would still be very unique in his career.
How did you decide on the cast of the film?
Nikhil and I wanted to do a film together. After that I started working on the characters, story etc. After developing the whole story I thought about the casting of other characters. My choice for the female lead was Ritu after I saw her performance in Pelli Choopulu. I thought she would be perfect because Keshava required someone who fits the 'normal girl' role. Apart from that there was another very powerful female investigative officer character in the script. I was in search for it and when I saw Isha Kopikar in the advertisement for Swach Bharat I felt that she would be just right. I wanted someone who wasn't too familiar in Telugu but still known. When I met her in Mumbai and narrated the story to her she was quite amped. She was looking to get into Tollywood and was waiting for the perfect script. When she heard this, she thought this would be perfect for her and decided to take it up. As for the remaining characters, such as Rao Ramesh, Ajay, Brahmaji, they were all my first choices and I knew that t
hey would fit their roles perfectly.
You've introduced a new concept in the film, Dextrocardia situs inversus, which means that an individual's heart is situated on the right side instead of the usual. How did you get that idea?
My friend Krishna Chaitanya, whom you would know as the director of Rowdy Fellow, among other things, gave me the idea. If you think about it, a hero taking revenge is nothing new so I wanted to create a scenario where the protagonist is not entirely physically fit. I didn't want him to look different but instead wanted to explore how someone who cannot react in usual ways would go through life. The differences between him and others are highlighted mainly when he gets excited. His characterisation had to be carefully thought out because the mood in which he lives his life is unique.
Tell us about the locations that you shot Keshava in.
I shot the film almost 80% in Vishakapatanam, Araku, Kakinada and Nasrapuram because the story happens in those locations. I chose those locations in particular for the film because I'm familiar with them. I studied my Intermediate in Kakinada, and did my schooling in Vizag. I actually shot in the same school that I studied in. While writing the story itself, I made sure the locations also had some character and were important to the script. For example the Mada Adavulu in Kakinada were shown partial in other films but no one really explored it. You'll see the real beauty of the forest in this movie.
What is your favourite song in Keshava?
Yedisthe Rarevaru which is sung by Arjith Singh is my favourite and of course the Kaala Bhairava Ashtakam which comes on in a crucial part of the film.
In Keshava what is your favourite scene?
I was asked this question earlier and I told them it's the interval scene so that I don't have to reveal any other scenes.
Which is your favourite dialogue in Keshava?
I like the opening dialogue which is also included in the trailer, "kothaga goppaga cheppadaniki naadi kadha kaadu, baadha!" I love that whole write up, Krishna Chaitanya actually wrote it. I also like the climax dialogues but I won't tell you those as yet because you have to see it on screen.
You moved away from crime-comedies to a revenge-drama in Keshava; will you try other genres as well in the future?
I definitely want to explore any genres that I am comfortable with. My first two films were crime-comedies whereas this is a pure revenge-drama now. My next film with Sharwanand will be an action thriller. The structure of the story is done but I have to work on the bound script with dialogues. Then there is also a film that I planned with Ravi Teja long ago. That will be a gangster film and will be done whenever he is free. I'm not sticking to one genre. From now on which ever hero I'm working with, I will choose the script to best suit him. I don't want to choose one story and try to cookie cut anyone into it.
We've heard earlier that May 19th is very special to you. Why is that?
Whenever your film releases, it is special. Keshava is releasing on May 19th so it is special to me. But more than that May 19th is my daughter's birthday. So, in all of my life, from the day I was born, May 19th is the most special day and it is the best day. I'm really happy that Keshava is also releasing on the same day. It'll be my daughter's birthday gift or her gift to me. *Smiles*
- Maya Nelluri