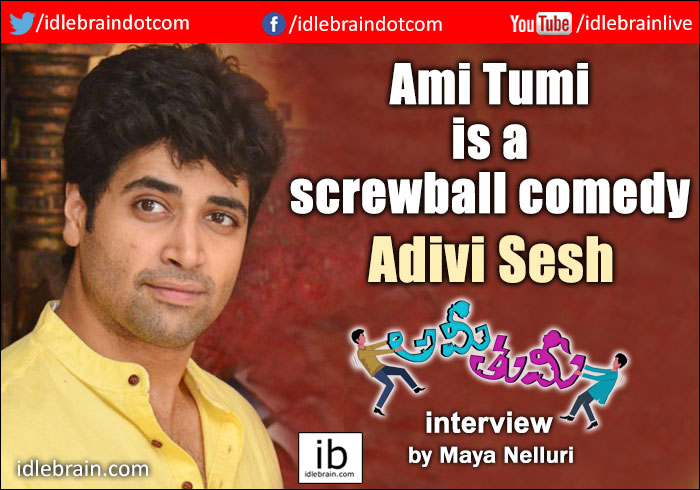 8 June 2017
Hyderabad

Comedy is the key. The lock, if you look closely enough, can be anything as vague as life itself or something as specific as a broken heart. Whether your preferred category is black, screwball, romantic, satirical, racial or other, there is no ignoring the importance of laughter in our life. Turns out it's not just watching; acting these scenarios out is also a whole lot of fun. Adivi Sesh, successful actor-director-writer and star of the upcoming screwball comedy Ami Tumi, definitely thinks so. He spoke exclusively to Idlebrain about his experiences working on the film and also let us in on his life before and after his runaway hit Kshanam. Adivi Sesh also has some interesting advice for those of you wanting to enter the film industry.
When did the movie bug first bite you?
Most actors would probably tell you the same story about how when they were kids they had a passion for it. I remember watching American action films. I ran around holding guns, wanting to look like them, I wanted to dress like them. There was a big part of me that wanted to be like them. I found it fascinating. As I got older I realised I loved how they were pretending; and what is pretending if not acting, so here I am.
Why did you decide to act, write and direct in your debut film – Karma?
Some of it was necessity and some of it was out of innocence. I grew up in California and was in Film school in San Francisco when I decided I wanted to make my own film. I realised that I didn't know anybody in Hyderabad who would give me a platform to perform and act. Even as a writer I didn't know anyone who would take my story and run with it. Making my own film was out of necessity in that sense. Also, it's great to want to do those things, write and act, but where do you get money for it? I ended up saving some money, taking some from my parents, and a lot of the budget was provided by a couple of my friends. Together we made Karma. It was a very interesting experience because it got me a lot of respect in the business. Not many audiences saw it because it sounded too artsy I guess. It got many great reviews; one of it was that it was one of the best debuts seen in Telugu films for a while.
Was it difficult doing so much in your first film?
Of course! I remember in the middle of shooting a scene for Karma; it was in a huge dark garage built to look like a dungeon, I was so stressed out because I wasn't getting what I wanted. I sat there with tears in my eyes because I was not sure if I was good enough to do this. I think a lot of film-makers go through that nervousness, being afraid and scared, and wondering if they are good enough. I was heartened when I saw that Damien Chazelle, who made La la land and Whiplash, expressed some of the same emotions in his interviews so I felt, 'OK, I'm not the only one!'
Having grown up in the US why did you decide to return to Hyderabad and make a Telugu film?
It was a mixture of two things. One was my love for our language and culture. And the other reason was practicality. Initially I wanted to make Karma in Hindi as well but even back then I would've needed a budget of five to six crores to market and release it; whereas in Telugu the requirement was of 60 lakhs. Of course the numbers depend on the size of the films but I know of Indie films that've had marketing budgets of eight to ten crores; so you can imagine.
You played all three roles even in Kshanam which was far more commercially successful than Karma. Did you make any particular improvements?
Kshanam was more commercially recognised because it was just a better film. *Laughs* It also helped Karma because I get five or six messages everyday on my social media from people who went back and watched Karma because they loved Kshanam so much. I think what happened is that although Kshanam may not have been a 'more' commercial film, it was a lot more universal in terms of emotion. So that by default made it a commercial success and got it critical acclaim.
What advice would you give to others like yourself who are entering the film industry?
It's very important not to think with your ego. Understand things will not go your way for a long time. So push and persevere. Most importantly listen to your heart. If your heart tells you something is off don't do it. The film business has natural selection, just like Darwin's evolution where if you are not good enough you eventually get weeded out. Very rarely will someone stick around if they don't have talent. You might get a hit here or there but you can't sustain it for the long run. So despite factoring for luck, it has a lot to do with talent. If you are talented enough you will make it. So, persevere, listen to your heart, set your ego aside, develop a thick skin and work hard. Working hard is discounted so much. People who come into the movie business these days don't realise how hard you have to work. Just stick with it.
What did you learn from acting in Baahubali?
I learned so much from Rajamouli films. I was always tongue-tied around him, never been able to say more than a few words. I'm not sure if he's aware of how much I used to just watch him and take mental notes about what it is like to work hard, perfect a shot, perfect an expression. It helped drive my work ethic on sets of Kshanam and Ami Tumi.
Coming to your current film Ami Tumi, can you tell us how it was to do an out-and-out comedy?
It's very new to me. I have done some comedy but never have I attempted anything like Jaane Bhi Do Yaaro or an Andaaz Apna Apna kind of film. So Ami Tumi was a really fresh attempt. Also, I've seen Indraganti garu's Ashta Chamma and was a major fan. I feel like Ami Tumi is a distant cousin of it actually. It's not a continuation of Ashta Chamma but you can see he's going for same tone. The difference is that Ami Tumi is more of a screwball comedy whereas that was a Rom-com. For me it was interesting to watch him revisit that genre after ten years and I was very interested when he offered it to me.
Tell us how it was working with four other film-makers in this film? Your co-stars Tanikella Bharani, Srinivas Avasarala, Vennela Kishore, and of course the director of Ami Tumi himself – Mohan Krishna Indraganti.
Yes, all three are also writers and directors so it was interesting. Indraganti garu actually pointed it out on set but it's not something you got to the table because Ami Tumi is entirely Indraganti garu's vision. I don't think any of us were trying to become the writer or director of the film. *Laughs* I decided to get on board because of my belief in his vision. I think we all did for the same reason.
I also have complete faith in Indraganti garu's style of story-telling and his sensibilities so I just moulded myself into his vision.
How is your relationship with your co-stars?
Sri is a blast! We carried some of our natural chemistry on screen. Easha is very passionate actor. She was reserved in the beginning but by the time the movie was done we became good friends. As for Kishore, we did Kshanam together so he became one of my best friends. It was just like coming home to a brother. There was a lot of positivity and camaraderie on set.
When you are acting, do you ever find yourself critiquing the director's methods?
I don't usually get into a zone where I judge how a director is doing on set because I don't know what they are thinking. I know what they are thinking as far as my character is concerned but how they envision the scene or which shot does what is not something I'm meant to pay attention to. I do pay attention to how the production is handled because I feel it contributes to the creative process. If things are haphazard on set it starts tampering with your creative energy as an actor or director. So, I'm constantly on the vigil to preserve myself from chaos so I can focus and give my best on set. As far as Ami Tumi goes, I don't think I was ever looking at Indraganti garu and thinking of him from a place of critique, I was only thinking of whether I was able to do a good enough job. Also, this genre isn't something I know or understand. It's very new to me. While shooting I realised that I loved it and enjoyed it a lot.
Are you going to concentrate more on writing, directing or acting in the future?
I was always an actor first. Going back to childhood when I was pretending to be Rambo holding a plastic black ak47, acting has always been my first love. *Laughs*
What other projects will we be seeing you in?
I have Gudachari coming up next. I've written it; it's under production. I will get into shooting after promotions of Ami Tumi. I want to take a break and then get into the zone for Gudachari.
- Maya Nelluri