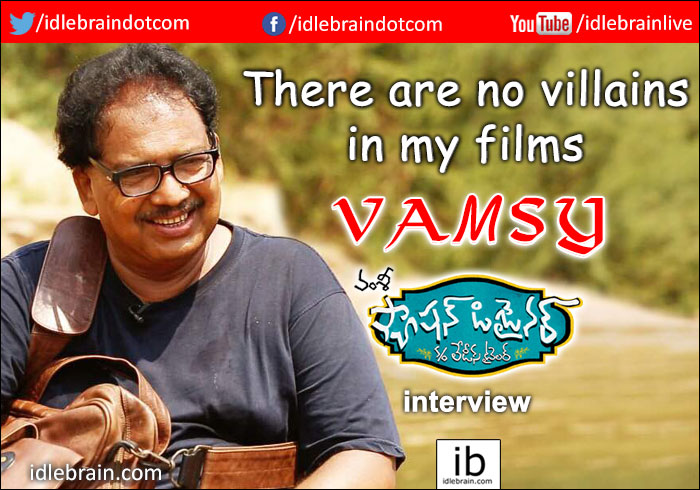 02 June 2017
Hyderabad
When I met Vamsy for an interview, he has categorically said that he is against giving interviews and he is doing only to satisfy the producer. He also said that he will not be reading the interview when published. It's tough to interview such a person who is so frank. Still managed to get some interesting material. Here is our exclusive interview. Read on….

After a gap of 32 years, you are doing a film on lines of Ladies Tailor?
Ladies Tailor is a classic and I am against remaking classics. We have tried the same subject in the combination of Ravi Teja and Raj Tharun in the past. But nothing was materialised. I am doing Fashion Designer on the insistence of the producer Madhura Sridhar Reddy. It was he who got the cast and crew as well. I was preparing for a project called 'Nalini Aunty Neeku Phone Vachindi'. It's a variety story that transpires between an aunty and a 16-year-old boy set in Araku backdrop.

If we look at the trailer of Fashion Designer, the characterization and pattern (flirting with multiple women for a superstitious cause followed by a crime angle at the end) looks similar to Ladies Tailor?
Producer Madhura Sridhar took a call on composition of trailer. He felt that such a trailer will help film commercially. And whatever is represented in the trailer is also there in the film. Fashion Designer is definitely not a sequel. You can call it a remake. Yet, it's not a remake. You should watch it on big screen to know what it is.

Reason behind signing Mani Sharma
Whenever we accidentally meet (mostly in airports while traveling to Chennai) he used to say that he is interested in working for my films. It made me feel good as he was the number one music director when he asked me. It was the producer Sridhar Reddy who proposed the name of Mani Sharma and I agreed immediately.

Sound Effects song
Mani Sharma has given wonderful melodies. His RR (re-recording) in this film is excellent. We have done an experiment for a Meghalu Telena song in this movie. There is no background music in this song and we used only sound effects like horse whining, train sound, caller tune, fight punch sounds etc. This comes as last song in the film. Somebody told me that no other Indian film boasts off such a song so far.

Tell us about actors in Fashion Designer?
I wanted to cast new actors for this film. The producer has come up with main leads. It's story and screenplay driven film and any casting does work. I have never seen films of any of Sumanth Ashwin before.

I handpicked some of the character artists. Actors like Krishna Bhagawan and Kondavalasa became popular with Avunu Valliddaru Instapaddaru. Likewise actors like Vamsi Raju (Gavarraju) and Raghavendra (Pandu) will be recognised with Fashion Designer. I rate Raghavendra as the best among the actors of Fashion Designer.

No villain in my films
You don't find a villain in my films. Circumstances play the role of a villain. It's very difficult to write a story without the role of a villain as it takes the formula away. If you read the novels of Bengali writer Sarat Chandra Chatarjee, there are no villains in his books. He wrote Devadas. Who is the villain in Devdas?

Being one among the people
I stay in an apartment complex in Lakdi Ka Pool for the past 15 years. Most of the people in our apartments don't know that I am a film director. I walk around freely to drink Irani chai and to buy betel nut. I also travel in local trains a lot (several times a day).

When I go to Godavari, the boatmen call me by name and I call them by their names. I have slept on banks of Godavari several times. I become part of their lives. Hence, you can see such a detailing about Godavari lives in my films.

I love visiting people I like
I like your reviews and I asked around for your address. I came and meet you a couple of years back. I don't have the habit of calling over them on phone. I just go to their houses and meet them. There used to be a journalist called Rao who used to write beautiful articles in Indian Express newspaper. I like his English a lot. I came to know that he was there in his daughter house in Somavaram after his retirement. I went there and met him.

The best food I had so far in my life was prepared by a cook called Gangadharam. I found out that he stays in a remote place at Rampachodavaram. I had to walk through deep forest. I went and met him. He prepared lunch for me and it was so yummy. I told him that he has magic in his hands. He took me to his home garden and shown me a few small trees. He said that the taste is good because of the leaves. I asked him for the name of those trees. He didn't tell. I asked him to give me a few leaves and he didn't give.

If I had to go to Rajahmundry, I don't go by flight. I take East Coast Express. Once, I took photos of 300 people with different expressions during a journey from Hyderabad and Rajahmundry. I wrote an article with those photos and it was published in Swathi magazine.

I am a huge fan of Mozart. I never went to USA. But I went to Salzburg, Austria to visit his museum. I wanted to go to Vienna where he died, but couldn't due to logistical issues.

You remember films and names of directors of international cinemas so well?
Now, we have the facility to download films or watch them on internet. Film festivals used to be the only source of international cinema during my primetime. My first filmotsav was at Madras in 1976. Wazir Rehman (son in law of Gudipati Venkata Chalam) introduced me to international films. Watching international films is also an art and he taught me. All of films exhibited in film festivals have subtitles.

Financial planning:
I am very poor at money management. My dream was to work with Bharathiraja. I have decided to become director only after working with him. I used to be paid 500 per month when I was an assistant director. When I made my directorial debut with Manchu Pallaki, my producer asked me to quote remuneration. I told him that I used to charge Rs. 500 per month and I want an increment of Rs 150 as I wanted to smoke cigarettes of costlier brand ((From Bristle to Goodwill). I was such a timid guy. If I get a gap between movies, I used to ghost-write detective novels. Those were pocket books. The publisher used to send me cover page that has title and writer of novel written on it. I had to write a detective story to justify the cover picture and title. They used to pay me Rs. 150/- per novel. I used to write at least 2 a month to have engine running during gaps. I do films now to make ends meet.

Future projects?
I want to do a city-based suspense thriller as my next film.