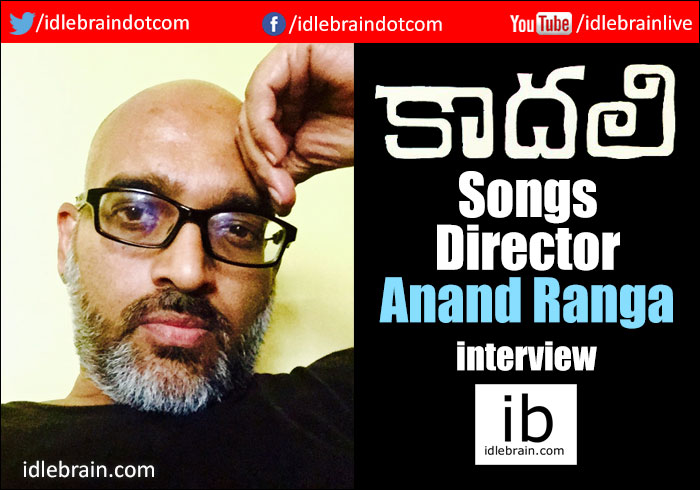 13 June 2017
Hyderabad

Q: We heard you are the Songs Director for Kaadhali.?
A: Yes. I actually played three roles in Kaadhali. Executive Producer, Songs Director & Additional Screenplay.
Q: Why did debutant director Pattabhi approach you?
A: Pattabhi and me were colleagues at Suresh Productions. We learned the nuances of filmmaking together from our mentor Suresh Babu. When he started producing and directing Kaadhali, he thought that he needed some support in the songs area more because Kaadhali is a love story. I involved myself for the songs initially, then wrote some betterments in his existing screenplay and then helped him execute the production.
Q: But why songs?
A: I was born on May 23rd. Directors Raghavendra Rao garu and YVS Chowdary garu were also born on the same date. So my friends joke with me that there is something in that date as the songs in the films that the three of us make, are usually good. Unlike these two directors, I have only made Oy! and luckily the songs came out well in that film. May be Pattabhi believed this sentiment and approached me for the songs.
Q: Wasn't Pattabhi insecure to have you around for songs as it was his first film as director?
A: I don't think so. As he was clear and we worked together as a team. The result is not a brainchild of one person. It is a team effort. For example, 1942 A Love Story. Vidhu Vinod Chopra directed that film and Sanjay Leela Bhansali was the Songs Director. Don't get me wrong that I am comparing ourselves with great directors. They were not big when they made that film. Later, both of them went on to become great filmmakers. So it all depends on the rapport you share with the other person. Pattabhi and me had fun making Kaadhali.
Q: How was the journey on Kaadhali songs?
A: Pattabhi was going to Chennai for a second meeting with a particular music director when he asked me if I could join. I went casually. That music director had other commitments and could not do our film. Then we were looking around for other young talents, we happened to listen to some unreleased work of Kaadhali music director PrasanPraveenShyam. We loved it and after meeting him, we liked him even more. We gave him a story brief and asked him for a scratch tune. After a couple of days, when he sent us the tune, we were floored. That tune went on to become Lokama song, in the album. We had a great experience working on all the songs. In the original script, there was one situation where the girl is partying with one guy and the other guy feels bad knowing about it. It was basically a party song. We discussed further and realized that heart-break, painful love songs are always immortal. So we tweaked the situation and it became Nuvvante Nenani song in the album. My favorite lyricist Vanamaali has written all the songs. He wrote all main songs in Oy! and beautiful songs in Orange. He hasn't yet got the recognition he deserves. I feel Kaadhali will get him that. After getting a very good audio, we planned the visuals very well and have made the songs as one of the assets of Kaadhali. DoP Sekar V Joseph, choreographers Raju Sundaram, Noble & Srikrish and songs editor Adi Narayan have done a great job with the songs. We shot two songs in Srilanka, one song in Chennai and two songs in Hyderabad.
Kaadhali is a beautiful triangular love story with lovely songs.