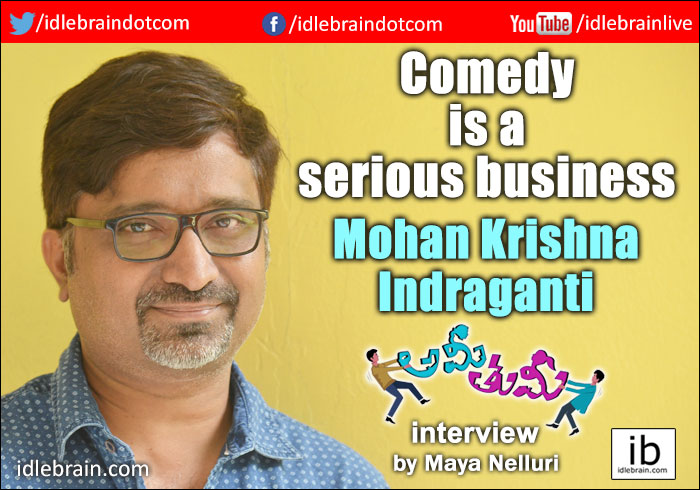 8 June 2017
Hyderabad

Mohan Krishna Indraganti is well-known for his unique style of story-telling and critically acclaimed films. He has introduced some amazing talent to the film industry and has also worked with the greats in the business. In this exclusive Idlebrain interview he is unapologetically confident about his upcoming film Ami Tumi, and does not hold back his views about all that is wrong with the thought processes prevalent in today's society.
Writing runs in your family. Do you think your decision to get into films was because story writing was in your genes or due to environmental factors?
I attribute it to environmental factors because don't believe in the genetic theory a 100%. Definitely there is some influence of genetics because the most important people in my life, my parents, were writers. But I know many people who were born into literately families who have no interest in it. The thing is I was also brought up in an environment of literature and music. It is a culturally vibrant environment which influenced me to develop an interest towards arts. And that branched into filmmaking because I was fascinated by it from a very young age.
You studied in York University before making your debut as a director. How did that change your take on filmmaking?
Quite tremendously! The general notion people have here about filmmaking is that you don't need education to do it; all you have to do is grab a camera and start shooting. I think this is one of the major misconceptions about filmmaking here. I don't think anyone says that about lawyers or doctors; that you don't need to study it to practice. What a good film school teaches you is sensibility, history of cinema, how to approach filmmaking both as an art and craft. To that extent I would recommend going to a good film school. Just like there are good law schools, there are good film schools that will teach you how to make intelligent films that respect audiences and produce meaningful cinema. I thoroughly enjoyed film school and would strongly recommend it if you are serious about it.
You enrolled for a PhD as well but discontinued it after a year. Why?
I was always interested in film theory, philosophy, literature, history. Essentially I liked humanities from a young age. So I wanted to study cinema from a social perspective and see the influence of cinema on society and the way it shapes culture. Then I realised that whatever interventions I wanted to make I wanted to do it by making films rather than theorising about it. I'm not looking down upon film theory. I believe that it is important to write about cinema from a theoretical point of view and I still have that inclination in me. But I enjoy creating films rather than analysing them. Once I realised that, I quit PhD and moved to directing and writing.
Your debut film Grahanam won numerous awards. But before you started, it is quite possible that people would have advised you to go for a commercial story instead of an off-beat one for your debut. What made you stick to your ideas?
It's possibly because of my interest in literature. I've always been a great admirer of Telugu literature also and I loved the short story that I adapted. It was written by Mr. Chalam who is one of the great writers of modern Telugu literature. I wanted to adapt his work for a long time and I thought that this would be the time to do it. At the time I wasn't getting an opportunity to do a film. People were asking me things like, 'you didn't work as AD so how do you know you can make a film?' I thought this is the best way to prove to people that I can make a film. I wanted to choose the most difficult task. Adaptation is difficult and Chalam is even more difficult to adapt so I thought I should do it to let people know what I can do; luckily it worked out.
What advice would you give others who are looking to debut as a director?
I would definitely tell people to do what they want to do and not something that others tell them is commercially viable. I think that is just a myth. Nobody knows what makes a commercial success. If they knew the formula then everything would be a blockbuster. They just keep saying that to tell themselves that someday what they are doing will work. But if you look at the history of cinema the most influential cinema is produced by independent artists who struggle to do something new. Cinemas that changed the course of history and taught the world how to look at ourselves were made by independent filmmakers. I would strongly advice young filmmakers to do what they are dying to do. They should feel I'll die if I don't do this – do that; and don't listen to all the nonsense out there.
Your films have released every other year on average. Is there a particular reason for it?
It's due to various factors. I write myself so it takes six to eight months to write a proper screenplay. It was partly also because some projects took off and then stopped, some changed hands, some actors changed. It was a combination of various factors that caused the delays. It wasn't deliberate; I wasn't sitting back and waiting for inspiration. I always wanted to keep working and believe that I could have made a couple more films because I've been here for 12 years. I don't regret it but from now I will aim to do at least a film a year. Gentleman released in June last year and now we have Ami Tumi releasing again in June so this was the fastest film I've done to date. I'm happy with it and I'd like to keep this pace going.
How do you get your ideas for films?
Again it's a combination of various things. Sometimes it's things you observe in life around you, you might be attracted to a peculiar character, it might be family members, friends or it might stem from casual conversations in a coffee shop. Sometimes you read something interesting which gives you a germ, an idea. Ashta Chamma was inspired by The Importance of Being Earnest, Golconda Highschool was a novel, Anthaku Mundu Aa Tarvatha was entirely my writing, it wasn't adapted. Bandipotu was inspired by a novella called The Brigand. Gentleman was written by another gentleman called Nathan. *Laughs* Ami Tumi is inspired by an English play by an Irish playwright Richard Sheridan. It is loosely based around it. I took the idea and wove a story around it. But one thing I don't do at all is copy films from other languages or do remakes and plagiarise. I don't believe in remakes.
Is there a bit of you in all your projects?
Very much! A great cinematographer Vittorio Storaro once said, 'we try to put our personality into what we're creating'. I strongly believe that every film showcases an aspect of our self, a characteristic that is hidden inside it. Every film of mine represents different sides of my personality, my interests, my fascinations, my passions, my obsessions.
Tell us about Ami Tumi.
It is a screwball comedy which is not a genre that is regularly attempted in Telugu. In this genre women dominate the narrative and drive the story forward most times. It is novel and very different from our films where the heroes occupy screen space most of the time. Half our films are based around the introduction of the hero, first fight of hero, pre-climax fight of the hero, climax fight of hero. *Laughs* With Ami Tumi people can expect a well acted, well written film. This might sound a bit arrogant but I'm saying it with humility – they can expect a sensible, meaningful comedy which is brilliantly acted by all involved. It is made with a lot of heart, enjoyment, and genuine respect for the audience's intelligence. We recognise the audience's ability to appreciate meaningful cinema. I always believe that the audience is smarter than the filmmaker. Our job is to dip into their collective consciousness and connect with them. And I have a feeling that Ami Tumi will score high in that department. It will be thoroughly entertaining. I'm really looking forward and excited about the film's release.
Why did you choose these particular leading actors for Ami Tumi?
It is my first time working with Sesh. He's done big films like Baahubali and Panja and was a very supportive collaborator. Easha has worked with me in two films already and this is the third film. The main reason I cast her for this film is that she could speak the Telangana dialect naturally which she needed to do in the film. Tanekella Bharani, Srinivas Avasarala and Easha are from one family in the film and they speak Telangana. Of course Tanekella Bharani and Srinivas have been in all my films. As for Aditi, I wanted her because she is very well known on internet from various web-series. She is popular for characters like Seshamma and Papa Susheela. I wanted someone very young, innocent, and adorable in that role. She fit the bill and did a great job. Vennela Kishore was the most obvious choice for his role and has given what is probably his most outstanding performance ever! There is also another actor Shyamala who played an important role in the film, and then there is also Bhargav. Basically I had an ensemble of fabulous actors and had the best time shooting the film.
You've said that you dealt with societal issues in the film – can you give us some examples?
Any good comedy is usually related to contemporary issues and gets us to reflect on the times we are living in. Where ever I got an opportunity I commented on issues like demonitisation, arranged versus love marriages, the fact that arranged marriages have become very businesslike. We tackled religion and God; misconceptions people have about our own culture. There are also references to independent women who are often misunderstood. These were all issues that concerned me. Comedy allows you to play with ideas without offending anyone and at the same time entertain people with good humour. That's what I like about comedy. I think comedy is the most difficult and yet underrated genre in any format. That's the reason I always admired and wanted to do comedy.
What other projects do you have in the pipeline?
I haven't thought about it but I won't repeat comedy. I took over eight years to do comedy again. *Laughs* Comedy is very difficult to write and even more difficult to execute. It is known to everyone that the shoot was completed for Ami Tumi in 31 days but there was an enormous amount of preparation that went in before the shoot. We were very thorough with rehearsals before we started shooting. Comedy is exhausting. Kamal Haasan once said while speaking to me, 'comedy is serious business'; he is absolutely right! It requires great attention to detail, fabulous performances and perfect timing. I'm very happy that in Ami Tumi each and every actor produced authentic, lovable and lasting performances.
- Maya Nelluri