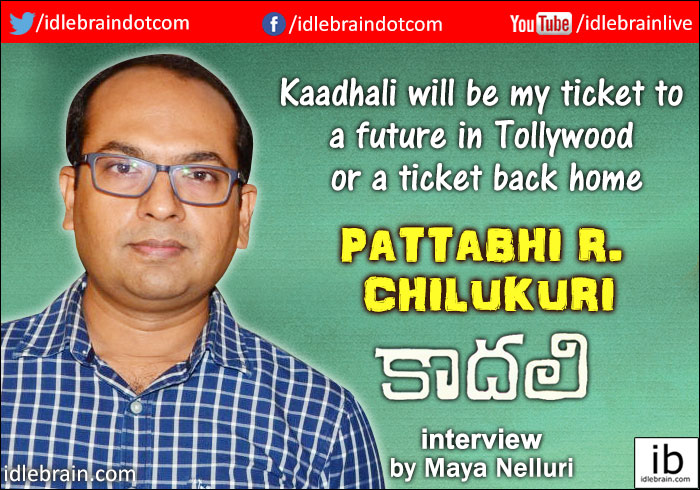 15 June 2017
Hyderabad

Pattabhi R. Chilukuri, director, producer and writer of the upcoming Telugu film Kaadhali is very honest as he describes his journey into the movie world, the reservations his family held about the film industry and also his fate which he believes rests on the success of the film. Read on.

Kaadhali is your debut as a director; can you tell us about your journey into films?
It was my childhood interest but I didn't come into it straight out of school because the film industry is perceived to be an unorganised and maybe even an unprofessional industry. In the time I'm speaking of, some years ago, no middle class parent would have wanted their kids to enter into it. So I ended up doing my MBA and working at Tata Infotech for about three to four years before I decided to change my career path. That's when I came and met Suresh Babu. He was kind enough to give me a chance in the direction department. After working with Suresh Productions for a couple of years, I worked with a few friends like Surender Reddy and Sriwass in their films.

Why did you choose to approach Suresh Babu particularly?
I chose to approach a producer rather than a director because I wanted to understand the business of film making. Apart from being an art form, it's a risky business. I approached him particularly because he is one of the best. I was lucky to get through to him.

How did you meet him? Did you have any previous connections?
No, I did not know him earlier. I made a few calls to the studio for an appointment with him and finally one day they asked me to come down. I came in from Bangalore for that meeting. He was in good spirits on that day and we even had a conversation for an hour before being interrupted. He was kind enough to give me a chance. He is a very organised individual and likes people to finish their education. I feel that the reason he let me in is because I finished studying and was working at the time.

How is your relationship with him now?
He is a mentor figure to me. I worked in his studio for a couple of years and during that time I learnt something new every day. I don't find that outside; generally people have huge egos and everyone thinks they know everything. *Laughs* No one is willing to learn. On the contrary he is a very down-to-earth and humble person. He is the most talented and knowledgeable person as well, both in technical and creative aspects in the Telugu film industry. Working in his studio was like going to a university.

We heard you were in the hotel business as well, can you tell us about it? 
I got in to it accidentally. In the film industry we don't have proper incomes so I thought I'd invest with my friends in it while I was working as an AD. I was meant to be a silent investor but ended up running the show and managing it for about four to five years. Basically I was paddling two boats at once. It seemed easy back then but in hindsight it might not have been the wisest decision I took because my directorial ventures got delayed because of it. It took me a lot of time to make my first film.

How was your first experience as a director?
It was great. I don't know how to express it in words. There's a certain high in it like with anything you do for the first time. This was especially true because of my team and the kind of support they gave me. I was handling not only direction but also production and even wrote the script for Kaadhali so it was a major undertaking. Luckily various friends came together and helped me. My direction department has done so many jobs that I give my team multiple titles; they've participated in everything. And then there is Anand Ranga, a friend of mine who is himself a director. He helped me as the executive producer and was also credited as the sound director because of the immense contribution he has made to the film.

Was it difficult to transition from an AD to a director?
It was very difficult because I couldn't get a break by convincing another producer. When I first entered the film industry I told my parents that I would only direct and that I will not produce, so they would not be at risk of losing what they and our forefathers earned. But for me films have always meant large scale undertakings with large canvases, big stars and big budgets. All my scripts were like that but I couldn't convince anyone to make them. Finally wisdom dawned upon me that I needed to make a mark with my first film before others would be willing to bet on me. That's essentially why got into this film. I wrote a simple story which could be done on a small budget. That's why I produced as well as directed. It has been easy because of my team but like anything new you try there are hardships. Right now I am in last mile where the task is to garner the film maximum number of viewers. It seems to be the toughest part and we are battling it out in this last step.

Why did you decide to name this film Kaadhali, considering that it is a Telugu film and not Tamil?
There were a couple of reasons. The first was that people will instinctively question the title and will notice the film. Being a small film, I need to be heard and noticed. Secondly, in an interview, lyricist Veturi, who I greatly admire, was asked why he used the word kaadhali in a Telugu song. His reply was that all are Dravidian languages so there is a common origin. He specified that kaadhali is a Telugu word but is not generally used, just like people now only use bhojanam instead of sapadu. Also, the meaning of kaadhali is preyasi so thought it would be a good title to consider whenever I did a project. The third reason is that this story is from a girl's point of view; it looks at what problems she goes through in life. Since the film is in the love genre and that too from a female perspective, I thought the title would sound mysterious and yet be apt.

How did you go about choosing the cast for this film?
I wanted faces that would be fresh for Telugu audiences. At the same time I wanted them to have a bit of experience elsewhere so my task as a first time director would become easier. I got two very handsome guys who are very able actors. They were experienced but not super successful. Harish has done three to four films in Tamil and Sai has done two to three films in Telugu. But this film will showcase their talent in a much better light. Pooja though is a complete new comer who's done a couple of ads. When we saw her she had a certain magical exuberance in her face. She was instantly liked by my team and me. We thought she would be the right choice. I'm quite happy about the casting.

What can we expect from Kaadhali?
It is a very simple film that is honestly told. Although it is a fictional story, it revolves around some real life situations. People will have a nice time watching it.

How is Kaadhali different to other love triangle films?
I think that's the most abused word regarding Indian films. We try to say everything is different so I don't want to use that word. But I will say that if you see the film, everything is subtle. There are a limited number of plots out there but how the story is told, what aspects of various thoughts the director touches upon bring about different movies. That is why I prefer to call it a story of simple girl rather than a love triangle. Two men come into her life and she has to choose one. In this film, without being preachy about it, I wanted to convey the message that we, as a brother, lover, father or any other individual, should respect a girl enough to let her choose what she wants.

Would you call yourself a feminist?
*Laughs* Feminism belongs to the seventies I think, much before I was born. I think that every human being should be respected. Live and let live. In this day and age we are exposed to every minor aberration in the society through the media so we should all do our little bit.

Do you have any future projects lined up?
As I mentioned I was a struggling AD so I have a lot of scripts, over half a dozen completed ones. But I know that Kaadhali will either be my ticket to a future in films or a ticket back home. If this fails I won't have much of a future in the industry. As you can imagine, I'm keeping my fingers crossed.
- Maya Nelluri