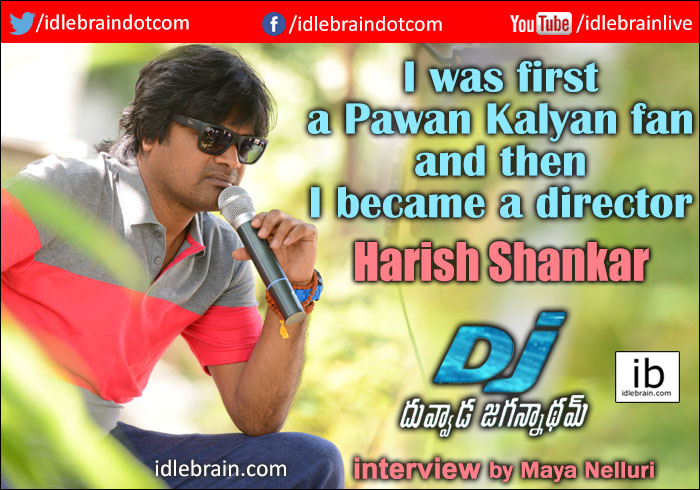 22 June 2017
Hyderabad

Stardom comes easier to those who stand before the camera; but there are the few who stand behind cameras and yet shine so bright that their light reaches beyond the silver screens and finds adoring fans. writer-director Harish Shankar is one such inspiring soul. After dedicating his life to learning various aspects of filmmaking, he shot to fame as a director with super hit films like Gabbar Singh and Mirapakay. Now he is back again with Duvvada Jagannadham (DJ), a much awaited Allu Arjun starrer. In this freewheeling chat, Harish Shankar describes his experiences working on DJ and the brotherly relationship he developed with its producer Dil Raju. Read on.
What is it about DJ that you feel Telugu audiences of today will relate to the most?
Before being a writer or director, I was and am the biggest hero-worshiping audience. I feel that DJ encompasses the kind of heroism that Telugu audiences love to see on screen; even the kind of dialogues and dances people love to see by Allu Arjun, everything is there in the film.
At the same time, even though I'm known to make commercial, mass films, I've also been claimed as a contemporary, youth director so the sensibilities of my films are always updated to match current times. I think the trendy music by DSP and the characterisation of the hero will be the most interesting parts while the story as a whole will keep the audience engrossed.
Rumours are that Allu Arjun will be playing a dual role in the film. Can you comment about that?
The question itself says it's a rumour so I don't think the director should comment on rumours. Let's stick to the facts which will be revealed on June 23!
Everyone calls Allu Arjun a perfectionist. How was your experience working with him for the first time in DJ?
Absolutely, no doubt Allu Arjun is a perfectionist! An artist like him pushes a writer-director like me to give their best. I believe that perfectionism is always helpful to a film so I enjoyed each and every day of the shoot working with him. If you see our working stills you will see that there are no serious stills, we are always laughing like college mates. When you love what you do obviously the best will come and that is what happened with DJ.
The Brahmin community has had a lot of issues with the lyrics of a song in DJ. How did you feel about that?
First of all, there were not a lot of objections. There was an objection for two words in the lyrics. We met and discussed with the concerned parties, we explained to them the meaning the lyricist attempted to convey and they explained what could be the audience's interpretation. And after thorough discussion we agreed to change the lyrics so in the film the new lyrics will be heard.
Do you think that the controversy was unwarranted?
What I feel is manishini margamlo pettedi matham. Any religion aims to guide a human being to do their best and follow the righteous path. I don't think people are just out to create controversy for publicity. It is good to have a discussion when you feel you are doing the right thing. That's why I was open to hear other's opinions and discuss their concerns.
There was a lot of conflict between Pawan Kalyan's and Allu Arjun's fans in recent times. Did you feel the need to speak about Pawan Kalyan more at the audio function of DJ because of it?
It's not just at the DJ audio function, even during Mukunda I spoke about Pawan Kalyan. As I already mentioned in the event, first I was a Pawan Kalyan fan and then I became a director, so I don't think I spoke about him because of any conflict. Also as the hero said, mega fans means Chiranjeevi fans, Pawan Kalyan fans, Allu Arjun fans, Ram Charan fans, Varun Tej fans, Sai Dharm Tej fans, everyone comes under mega fans.
Do you feel now that social media is so prominent everything is being blown out of proportion?
What I feel is that when ever technology is developed both pros and cons are experienced; the same applies to developments in social media. I think when we are enjoying millions of appreciation messages we should be prepared to take the criticism also. Of course few of the people cross the line by using abusive language and vulgar words. I'll leave it up to their conscience to judge whether that is right. They should understand that internet and technology works for everyone in the same fashion.
You've developed some amazing characters in your films. Did you fall in love with any particular character and/or the actress who played that role?
Firstly, thank you for the compliment. I do love all my characters and I read a lot so I'm often inspired by novels. You should understand that being a director if we love or develop a crush towards an actress it is because of the character she plays. I definitely fell in love with many wonderful characters but I wouldn't say I fell in love with the actresses. For example the roles played by Bhagyashree in Maine Pyar Kiya, Tabu ji in Ninne Pelladathaa and Malar in Premam were my most loved characters. And being a professional director, I want to make sure that my audiences fall in love with my heroine, not me!
Going back in time a little, Ramayya Vastavayya was hailed as one of the few films of Dil Raju's to be finished in the set time and budget. What is your secret to seamless filmmaking?
I think that me also being the writer for my films is the biggest advantage. When I write I do it like a writer and when it comes to shoot I shoot like a director. Also, a lot of the credit goes to my direction department. Vijay, Bobby, Rajashekhar, these guys are more than brothers to me. They arrange everything on time and take care of everything for me. Most of the actors say that I shoot at a rapid fire speed, that's because the excitement I have to get into shoot is priceless for me. Before I lose that excitement I want to shoot the scene. Coming to NTR I always said that he is a single take artist.
When you look back at the film, what do you feel?
Even though the film wasn't so successful at the box office, Dil Raju garu was very happy financially and it was a great experience working with him. And although Ramayya Vastavayya didn't give me proper success it gave me a good human being like Dil Raju garu who is more than a brother to me.
Until Ramayya Vastavayya you worked with massive stars like Ravi Teja, Pawan Kalyan and NTR. After that film, did you work with Sai Dharam Tej in Subramanyam For Sale out of necessity or preference?
It's both actually. I knew after Ramayya Vastavayya a hero will think twice before working with me. It's not just heroes but even we as directors we want to work with super stars, super heroes. We don't go for heroes who have a bit of failure. It's not because we doubt their talent. It's because we have budget restrictions which come with failure – whether it be a hero or director. So we won't be able to make a film in the way we want to make it.
So, working with Sai Dharam Tej was both my necessity and choice. Maybe if I waited a bit longer I could've convinced a big hero but what I thought is that the story immediately I wanted to shoot, which was Subramanyam For Sale, needed a young boy and when I watched Rey's teaser and trailer, he impressed me a lot. So I approached him immediately.
Moreover apart from considering the fate of Ramayya Vastavayya, I always wanted to do concept films with new comers and smaller heroes, so it was an apt time. Who I work with just depends on the time and the script that excites me to shoot.
What were your expectations for Subramanyam For Sale?
I was pretty sure that it was going to rock because I thought of making that film twice before but couldn't. And even after Ramayya Vastavayya Dil Raju garu supported me a lot and wanted me to shoot with a new comer abroad in the US, which was assumed to be one of the most complex places to shoot. In all I was very happy with the success of the film. It gave me a lot of moral support.
Will you be doing more small films? And will you also be considering producing them?
Of course, the production plan is on. I'm waiting for the right script and director. I'll be producing and directing more concept films.
What are your plans after DJ?
I have three storylines ready and two commitments with producers but I will announce after DJ.
- Maya Nelluri