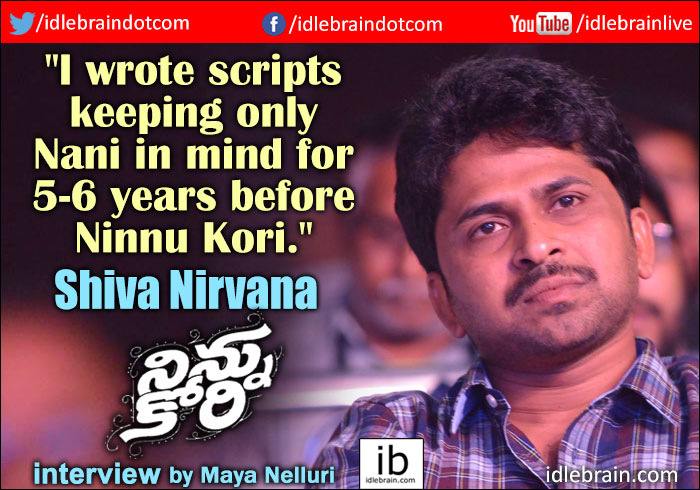 4 July 2017
Hyderabad

Shiva Nirvana looks to be part of the new generation of directors who've successfully taken on meaningful scripts and turned them into mainstream entertainers. Ninnu Kori, the Nani-Nivetha starrer, with Aadhi Pinnisetty in a pivotal role, is a touching story about exes who coincidentally meet after a period of time. Shiva Nirvana is certain that audiences will relate to the storyline of the film and is looking forward to their reactions. Maya finds out everything you would want to know about this debut director.
When did the film making bug bite you?
I was obsessed with cinema since I was studying in Inter. My whole batch was obsessed actually. We would watch a lot of films and I'd analyse the ones I really liked. We used to discuss the movies not just as audiences, we would think about why some people in the group liked some films, why others didn't like the same, why some hit films didn't connect with some of them and why some even liked flop films. Why is it that some films really connect to the audiences while others fail? As time progressed they would stop discussing them and settled into other careers but I was far more into it and took filmmaking very seriously. I wanted to learn from films, I would read books about filmmaking and even wrote stories from my Inter days. I realised that the art form of filmmaking, writing and directing are most enjoyable to me. It is an exceptional feeling to let others experience what we feel, our sensibilities.
Did you decide to enter the film industry immediately?
I still wanted to finish my education. I did my B.Ed. and after that I went to observe a film in Vizag. That is my home town – Sabbavaram, Vizag. Once I finished that, I was certain that filmmaking is the career for me. I wanted to move to Hyderabad but I still wanted to finish my M.Sc. before that. During that time I worked for two years in Bhashyam Schools teaching biological sciences. After that I came to Hyderabad and joined as an AD.
How did your short film happen?
I worked on four to five films as an AD. After that I decided to make a short film to test if I had only been wanting to learn or if I actually learnt something. I wanted to check myself. After the first short film, I got a really good response. People, producers included, kept asking me to do more. That's when I made Love Algebra and it became very popular. After that I would get calls from producers and others wanting to hear stories. There was a particular person from the US – Shiva Thurlapati who contacted me to do a short film. But I said that I have already done short films and am looking to do a feature film. Eventually it turned out that he couldn't do it but I had already narrated the story to him. He told the story to Kona garu who then got Nani to hear it.
Was it difficult to get into mainstream?
Yes, my journey from AD to Director was like all the others in that situation. I went through all the ups and downs for 10 years.
How did your family handle your decision to enter into films?
Our family was an education focused one. When I first told them about my decision after finishing B.Ed., they were a bit upset. My father would have preferred that I stayed in the education system, maybe do Civils, actually he would have been happy with anything other than films because of the instability in this area. I was very hard-working so they were sure that I would succeed in any stable environment. But after the initial three to four years, when they saw that I was working as an AD and was very serious about my career they became more confident.
Who would you call your inspiration?
I am equally inspired by films and real life instances. As for moral support my brother and my friends have been great. Vijay, my younger brother, especially has stood by me and supported me even in the days my parents were disappointed. His thought process is also very good so we discuss a lot.
Your last name is Nirvana; is that a family name or something you chose for yourself?
I actually like this name very much; when I came across it for the first time I felt very connected to it and decided to adapt it.
From the trailers Ninnu Kori looks like a story about exes meeting again – does that storyline relate to you in any way?
I wrote the story but the storyline is inspired from my experiences as much as those of my friends. I wrote about what I saw, what I heard and what I've experienced. In fact it is similar to the lives of many people around us. It may not be a copy paste scenario but you can see the glimpses of lives all around us in the film.
What does the film mean to you?
It's painful not to have the one we love in our life and continue living. Most of us have experienced this in our lives when we think life is over. This film is about the emotional conflict between exes when they meet coincidentally some time after splitting up. The film analyses the relationship between three characters, Uma, Arun and Pallavi, as they struggle to figure out who and what is right. This is real life. My feeling is that the story will linger within the audiences mind much after it finishes. Personally, I always wanted to reflect the life around me onto cinema. To me a film isn't about entertaining and then being forgotten. I wanted the audience to see themselves in the film, almost be haunted by it. I can see myself in that film; I can see my friends in it.
Did you have any previous association with Nani?
For five to six years prior to Ninnu Kori was accepted, I used to write films keeping only Nani in mind. But I didn't know him then; I only met him during the narration of Ninnu Kori.
How was it working with Nani?
For any director working with Nani is a great experience because he makes the environment very comfortable. We will be able to put on screen exactly what is in our mind with his support. He wants all characters in the film to work well together; not just himself. He believes a 100% that if the story works, then everything will work. I think that is also the reason for his success.
How did you decide upon Nivetha?
Her character in the film transforms during the story. One part of the film needs her to play a girl who's the beautiful girlfriend that everyone would want to date. Another aspect is of a very mature girl. So we needed someone that looks pretty but should also have the capability to enact maturity. When I watched Gentleman, I thought that she was a beautiful performer and would suit this role perfectly. Also, her pairing with Nani was appreciated in Gentleman. She compliments him really well and the audience also wants to see them paired together again. I have to say though that after watching this movie, we can't imagine anyone else playing that character.
Do you have any future projects lined up?
I have stories but I wanted to release this film and see the reactions of the audience before deciding on my next move.
- Maya Nelluri