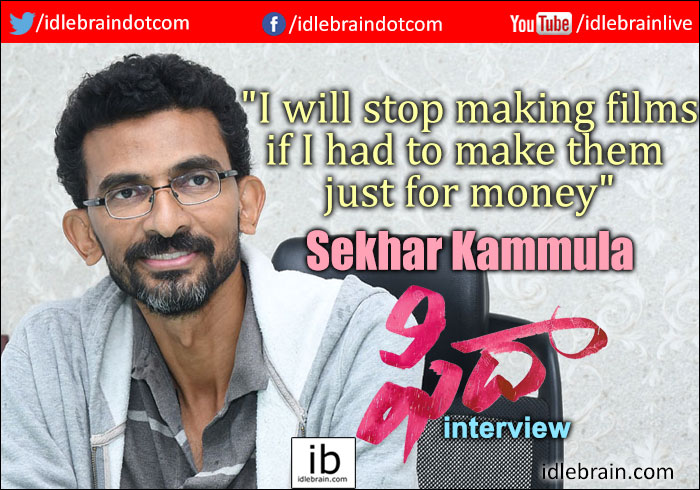 20 July 2017
Hyderabad

Sekhar Kammula who made his mark with independent and successful films like Anand, Godavari and Happy Days is coming again with Fidaa film after a gap of 3 years. A soft-spoken Sekhar Kammula tells us about Fidaa and his style of filmmaking.
What went wrong with your last film Anamika (Telugu remake of Bollywood blockbuster Kahani)?
I was affected the issue of Nirbhaya and I was going to many colleges to motivate students. Each and every filmmaker is disturbed by certain aspects. Nirbhaya was one such incident that made a deep impact on me. That's when I got an offer to remake Kahani. It was a woman centric film. That's the reason why I removed pillow-faking aspect in climax. I didn't want to show my heroine as a vulnerable character. After the release, I realised that my fans doesn't want such films from me. As a filmmaker, I thought that it was an obligation to make a woman-centric film like Anamika.
How did Fidaa happen?
After Anamika, I decided to get back to romantic genre where my strength lies. I always wanted to do a film with USA backdrop. Dil Raju wanted to make a film with me and he suggested the name of Varun Tej. That's how Fidaa happened.
What is Fidaa all about?
There is a key element (differentiating point) to the story which I can't reveal before release. It's a love story between Telugu girl from a village and a Telugu guy from USA. My team member Chaitanya suggested that we should have girl's backdrop as Telangana. Then I realised that we didn't have any romantic film made in Telangana rural backdrop and it serves as a refreshing factor. There is a stereotype that village means mostly Konaseema villages in Telugu films. By taking Banswada (Telangana) as the village, we created an interesting backdrop to the story.
In USA, We thought of shooting in Atlanta, Virginia and NJ. That's where I worked and studied. We wanted to shoot in fall (October and November) because we wanted to capture fall color and snow. Varun Tej has got injured and shoot was postponed. It's a barren land in East Coast in January and February. I didn't want to shoot in Bay Area (San Francisco etc) as it was well exposed in Telugu cinema. I didn't want the film to appear like a touristy one. Finally, We had selected Austin, Dallas where there is some greenery.
This film was aimed for December 2016, but got postponed due to Varun Tej's injury.
How is it like shooting in USA?
I thought that it would be a cakewalk to do a film in USA with the connections I have. But, I had to struggle at the beginning. I have to thank a lot of people who volunteered to help us out with logistics. The second USA camera unit has done a splending job. There are lots of Telugu families in the neighborhood we shot at. Nobody complained about sound of generator. They also supplied props.
What are the unique aspects of Fidaa?
Youngsters and progressive girls connect with Fidaa very well. The following factors will help the movie
1. Telangana backdrop. It's a tribute to Telangana villages.
2. Happy & chirpy love story.
3. Women

What's the reason for casting Sai Pallavi?
I haven't seen Malayalam Premam yet. I liked Sai Pallavi's performance in Dhee dance program. I wanted to cast her in Life is Beautiful. Her mother told me that Sai Pallavi can't do it as she was going to Russia to study medicine. She did Premam during vacation. I thought she is the right choice for Fidaa as she is a full time actress now. I asked for an audition for Fidaa and she impressed me a lot. She has dubbed on her own. She understands the nuances of Telangana dialect now. She is an exceptional talent.
Varun Tej has also surprised me. He has matched her performance. His character is subtle, yet lovable. He can speak with eyes.
Any other notable actors?
I had cast Tripuraneni Saichand (Maa Bhumi fame - Bandenaka Bandi katti song) as a father in this film. He is a revelation. Raja (son of Sirivennela Seetarama Sastri) has done the role of hero's brother. He has worked in Yevadu in the past. We have selected a kid called Aryan from Tampa, Florida. He has done an amazing work. The actresses who played sister-in-law and mother-in-law are also good.
Technicians:
Vijay C Kumar who worked for my earlier films has done cinematography for Fidaa. He has shown Telangana village in a new light. Marthand K Venkatesh has done editing for this film. My core technical team has worked for this film. Rajeev Nair is the art director of the film and Banswada came alive with his work.
All your films are considered as independent films as you don't follow the process followed by Telugu film industry. Is Fidaa also shot in the same fashion?
Yes. The smallest film I had made was Anamika as it was a remake. Otherwise, each and every film I made was a big film in terms of efforts. I lose 5 to 6 kgs of weight when I shoot an entire film.
If we observe any shoot, there would be several caravans parked outside. We never needed any caravans. For example, We needed 100 actors for a marriage function. In a typical scenario, an agent would be summoned and he would arrange 100 junior artists. That's not how I function. My team members handpicked 100 people from the neighborhood in Banswada and made sure that they appeared natural in the scene. We have also arranged props by borrowing it from the neighborhood.
Why do you choose hard way all the time while making films?
We work tirelessly by putting all our energies into it. The scripts of my films are progressive. I react when something bad happen to women or society. That's my personality. My films are an extension to my personality. My films should have longevity. People like my films even watching after 12 years because of longevity. I want my films to be relevant when my kids grow up and watch my films. They should feel proud about them. If I had to make movies to just earn money, I will stop directing films.
What are the titles considered for this film?
There are a lot of scenes featuring rain in the film. Hence, Musuru was one of the titles considered for this movie. Pallaki and Fidaa are the other titles. I prefered Fidaa.
Tell us about Dil Raju. What's his contribution to the movie?
He is a very good producer. He also told me that Fidaa works only if it's made in my style. Hence, he made sure that he didn't involve in creative aspect. He came to shoot for only a couple of times. He suggested a couple of changes at editing table from audience's perspective and I implement them.
Music of Fidaa is varied and more commercial compared to your earlier films?
That's because we have our story happening in two distinct geographics and in two distinct cultures. It's a love story between an active Telangana girl and a soft-natured doctor from Austin. Fidaa theme song remind me of my earlier songs. All other songs are different. Shaktikanth Karthik - a chennai based music director has composed music for this album. He has earlier worked for Ko ante Koti.
Hey Pillagada reminds us of old tunes?
Yes. It's inspired by Saluri Rajeswara Rao's tune from Parugulu Teeyali song of Malliswari film. It was shot on NTR and Bhanumati. I was so much fascinated by it that I named heroine character as Bhanumati.
What's your favorite song?
Oosu Podhu song is my favorite. This song will become an anthem song for youth after release. Vachinde song is being played in mehandi functions now. Hey Pillagada has a terrific recall value.
Censor members are convinced with Badkov!
There is a word called 'badmaash' in teaser of Fidaa. It's actually written as Baadkov. Dil Raju has felt that it would face censor issues and changed it to Badmash. But, a Telangana girl always shouts when she is teased. She is not the kind of a meek girl who cries. Badkov is a pretty general word that's used by girls in Telangana when they get angry. I had convinced Dil Raju to keep Badkov word while submitting a copy to censor board. Censor members have passed the dialogue without cutting Badkov word. Censor board members said Badkov is right in the context of the story.
What's runtime of Fidaa?
It's 2 hours and 23 minutes. It is shortest film in my career.
What's your next project?
I have a few ideas that suit stars as well as newcomers. I will decide once Fidaa is released.