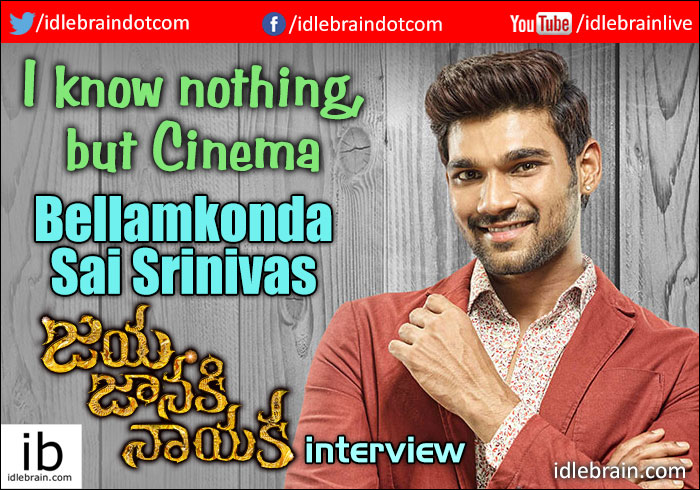 8 August 2017
Hyderabad
After a dream debut with Alludu Seenu, Sai Srinivas has an upset in the form of Speedunnodu. He is back again with high profile cast and technicians for Jaya Janaki Nayaka. Here is an exclusive interview with Bellamkonda Sai Srinivas -
You had a dream debut with Alludu Seenu and surprised everybody with the kind of revenue it generated. Your second film Speedunnodu was a disappointment. What went wrong?
Speedunnodu was a disaster. Speedunnodu failed because too many modifications were done to the original and soul was missing. It was a super hit in all languages except for Telugu. We have to learn from the failures. If I do a remake in future, I will stick to the original.
How did you get such a big director like Boyapati Sreenu direct you?
Jaya Janaki Nayaka is my dream. After Alludu Seenu, we approached many high profile directors to direct my 2nd film. But, we didn't approach Boyapati Sreenu. Boyapati Sreenu is a kind of director who chooses heroes rather than heroes choosing him. It was Boyapati Sreenu who came forward on his own and expressed his interest to make a film with me as hero.
If you keep getting top directors like VV Vinayak and Boyapati Sreenu in your first 3 films, you will run out of high-profile directors very soon?
It's not my plan to do only with high profile directors. My next film is being directed by Srivas.
Tell us about Jaya Janaki Nayaka?
JJN is a hard hitting love story in Boyapati Sreenu style. He has also explored a new angle. You don't feel like watching Boyapati's film for the first 45 minutes. Sarath Kumar played my father and the bonding of father-son is dealt very well. Jagapathi Babu and Tarun Arora play negative roles. The basic point is new and film has good content. You will not see any flaw in the film and it's done with perfection. I was the first one to see the final cut and it gave me immense satisfaction.
Tell us about locations?
We shot the movie for 45 days in Bangkok. Though the story doesn't happen in Bangkok, we shot it because the house, interiors and exteriors are so grand. The Sangeeth song was shot extravagantly in that house with 450 junior artists. It's like a song in Rajshri production films. Lot of credit goes to Rishi Punjabi. He used light colors. Prem Rakshit choreographed all songs in this film. There are three melodies in the second half of film and there are no dances in these three melodies. We used single choreographer as he need to involve in narration to choreograph songs.
We shot an action sequence in Hamsala Deevi. It's a place where Krishna river merges into the Bay of Bengal. We stayed in a remote village for 15 days to shoot this action part. It's a 10-minute episode and 690 members worked for it.
We have shot a melodious song Nuvvele in Lonavala. We went there in rainy season intentionally to shoot this song.
What is the reason behind titling this film as Jaya Janaki Nayaka?
Jaya Janaki Nayaka means hail the protector. This slogan was used when Lord Rama brought back Seetha from Lanka. My name in the film is Gagan. Heroine's name is Janaki. Nandu plays my brother.
You work really hard for films. What motivates you?
I was born in 1993 and my dad became producer in 1997. I knew nothing, but cinema since my childhood. Aadi film was released in 2000. My dad was a big producer when I joined my first class. I had seen a lavish lifestyle. I have seen ups and downs in my father's life. Cinema gave my father a high and it brought us money. If you dedicate yourself to cinema and work hard for it, it will never let you down. Cinema motivates me.
The trailers suggest that the film has family elements, love angle and mass orientation? How is it spread in the film?
First half of the film deals with family emotions and romance. Second half has complete mass orientation. There is proper story and right emotion running throughout second half though it's mass oriented.
Tell us about your next film?
My next film is being directed by Srivas. It's a new age film. Peter Hein is doing action choreography. It has a novel story with supernatural elements in it. First schedule of the film is already complete. We are going to Malaysia from 17 August to shoot next schedule. Then we are going to USA (Los Angeles & Vegas) to shoot for 25 days from October. I play the role of an youngster who is born and brought up in USA. Pooja Hegde plays female lead. We are aiming at December 2018 release.