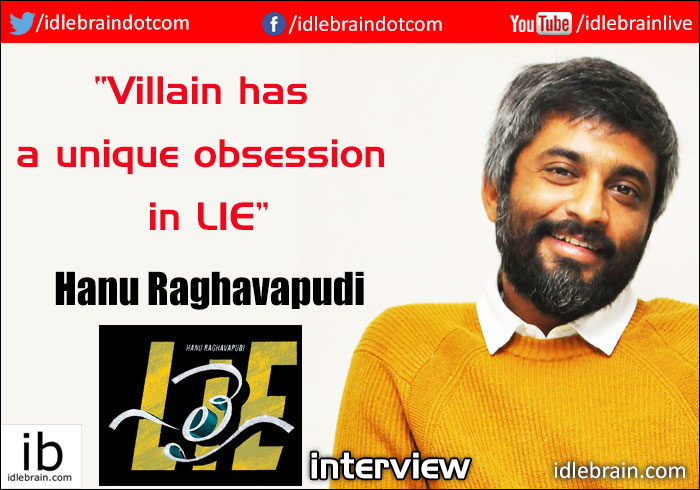 9 August 2017
Hyderabad
Hanu Raghavapudi who made his debut with an artistic film Andala Rakshasi has delivered success with his second film Krishnagadi Veera Prema Gadha. His 3rd film LIE with Nithin is releasing on 11 August. Here are excerpts of the interview --
Your debut Andala Rakshasi has got lot of appreciation and your second film Krishna Gadi Veera Premagadha (KVPG) was a success. How does it feel?
I had a lot of European film influence during the time of Andala Rakshasi. I did Andala Rakshasi using an unconventional narrative. I retrospected myself after Andala Rakshasi. The 3 years gap helped me to find out what works with audiences.
KVPG has regular elements, but narrated in an interesting style. The basic plot is about saving kids. During that period I saw many films of Steven Spielberg. Films like Jurassic Park and ET are about saving kids. It's been a long time since kid-centered films came. Pasivadi Pranam was such a film. I started discussing about the idea with Nani. Later I added a don character followed by mistaken identity.
It feels good to have a success and it led to another film with the same banner.
Lie has highly sophisticated characters. Don't you think it's risky?
I think we make mistakes by not taking risks.
Tell us about idea of Lie?
I had an idea about villain's characterization around 3 years back. I wrote the character of villain first. Then I started writing hero character. When Nithin expressed his interest in my film, I watched all his films again. And created hero's character in such a way that it suits Nithin. I had to get love angle to the film. Prasanth has given me a thought about love thread. When I narrated the entire story to Nithin, he got very excited.
Why did you title the film as LIE?
LIE stand for Love, Intelligence and Enmity. The movie takes off on a lie and then that lie takes another shape in the interval. Hence, title LIE is justified figuratively as well as literally.
Is USA backdrop absolutely needed for LIE? How much of screen time is devoted to USA part?
Yes. There is an element in the film that's related to USA. First 27 minutes of the film happens in India and rest of the movie is set in USA landscape.
We (me and cinematographer Yuvaraj) went to USA for 45 days for location scouting and shot division. USA part of the film was shot for 63 days. We shot the film in Las Vegas, San Francisco, Chicago, Mojave (airplane graveyard) etc. Producer Anil has a lot of grip on USA locations. Assistant directors of the film didn't get visas. We had to work hard during our shoot in USA.
What is unique about villain character? Why did you cast Arjun as villain?
Villain is obsessed with something which is unique. You need to watch the film to know what his obsession is. There is a beautiful arc for that character. I used to watch a lot of Arjun dubbed films in Telugu in a theater that's near my place during intermediate time. Arjun was the first person I considered and luckily he okayed it.
How did you decide on look of Nithin?
Nithin character in this movie should have a lot of maturity. Nithin looks cute and innocent. But I wanted Nithin to look tough and he should have full of attitude. That's why he sports that get-up in the movie.
Any other important roles apart from hero, heroine and villain?
Srikanth (Roja Poolu fame) plays an important role. Ravi Kishan has also done a vital role.
What is your gut feel for the film?
There is sincerity in the film and a lot of freshness too. Screenplay and narrative style is terrific in LIE. Twists will be unfolding at regular intervals.
Tell us about your next film?
I am going to direct a film with Nani as hero. It has army backdrop. We get permission in real locations in Ladakh only after May 2018. Since there is a lot of gap, I might do another film in between. Sudhakar Cherukuri and Chukkapalli Prasad will produce Nani's film.