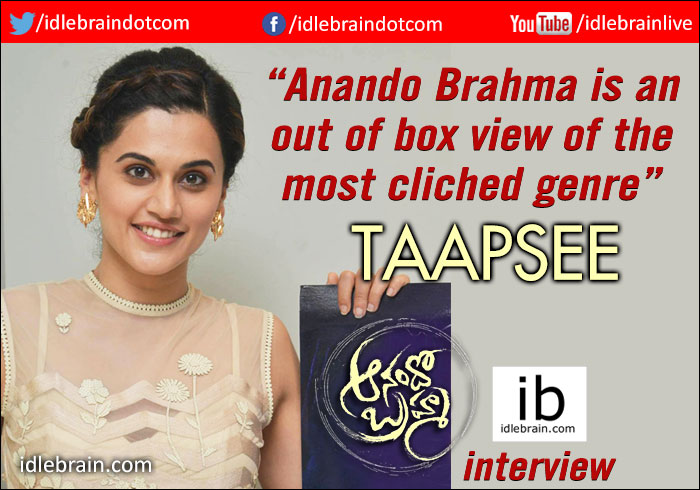 14 August 2017
Hyderabad
Taapsee who made her debut with commercial films is carving a niche for herself with quality and content-driven films. After the success of content films like Pink and Ghazi, Taapsee is doing the main role in upcoming Horror Comedy Anando Brahma. In an exclusive interview to idlebrain.com, Taapsee reveals more about her inner personality -
What was the reason to enter Bollywood?
I never wanted to act and I ended up in South Indian films. I never wanted to go to Bollywood and ended up going there. I was never the one who used to dress up in front of mirror. I am an accidental actress and a destiny child. My luck line is stronger than my life line. I was against acting in my college days as I didn't want to pretend as somebody else. I never took part in school plays or college plays. I am over-adventurous and risk taking person since my childhood. I had given CAT exam and there was one year gap before I join MBA. I utilised the opportunity to act in Telugu and Tamil films to fill that one year gap. I ended up signing three films even before my Telugu debut film Jhummandi Nadam was released.
Two and half years after working in Telugu, I got a call from Bollywood saying David Dhawan wanted to cast me. He wanted a younger version of Preity Zinta for his next film Chashme Baddoor. They didn't ask for a screentest, otherwise I would have failed. I am horrible in auditions and I never passed any auditions I attended in my career. I haven't learnt acting professionally and i learnt it on sets over a period of time.
How did Pink happen?
I was doing a small Bollywood film titled 'Running Shaadi' in the production of Shoojit Sircar. After watching a few rushes of that film, the producer has felt that I would be the right actor for Meenal Arora role in Pink (also produced by Shoojit Sircar).
You are a successful Bollywood star now. Why do you act in Telugu films again?
No matter how much people don't believe this, I still regard Telugu film industry as my home ground. There is where I learnt acting. Only 20% of Bollywood knows that I am a Delhi girl. Everybody else think that I am a South Indian.
I don't see myself as Bollywood star. I have to struggle bigger now because I need to maintain certain standards after the success of Pink. I still can get replaced due to certain type of recommendations. I struggle to get equal pay when acting opposite actors who haven't even done as much work or as much of box office success as me. I don't feel like a star.
I stopped doing Telugu films as I wanted to do something new. I have done done commercial film and i had been the glamorous girl. I had done what a typical actress wanted to do. I don't detest commercial films. I am doing Judwa 2 in Hindi now. But, I want certain balance between glamorous films and content-driven films. Most of the Telugu film offers I was getting are glamorous. Now, I am in a position where I can take that risk and play that gamble. I am not putting my career at stake by doing this film. I don't want to play it safe. Films is not the medium of earning money for me. I don't want to be a heroine with crazy fan following. I am happy with a smaller fan following who like me at personal level rather than due to success of my films.
When Mahi approached me, the first thing I told him was not to tell me a horror comedy story as it's a cliched genre in Telugu now. Five minutes into narration, I told him that the story sounds interesting. It's completely opposite to the concept of Horror comedies. I asked him how was going to narrated it for 2 hours on screen. Then Mahi went back and returned after completing the whole script. It was hilarious from the go. There is an interesting twist for every 15 minutes. These twists evoke laughter as well. I have loved the way Mahi has written the whole film. It's a laugh riot. No fights and no songs, yet it's a pucca entertainer. Anando Brahma is an out of box view of the most cliched genre.
Have you seen the final film? What is your observation as an audience?
I had seen the first cut. After that they made it crisper. I laughed a lot. Though I am not a Telugu person, I did enjoy comedy because of the situations it was placed in. If I had to spend on my hard-earned Rs 100/-, I will spend it on the ticket of Anando Brahma. There are few films of me which I didn't watch because I thought they were not worth spending my hard-earned money on.
What exactly happened when you made fun of coconuts in a standup comedy show?
The controversy erupted because a small bunch of journalists decided to act irresponsibly. Negativity amplifies and sells. I saw the entire episode before they published it and I didn't anticipate the ramifications. Two days after the release, it became a banner item in news papers and became viral on social media. Thanks to that drug case, people have forgotten about it as soon as SIT sent notice to film personalities.
I do have a sarcastic sense of humor. It starts with making fun of myself. Anyone who saw the entire clip of 15 minutes, they realised that I was making fun of myself. But, a few seconds of clip was taken out of the whole episode and it was made viral. I apologised as well. Lot of people asked me why did I apologize. Just like when we walk, we step of somebody without noticing and we say sorry.
What do you do when you are not working for films?
I travel a lot. For me, films are not end of life. My work is just one part of my life. My life includes my friends, family and myself. I play squash for the past two years. I travel alone sometimes. My manager asks me to hire a bouncer wherever I go in India. An actor can move around normally. I need body guard only when I attend public events where people come prepared to see an actress. I celebrate my birthdays with my family. I live with my sister. I take her out for trips. She is my dinner date and movie date. I have only 4 people as friends in Bombay. They have nothing to do with films. I deliberately try not to make friends in film industry. I will never get married to any person from film industry.
I extended my stay at Mauritius when I went there recently for a shoot. Before that I went to Norway alone for 4 days. I love visiting Scandinavian countries. I am planning to visit Egypt soon.
Tell us about your future projects?
I am currently doing Judwa 2 in Hindi which is due for the release soon. I want to do a Tamil film. I am waiting for the commercial result of Anando Brahma to assess my ability to judge films. That will help me to decide the future course in Telugu. I have at least 2 offers in Telugu now. I am not going to lock them until I see how Anando Brahma does at box office.