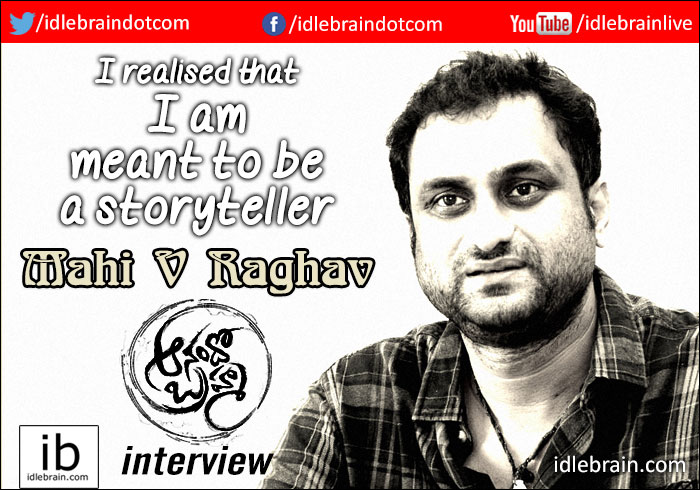 17 August 2017
Hyderabad
Mahi V Raghav who worked in retail in UK and New Zealand entered Telugu films as a producer. He realised his dream of becoming director with Paathshala. His 2nd directorial venture Anando Brahma - a horror comedy is releasing on 18 August. Here is our exclusive interview
Tell us about?
I did my boarding school in Horsley Hills, graduated from Wesley, Hyderabad and completed my MBA from Chennai. I have worked in retail in UK and New Zealand. I moved back to Hyderabad to pursue filmmaking.
Why did you choose to pursue filmmaking after going through the chores of studies and job?
I have decided to become a filmmaker at the age of 18. But, I didn't want to jump in film industry without having an exit route. Filmmaking is not everything for me. I wanted to explore places and experience other things in life. Once I had gone through the cycle of life, I decided to jump in films. Even if I fail, I have an exit route.
How did your journey in film industry go so far?
I have worked as an assistant for Vinayakudu film. I was the producer and storywriter for Village lo Vinayakudu. You are very confident when you are ignorant. It was true with my involvement with Village lo Vinayakudu. I thought it was a simple thing to produce a film just because the previous film (Vinayakudu) worked. Villagelo Vinayakudu didn't do well at box office. It led me to produce another film titled Kudirithe Kappu Coffee, which was horrendously bad. I produced it along with Shiva, an NRI from USA. To cover one hole, we created few more holes. The failure of Villagelo Vinayakudu made me desperate to redeem it by producing another film and result was Kudirithe Kappu Coffee. It was a wakeup call. I was putting money to make somebody else dream come true.
Producing is a craft. It's not just investing money. It's neither about marketing nor about cost-effective production. Producer needs to understand the craft of filmmaking. I didn't have the craft to produce films. I wanted to take a break. I went back to New Zealand to work. I went through a writing program. Most of it was unlearning as I have worked for two movies before going for a writing course.
Then I wrote and directed Paathshala. I was handicapped as a filmmaker. I learnt a lot on the sets of Paathshala. There were good things about Paathshala in terms of marketing and aesthetics. Paathshala did pretty badly at box office. I was forced to take a break again and went to New Zealand to work again.
How did Anando Brahma happen?
After debacle of Paathshala, I knew that getting a second film is going to be tough. I had to reassess. I was not having any illusion to make an action film that requires a fancy budget. The movie had to be content driven and cost driven. All these days, it was self indulgence of making films. I had to go to another person to pitch the film for the first time in my life. I knew that only either a crime comedy or a horror comedy can be made in such a small budget. I have never followed the genre of horror comedy. I never treated horror as entertainment. It is away from my sensibilities. The reason why I wanted to do a horror comedy was I wanted to give an interpretation of a guy who finds such genre as stupid. Most of my stories stem from my own philosophy and my own experiences. My belief is that humans are more scarier than ghosts. I don't see a purpose in ghosts to be greedy and fearful.
Horror comedy is the most abused genre in Telugu. Hence, I have decided to do the other way round where humans scare ghosts. The story idea appealed to the listeners. Having a story idea is easy and it's very difficult to create a drama out of it for two hours. I have filled characters with disorders - a split personality, a heart patient who has a jump over to overcome fear, a night-blind guy, a drunkard etc. It has to make some logical sense when you are making such an illogical film. When you are trying to make something unconventional, it has to be very convincing.
What is the reason behind casting Taapsee?
It was accidental. I had seen a few films of hers and never liked even one of them. Pink was the film that I immensely liked. I got hold of her number through a friend. I called her before she did Pink and pitched the story idea. She was excited and it was in drafting stage. I didn't have a producer at that time. By the time I had found the producer, Tapsee was busy shooting for Pink. I didn't expect her to honor her verbal commitment when I approached her with full script as Pink has become a huge success by then. There were innumerable reasons for her to say no. She said that she would do it if we wait. She finished her other commitments by December and was ready to join us in Anando Brahma.
How did you get the producers for Anando Brahma?
It's all intuitional. Be it selection of cast, crewmembers or producers. All the people who worked for this film have immense drive and a burning passion to prove themselves and make a difference. I was quite impressed the way a new production house promoted and created buzz for Bhale Manchi Roju before it's release. I texted producer Vijay by praising their efforts in effective campaign and asked his time to listen to my script. He replied saying that he was busy promoting the movie and would get back to me later. I watched Bhale Manchi Roju later and didn't like it. I expressed the same and sent a message to Vijay. He didn't respond. A month later, Paathshala was nominated IIFA award. Vijay messaged me congratulating for IIFA nomination. Later when we met, I asked him which kind of films he like. He said he like all kinds of films except for Horror comedy. I asked him to read the script. He liked the script because we gave a different point of view to it.
Tell us about contributions of music director and cinematographer?
Sound is generally misinterpreted as music. It's not music director alone. K did background music. We didn't have songs. Sound Design is done by Sachin Hariharan who has done Maya and Vikram Vedha. Kannan did final mixing. Most of my learning came from James Wan who made hugely successful horror films like Saw, Conjuring, Insidious, Annabelle etc. We had worked for over 3 months on sound. We had several drafts for sound and it took a lot of time to evolve into what it is today.
Anish Tharun Kumar is our cinematographer. I haven't seen his work. None of his films were released. A Tamil trailer was the only basis on which we selected him as cinematographer for our film. I saw some raw energy in that trailer in terms of approach, color and design. It was the biggest risk we took in the whole film. I don't have experience and I needed an experienced cinematographer. But took him in and he did well. I did neither have darkness nor have black color just because I was making a horror film. Darkness and black color are not a parameters for showing existence of ghost in films.
Is Anando Brahma inspired by any Hollywood film?
No. There might be some inspirations for a few scenes.
Lot of youtube users guessed this film to be inspired by The Others after watching theatrical trailer of Anando Brahma?
I will answer about it after the release. You can't categorize The Others as a horror comedy. The Others is a drama that holds on one twist at the end. Anando Brahma narrative is completely different. There will definitely be western influences on Anando Brahma. I had to take bits and pieces from across the globe. Horror genre is basically a western genre. It's a western by-product for us. We have taken a notch-up in perspective of ghosts in this film.
What is your next film?
Irrespective of the fate of this film, I would go on to make either a feature film or web series. I have no reasons to quit filmmaking now. I realised that I am meant to be a storyteller. For the first time in my life, I am not scared of my film releasing. I was emotionally attached to this film for over 3 years. More details of my next venture will be revealed in a few days.