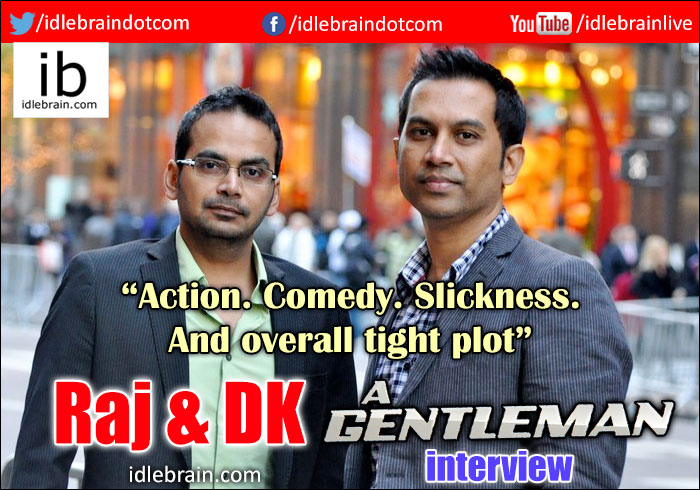 24 August 2017
Hyderabad
DK (Krishna) and Raj (Nidimoru), the director duo popular for their earlier movies 99, Go Goa Gone, Shor in the City etc, are all set to release their biggest movie in their career, 'A Gentleman' on Friday, August 25th. Both DK and Raj have been friends since they both went to S V U College of Engineering, Tirupati a long time back. Their passion for the movies and compatibility to work as a team has driven them a long way to turn their careers as Software Engineers in the US to successful Bollywood movie directors now. Their earlier movies have been critically acclaimed for quirky scripts, close to reality characters and fascinating story telling. A Gentleman is produced by Fox Star Studios and stars Sidharth Malhotra, Jacqueline Fernandez, Darshan Kumar and Suniel Shetty in lead roles. Music composed by Sachin Jigar has already become popular. Roman Jakobi, a Hollywood fame (for movies The Big Lebowski, Jackie Brown and Unknown etc), provides Cinematography. Here is an iDLeBrain exclusive chit-chat with DK and Raj about A Gentleman by Bala Tirumalasetty.
How did the Fox Studio connection happen? Has someone played a role in bringing you and fox together?
Fox Star originally approached us to make a sequel for Bang Bang, asking if we had a script for that. We had another concept we have been wanting to do for a long time now -- a quirky action comedy involving double role. We presented the script to them, they loved it and we ended up making A Gentleman.
So, this is not Bang Bang part 2? How did the rumor start that it was?
The initial interactions mentioned above led to some rumors about this film being a sequel to Bang Bang -- but aside from both films being fun action comedies, there is no other commonality between the two films.
You have done crime comedy, rom-com, zom-com and serious drama genres before. What genre you describe A Gentleman is ?
Action comedy. With a lot of wackiness.
Did you happen to tell this story to any other film makers or other star heroes or was Fox and Sid were the first choices?
We have had this concept for a long time. We have even toyed with the idea of doing it in Telugu with a big hero -- with a lot more masala of course :) When this opportunity presented itself, we kept the core idea and rewrote the story, adapted the concept to Hindi, and made the action more grounded and gritty.
As far as this particular script goes, Sid and Jac were our first choices. They're both perfect for an action film -- both are fit and love to do action.

To our knowledge, we haven't had director duos in Indian cinema. It is also rare in Hollywood. How does that work when you have different opinions? Do you complement each other in certain aspects of making a movie?
There are lots of advantages to being a duo. It allows us to do more things simultaneously. Even in this film, when we were shooting action in Miami, where every day of shoot is very expensive, we were able to split up and shoot two parallel units in two places. The actors would shuttle between the two sets throughout the day! This allowed us to achieve more in fewer days.
Action films are usually very expensive to shoot. Now this film has extensive action set in other countries. Was it very expensive?
The film looks big, but the budget is actually very controlled. We made this film at the cost of a romcom. We spent a lot of time in planning and designing and preproduction in general, and made every day of shoot and every shot count.
The idea was to be profitable on table. The producers have already recovered 60% of the cost from satellite, music and digital sales. This takes a lot of pressure off our backs when it comes to the box office.
Sundar Susheel Risky. Tag line is unconventional but catchy. What is that you wanted audience make out of this tag line before watching the film.
The character of Gaurav is actually based on the lives of NRIs living in the US, doing 9-5 jobs (like ourselves in a past life!). He loves his new house in the suburbs, his minivan, now he wants to get married and settle down. And the tag line is based off of that -- like a matrimonial ad! Sundar, susheel... but guess what, risky! The risky part shows the shade of the other character that Sid plays, an operative who does covert missions around the world.
Tell us about Sidharth and Jacqueline and their roles.
Sid gets to play not one but two contrasting roles. More than being visibly different, we chose to make them different in personality-- that includes body language, attitude, the soul of the person.
Sid hasn't done this kind of comedy before, so getting the deadpan humour was a challenge initially. Once he got the hang of it he slipped into the role of Gaurav easily. But special mention is needed for Rishi. He had to train with our French fight choreographer Cyril Rafaelli for two months on that specific style of fighting to get the body language, stance and moves right. A lot of preparation went into designing the action in this film.
Jacqueline is a hardworking actress. And she is athletic. She was eager to do action, and is really good at it. Even though she has been in action films before she hasn't done action herself.

What aspects of the movie you are counting on to impress the movie goers?
Action. Comedy. Slickness. And overall tight plot.
And you can take your parents for it and your kids. It will impress youth primarily but it is for everyone across ages.
What future projects you have lined up after this?
We have a couple of projects in the pipeline. Will get to work on them after the release of A Gentleman.
We also have a series for Amazon we are creating. We are quite excited about doing something in the long format.
Being Telugu folks by birth, how come you have not directed a Telugu movie yet? Any plans to do one? There were rumors about making a movie with Mahesh Babu and Chiranjeevi?
Yes we would love to do a film in Telugu. In fact we have tried a couple of times to get a film going. But for some reason or another -- mostly dates issues -- nothing has materialized yet. Soon, hopefully. :)
Bala Tirumalasetti