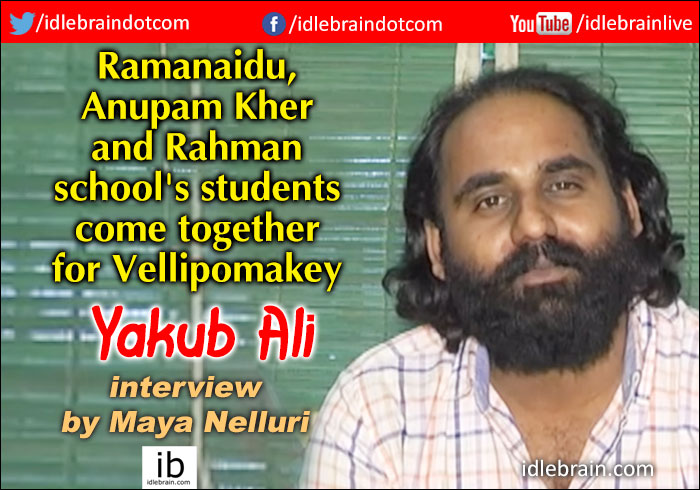 2 September 2017
Hyderabad
Vellipomakey director Yakub Ali is part of the new wave of off-beat filmmakers. He spoke to Idlebrain about his upcoming film and more.
What is Vellipomakey?
It is an independent, off-beat film where we did not take any cinematic liberty. You will only see regular people from the start to end; it will be like watching the life of a colleague, neighbour or friend. All the previews also said the same thing. The scenes and dialogues were written especially to be that way. In terms of genre it is a new-age love story.
What do you think are the highlights of this film?
Everyone is praising the music director; the songs and climax background score are very captivating. He is from Rahman's music school. I think the main reason the trailer worked so well and reached big producers is because of the music. It's very haunting. And the lead actor is from Anupam Kher's film school. He first came to me after reading the script via a friend. I'm an introvert so when he came to me and said that he wants to do this film, I couldn't say no. I said I'll do a week of workshop and we'll see. Every day he was so determined, he would come to my house at 6am and stay till night. The way he moulded himself in the movie really impressed me. During the previews when he was walking around and I introduced him to people they didn't realise it was the same guy. He did great job.
Tell us about how you made your film.
I am an independent filmmaker. I made the film on a micro budget which is under 20lakhs. Once I finished my film school education in 2012-13, I decided that I would like to showcase what I learnt. It took me four months to finish writing the story and once I finished writing it I knew that a normal producer would not be interested in producing it. So I didn't go to any producer. I figured out that I would need eight to ten lakhs to finish the project, used my own money and asked my friends for support. I even told them back then that I wasn't sure if I could return the money. And when I started the film I only had three lakhs. Eventually my friends helped out and we finished the film. But once the shooting finished, and the final cut had been made, the money ran out before going to mixing. So I decided that I would finish the teaser first. It got a really good response. A few music labels called me at that point to promote us. I felt that out of them Junglee Music was the best to go with. But I still hadn't gotten any financial help so I decided to release a trailer. It took about a month and half to finish and when Junglee Music saw the result, they loved it and wanted to launch it in a bigger way. We went with Radio City and a lot of celebrities ended up sharing it as well on social media. With the trailer's release came calls from all the major production houses in Telugu. I went to Dil Raju sir first because I thought that he would really like this story. He only saw a song on my phone then and asked me to show him the film immediately. I ended up showing him the rough cut the next day. I didn't have any hopes earlier because this is a very off-beat story; but when he saw it he really liked it. And he said that he would like to release it. He just wanted to make a few changes before the release which we did. It took four months to shape it properly and then we announced the progress in the audio function. Unfortunately, ma'am passed away in March and the release of the film was postponed. Later he decided to wait for the right time to release the film.
So do you feel that this is the best time to release Vellipomakey?
It is the best time in this year. I know that Arjun Reddy is doing really well and now Paisa Vasool is also in theatres but every other week is packed this whole year and we wouldn't be able to release until next year if we decided to wait any longer.
What are your expectations for the film?
About 20 percent of people who've watched the movie said that they couldn't take their eyes off the screen till the end but there are many who thought that the pace was too slow. People loved the climax but they thought the first half was slow. That is because I take time during my writing to establish the characters. And it's also because today's audiences are not used to seeing this kind of movie. I did the movie in the way that I learned in film school which is very artsy.
So you don't have very high expectations?
I think even going to Dil Raju sir is very big and I'm happy with that. I also got access to big production houses because they really appreciated the trailer. If I didn't do this movie they wouldn't have even met me. But because of this film I got calls and access and now after the release I will start my next phase.
You mentioned wanting to showcase what you studied. Can you tell us about your educational background?
I specialised as a Dentist and I've always been a school and college topper. My father and brother are both doctors so family background is very academic. Initially my idea was to settle in my dentistry career and then go in to films but once I graduated I wanted to get into films immediately. I like films very much so I did my Masters in Ramanaidu Film School. My education background inspired me join school because I wanted to learn film making in the proper way. Now I practice as dentist as well and run a clinic in Kukatpally. Only during the shoot I didn't do the practice but even during editing I worked there.
Why did you decide to continue dentistry as well?
When I told my father about my ambition in films, he was in shock. He didn't say anything for ten minutes. Then I actually told him that I'm joining an editing course and that I could manage to do it part time along with my clinic practice. He made me promise not to leave dentistry. Now my family is very supportive because I've continued with both careers. I would go to film school from 10am to 4.30pm and then work in my clinic from 6pm to 9pm. It has been very difficult because there have been a lot of ups and downs but I love movies so I withstood everything.
Do you have any future projects planned?
I have a few ideas but I'll need one to two months to figure it out. In general like to work on love stories and melodramas.
-Maya Nelluri