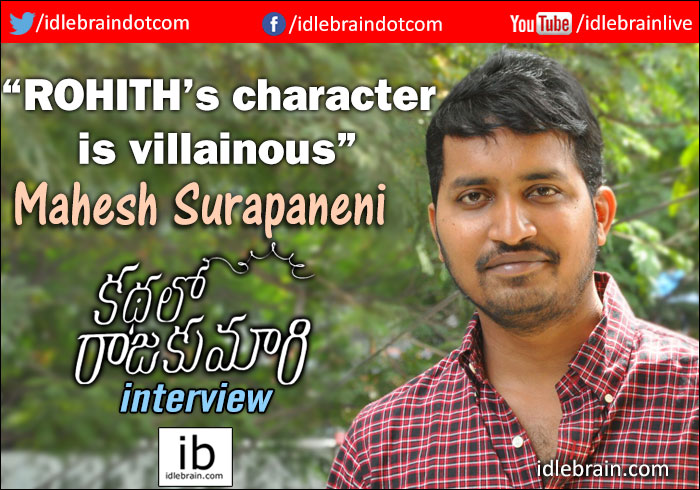 13 September 2017
Hyderabad
Mahesh Surapaneni is the young director of the upcoming 'pure love story' featuring Nara Rohit, Namitha Pramod and Naga Shourya. He is confident that Kathalo Rajakumari is a good film which will engage the audiences. Mahesh talks to Idlebrain about the film and more.
What is Kathalo Rajakumari about?
Every man has a rajakumari in their life. It could be his mother, wife, sister, or any key woman. This is what the film is about. Namitha Pramod plays the female protagonist and she has a strong role. She is a popular Malayalam actress who's done about 20 films. I was actually very particular about casting a Mallu girl in this film because Mallu girls are very expressive; take Asin, Nayanthara or Nazriya for example. And since this film is a love story and love stories have two important roles, i.e. two protagonists, I needed a very good actress. Now that the film is completed I can surely say that she is one of the biggest assets of this film.
Coming to the rest, in 90% of the film Rohit's character is villainous. Him and the actress have nothing in common. She is a simple independent girl who takes life as it comes. The story revolves around how these two childhood friends relate to each other and the situation in which they meet later in life. The film itself is set in a hill station back drop. Naga Shourya plays another vital role in the film. He is present during a phase in the film with a movie backdrop and also during the climax. Although his role is about 25 minutes in the film, he is part of a major decision making process and becomes the game changer.
In your movie it seems that the female protagonist is treated with much respect. Do you think women today enjoy the same respect in real life?
In my opinion things are getting better but many things need to improve. There are still a lot of things happening in this world which we don't want happening to women. There is much disrespect and a sense of authority that men feel they have on women, which should change. But if we look at work, there are many crafts where women are excelling so there is good as well. Whether men respect women depends a lot on how we are brought up and the culture around us.
When did you decide to enter the film industry?
I was born in Vijayawada which is pretty much the hub of cinema fanatics. Cinema pichi! I was also one of them but I did not think about working in it earlier. I only got interested during my bachelors. Then my parents asked me to finish my post graduation and then do what I wanted. My parents had their insecurities and fears but they never stopped me from doing what I wanted. So once I finished my Engineering I went to the US to do my post grad in Mechanical Engineering. When I came back I started assisting Teja garu.
Tell us about your experiences with him.
Those one and a half years were the toughest for me. He's a perfectionist so we always have to be on our toes. During that time I learnt all the nuances of filmmaking. After that I assisted Kona Venkat garu and Paruchuri Venkateshwar Rao garu in writing. And then I worked in the creative side at Vijayanti Production, writing and working on ads. I was with them for a couple of years and was even meant to do a movie with them. Unfortunately it didn't happen so I decided to do a concept oriented medium budget film and narrated it to Rohit. I worked on developing that story for two to three months before approaching him. I wanted to do something he didn't do before. He has always done family oriented or more serious action films so I thought of writing a pure love story.
What helped you make the decision to pursue your passion?
Right from childhood I've been very independent in my decision making. I think a 100% of the credit for that goes to my schooling. I studied at Siddhartha Public School where we had time for everything. We had time for education, sport, and extracurricular activities. I was very fortunate to study there because I was taught not to follow but to lead there.
So how long was it since you entered the film industry to when you directed this film?
The whole thing took four years.
Did you know Rohit earlier?
No, when I narrated the script to him was the first time I met him.
How is your relationship with Rohit now?
Rohit is fantastic. Although we only got in touch regarding the film, now he is a very good friend. We spend a lot of time together. Since we stay in opposite lanes it also makes it easy to meet each other. And even though Shourya did the film for Rohit, during the filming process he has also become a very good friend.
What are your expectations for the film?
I am certain that we made a good film and I'm not revenue oriented so I'm not worried about box office as much.
Who is our favourite hero?
Venkatesh
And favourite actress?
Nayanthara in the South and Shraddha Kapoor in Bollywood.
Has any director influenced you a lot?
Personally I really like two directors who have very contrasting styles of filmmaking. Mani Ratnam and Raghavendra Rao. I really enjoy the flamboyance in the later's films and how he treats commercial cinema. In Bollywood I find it wonderful to watch the visual extravaganza in Karan Johar's films.
-Maya Nelluri