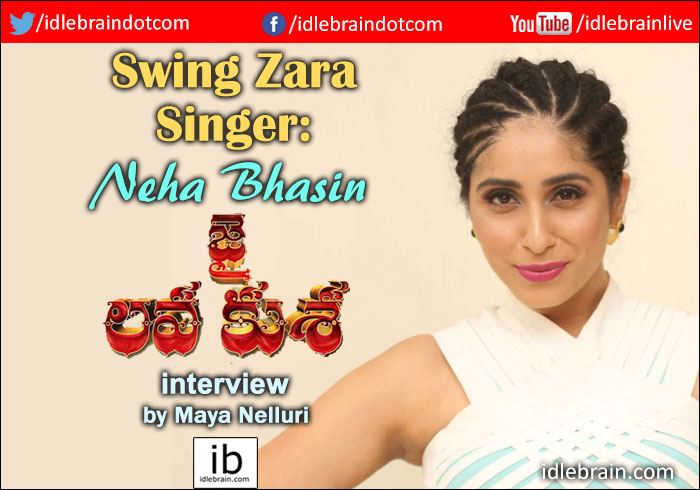 18 September 2017
Hyderabad
Singer Neha Bhasin was first introduced to Telugu audiences eight years ago in one of the most memorable songs of the decade -'Atu Nuvve Itu Nuvve'. Now she is back with 'Swing Zara' in Jai Luva Kusa and is looking to spread her wings across multiple languages in India. Read on to find out about her experiences with the music director who introduced her to us – DSP, her own YouTube channel and more.
When did you decide that you wanted to be a singer?
It was when I was nine years old. In school we were introduced to the Beetles and Michael Jackson. Then I got my first album of Michael Jackson because during the annual day celebration I was given two solo parts and had to practice for them. When I started watching the album I knew that this is what I wanted to do all my life. It made me happy and gave me a direction and focus.
How has your journey been from your days in the girl band to now?
It has been very organic. I was always sure that I wanted to be in music and achieved success early on with the band. I was very young at the time and things actually happened to me rather than I making them happen. But once the group disbanded it was difficult flying solo. When I got into films after that, I wasn't really fitting in because my skills were very non-film oriented. There have been ups and downs but now I'm more confident and content about the way things have shaped up. I've been able to balance my non-film and film career successfully.
You've got a very unique voice, was that the reason for the difficulty?
I guess you could say that my unique voice wasn't allowing me to have enough work in the industry. When your voice is not trending at a particular time it is difficult for people to place you. I've always been noticed for my talent but it has been slightly of a different kind. I was able to be versatile but I was still pigeon-holed in a way and wasn't generating much work. I used to wonder why some singers have hundreds of songs to their name and I have only about seven or eight in that same time. But at then again I've sung very big songs which have become classic or ever green and I've had a unique career. Earlier, when I was younger, I used to wonder what I am doing wrong. Now with a lot more wisdom I'm more settled and feel that it's my own path and I'm my own trend setter. I still wish I could sing more in films because it would give me more opportunities to experiment. At the same time I do have my hands full at the moment because I do my own singles, different languages and also Punjabi folk so I'm not complaining.
Tell us about your YouTube channel.
The first reason for me having my own YouTube channel is because of my passion for doing my own music. As you can imagine it is quite an undertaking. It takes up a major part of my year and life. Each song release is equivalent to a movie release for me because it is my baby; I'm doing it on my own label with my own small team. Early on in my career even though I was successful and I had everything handed to me on a platter, I felt trapped with the different labels, I had no say in how things were managed. Now the songs I release have a large viewership even without promotion but I know that if I had released them with established brands they would have ten times more popularity. Still, I choose to do it this way because I want to be free. I initially started the channel in 2010 and worked on it till 2012. Then I decided to take a break but right now, 2017, is the best time to have such an outlet. There is a lot of opportunity. I'm glad I took the risk of working on it because I get to create content that I believe in. Even when I do gigs outside now I get requests for these songs so people like them.
'Swing Zara' is taking over the music waves right now; how did you feel while singing it?
You never know how big a song will become. You cannot anticipate that and you shouldn't work for that. As an artist we just have to give our best, marry the song and love it. I knew it had all the ingredients to be a hit when I first heard it. It is very DSP. It has a kind of 'Alergra' or 'Aa Ante' flavour but in a more 2017 way. Even when I didn't know him that song was popular and used to play on our radio. Coming to 'Swing Zara' it's very raw, sexy and out of the box – that's the brief I was given. I didn't know how the song was going to be picturised but it's turned out great. I'm a big fan of Jr.NTR's dancing. He's one of the best dancers I've ever seen; he is in a different league all together. And Tamannaah is looking very hot in the song.
You've mainly worked with DSP in Telugu, why is that?
*Laughs* In Telugu he's the only one who calls me so I guess that's why. I don't really make an effort to make contacts because I'm not a social person. I think my work is out there so if someone wants to call me it's pretty easy to contact me and I'm more than happy to do it. With Devi, we first worked together in 2008 and we've continued working since. We just struck the right chord!
Do you think it is important to know the language that you are singing in?
I think a person needs to be open to learning the language correctly in the limited time available. Of course it would make life easier to sing in the language one knows instead of worrying about pronunciation but how many languages can someone learn? I actively sing in four languages and also do ads. I've done one or two in Malayalam, Bengali, Assamese and Marathi as well so that's about eight languages right there.
What is your relationship like with DSP?
*Laughs* I feel like he is the male version of me to a large extent. We are very similar in terms of our creativity and madness. *Laughs* I relate to him a lot; I don't meet a lot of normal people in the industry and he is a very abnormally normal person in the industry. I feel the same about myself; we are very real. There are no celebrity airs going on. We both like to dance, sing, love the glam factor but we are like a 'ghar ka bacha' – people who love home and home food. We are very simple that way. He's a well brought up kid I feel.
What projects can we look forward to from you?
I have two releases coming up on my channel; one of them is an original. I've also got some songs lined up in Bollywood and I hope that I can sing in Tamil again because it's been over a year since I last sung a Tamil song and it was really a lot of fun.

-Maya Nelluri