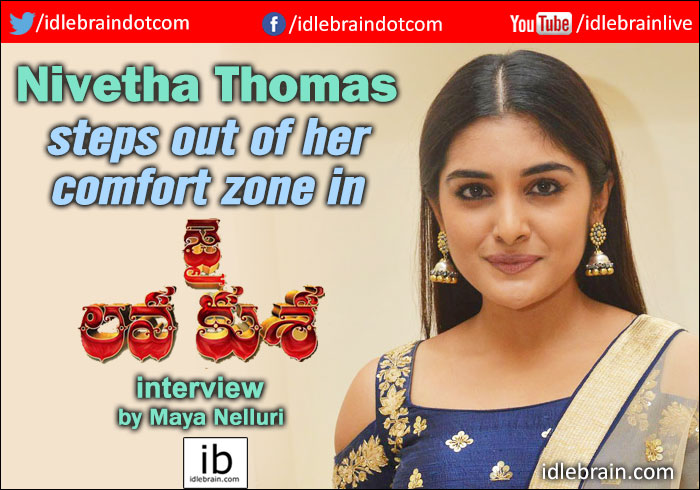 19 September 2017
Hyderabad
The talented Nivetha Thomas is currently busy juggling promotions for Jai Lava Kusa, her internship and studies. Not a lifestyle for the faint hearted! But for her it's just another day because she has been doing it for the past thirteen years. Although very young, she is an experienced actor and one who has been critically appreciated by Telugu audiences. Nivetha lets us in on her life in this exclusive Idlebrain interview.
Tell us about your role in Jai Lava Kusa.
I'm playing Simran who is a girl Punjabi girl. She is basically like a 'pataka', a firecracker! She is a spontaneous lovely girl.
How was the experience of working in such a technically complex film?
It's only my third film in Telugu so it was amazing to be part of such a big project. Kona sir narrated the script to me and guided me to say yes to it. I never did such a film and I've always wanted to do the song n dance and do all that so he said that I should try being a part it. And the fact that it was very content driven as well as being so big made it a rare opportunity for me. As for working on a film with the protagonist playing a triple role, I learnt a lot about new technologies. It was interesting to do the scenes with all three or two of the characters in one scene. It requires a lot of patience to do so many shots with so many costume changes. The entire process was very new.
How was it working with Jr. NTR?
Tarak is a buddy, a friend. He is the most humble and hardworking person. Although he is a star he makes everyone feel on set feel alive; he's a livewire. His enthusiasm is off the charts. If there is a song that he is excited about he wants everyone to hear. And it was such a joy watching him dance. He is just a very genuine person so it is nice to talk to people like that. It was a very taxing shoot but he always had a smile on his face and never complained. With Jai Lava Kusa, you can see how much hard work he's put into it. Working with him was one of the best parts of working on the film.
How was it working with Raashi Khanna?
When I signed on I didn't think that Raashi and I would have any scenes together but we had couple of days of shoot together. She is one of the sweetest people and made me feel very comfortable right from when I first met her. It was actually my first day on that location. I'm extremely happy for her and wish her all the best.
Was there any particularly memorable moment from the Jai Lava Kusa shoot?
My favourite part was that the whole experience was so new. As an actor one needs to venture into new areas and I wanted to try something exactly like this is. As for memorable, when we were shooting in Pune one day it was raining continuously. There was a lot of difficulty setting up because of that but everyone worked together as a unit with no complaints. I was very proud that no matter how hard the work was everyone stuck together and did it. Imagine shooting in so many locations but in the movie the scenes might fall right after each other so we had to be very aware of continuity. My other favourite part was dressing up and feeling bright and vibrant.
You started as a child actor; how is it different acting as a main lead compared to earlier?
It was a pretty smooth transition for me. I started acting thirteen years ago when I was just eight years old as child artist. So I was very young when I started. I played Jayram and Gopika's daughter in a Malayalam film. I also worked for a couple of years on the small screen. My drill was to go to school and then after school I went to act so it was normal for me. But I have to say that I've been very proud of everything that came my way; it's a blessing. And I'm also grateful that I've been lucky to learn from all the projects; usually artists have periods of gap but after I did my first film, I immediately started getting offers. Now as a lead there is a lot more responsibility. But it is similar because every scene requires everyone to work together to succeed.
You debuted as a lead in Tamil and Malayalam in 2011; why did it take you a further five years to enter the Telugu industry?
I've never looked at different languages as different industries. It's always been that if the story is good I'm doing it. I was always like that and I will continue to choose my projects the same way even in future. My first film as a lead was in Malayalam in 2009-10. After that I never actively thought that I will go to Kollywood but it just happened. I was born and brought up in Chennai but I'm Malayalee so in both languages I was very comfortable. Even with Telugu I didn't feel any different because it was another great story and it was with one of my favourite actors. The only difference was that I had to speak in Telugu. And after that also it wasn't planned that I'll do more Telugu films or any particular language.
Your first two Telugu films were with Nani – was that intentional?
It just happened that way. During the shooting of Gentleman we became very good friends. He became like family to me and even now he's a well wisher and I am very close to him and his family. When we were doing Gentleman we used to joke that we'll do heaps more films together. I'm studying Architecture so during my third year semester holidays I did Gentleman. When it finished, I went back to studying. I was waiting for a good project to come my way at that point and Nani approached me with the story of Ninnu Kori. He said listen to the story and do it if you like it, which is how he always is. When I heard the story I absolutely loved it and Nani was working on it so it was even better. Even during the filming of that we joked about future projects; I'm sure will get back together again once something great comes up.
What other films have you got coming up?
I have listened to Malayalam, Tamil and Telugu scripts but haven't signed anything yet. I'm interning right now. *Laughs* I actually have a nine to six job and had to take a week off for promotions. Once I'm done with that I'll get back to the internship. I'm in the final year of my degree so I have to finish my thesis and also intern. And I will probably do a film in December.
How do you manage working and studying?
It is fun; I enjoy it all. I think anything is possible. I really believe in that. I don't think what I'm doing is something great but I do get overwhelmed sometimes. There are times when I have no sleep in college and then have to go to shoot afterwards. And since both are creative fields, my mind is always working. But since I've been doing this since my childhood it is a drill I'm used to. I would shoot and then immediately get back to my studies.
-Maya Nelluri