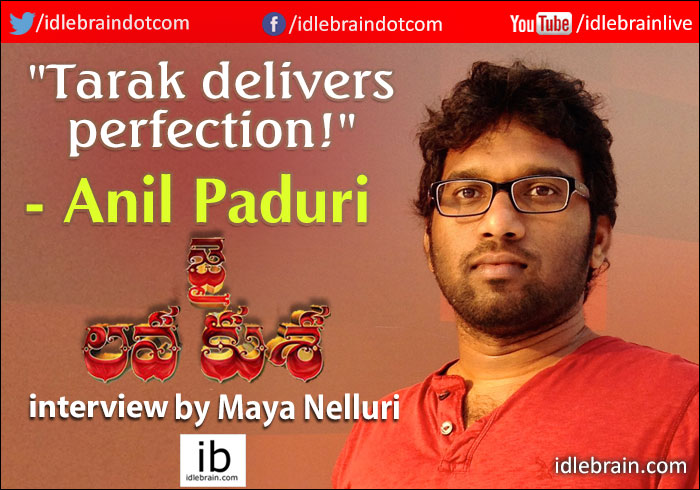 19 September 2017
Hyderabad
Anil Paduri is the man behind the scenes of the upcoming epic Jai Lava Kusa where Jr. NTR dons a triple role. In today's technologically advanced world we have become accustomed to on-screen miracles. But what does it really take to bring forth those splendid cinematic marvels to you? Anil gives us the scoop on what he went through to ensure that Jai Lava and Kusa are brought to you on time and in the most natural way.
Tell us about your role in the making of Jai Lava Kusa.
I am a visual effects supervisor so to put it in lay terms my job is to show Tarak's (Jr. NTR) two or three characters at once on screen and make it look natural. Any day where we needed to have more than one of his characters on the screen I had to be on location to take care of the execution. I would focus on the interaction between the characters and segregate who to shoot first, how the second character reacts and when, and what the third character does at that time. Each shot is done with three layers, one for each character. Within each layer we work on counts. There are ten counts in each layer such as camera, sound etc. I had to decide which layer to shoot first and the actor has to keep the counts in mind while doing each character's role. Then in the end the three layers are mixed and checked to see if the positions and actions look natural all together.
How long did the Jai Lava Kusa take to complete?
The entire process including shooting and post-production took six months. Usually to complete the post-production of such a film requires anywhere from eight to twelve but we had very less time to get it done. For this film the technical complexity was a hurdle but the limited time we had to finish the post-production in was another major issue. There were very complicated shots like one character hugging while the other reacts. And all this had to be done while the camera was moving. Fortunately we finished the post-production in three months. This was because of the strong pipeline we had in place. I would discuss with the executive producer Sandeep Gunnam regarding the priority of the scenes so we ended up shooting the most technically complex and important scenes first. He was great help during the process. We also clearly allocated different scenes to each in-house employee.
What equipment did you use?
We used MOSYS motion control rig for the multiple character shots. But in some shots like in the train or on the steps there wasn't enough space so we had to execute them creatively. We also used digital face modification and prosthetics.
What hurdles does an actor have to face in such a shoot?
The actor has to be very precise in his movements and perfect with his memory, otherwise it is nearly impossible do such a film. The main reason Jai Lava Kusa was executed in such a short period of time was because the hero executed every shot perfectly and the DOP supported the process immensely. They were the pillars of strength for this project. The director did a great job creating the script and establishing the scenes as well.
How was your experience working with Jr. NTR?
Earlier I was of the belief that only robots can be trusted upon to perform or repeat actions perfectly but after working with Tarak I know that even if robots fluctuate due to environmental factors like wind speed, Tarak will deliver perfection every single time. It was a shocking and mind blowing experience for me to work with him on this film. He not only aced acting but technically he was so engaged. He would enquire, learn, and understand the whole CG process and act accordingly. He made the shooting process very easy for the director, DOP, me and everyone.
Also I used to feel like I strain myself with work but when I saw him working till Friday on location and then flying off to work on Big Boss during the weekend I was just in awe. Just shooting for such a complex movie is difficult but on top of that he would even have a creative input by analysing every move and expression. I can only imagine how taxing it must have been for him. Watching a superstar like him work so hard gave me motivation to work harder!
Was this the first project you worked with Jr. NTR on?
No, I've worked on Temper, Nannaku Prematho and Janatha Garage after setting up Advitha Arts. Earlier I worked on Yamadonga as the project supervisor from another company.
How did Advitha Arts come about?
Kalyan garu and Hari garu were my clients during Hare Ram movie. That movie also had the hero playing a dual role so it was also complex. In the process of working on that film we formed a good rapport and when they wanted to start their own VFX company they wanted me to partner with them. So, we ended up forming Advitha Arts in collaboration.
How is your relationship with Kalyan Ram now?
When Advitha happened I started travelling with Kalyan garu and his brother-in-law Hari garu. Although initially we thought we would work on NTR Arts projects, the company just took off and we started taking on more movies. Both Kalyan garu and Hari garu would discuss everything from pre to post production with me while undertaking any new project. We had many interesting conversations about how we can improve scenes and make them bigger and better. Take the flyover scene from Pataas for example. It remains one of the most talked about scenes in the VFX industry. And they gave me my first big opportunity to experiment and explore CG in OM.
Tell us more about your interactions with NTR Arts during this movie.
Kalyan garu, Hari garu and Tarak are very friendly. Whenever we meet it is an inspirational experience because we discuss work. I am free to discuss my ideas with them directly so that relationship really helped during the shoot of Jai Lava Kusa. I could explain what was required clearly to the hero. And he helped with the whole process by rehearsing the flow of shots. I am very grateful that all three of them believed in me and also for having gotten the opportunity to work on this project. And I took it as my responsibility to uphold their faith in me.
Do you remember any particular moment from the shoot?
One episode particularly comes to mind when I think about the shooting. We were shooting in Pune in the same locations where Bajirao Mastani was shot; and it was raining heavily. In that shot Jai's character which is seen with long hair, moustache and beard had to be shot on one day. The very next day we shot Lava with totally different mannerisms and the day after that we shot Kusa. Since these layers were all for one shot we needed to place the camera in the exact same spot every day and Tarak had to repeat exactly the same movements, right down to the most minute details, during each layer. Even the lighting was giving us a lot of issues because every day was different but we corrected it in the post-production. Finally when we saw the results we were amazed because it looks like there really are three Taraks and he has carried the emotion of the shot so seamlessly across the layers and times.
How different was it to work on Jai Lava Kusa compared to other projects?
In a lot of the movies I don't need be on location with them because I am present during the pre and post-production phases to plan and execute. However, for this film I had to be aware of every single aspect of the shots; I had to know every detail clearly.
What were your biggest support systems during the making of this film?
On location definitely Tarak, Chota K. Naidu, and Bobby were of tremendous support. During all the phases Kalyan garu and Hari garu supported a lot so I'd like to thank all of them.
And my team has also been fantastic. In the past couple of months we've had one release after another starting with Jai Janaki Nayaka, Paisa Vasool and now Jai Lava Kusa. There has been a release every 25 days which is a massive undertaking for such big films. My team has been working with four to five hours of sleep every day making it possible to submit the work on time. I am very proud of their support and would like to thank them. My family has also been very supportive of my crazy schedules so I'm grateful for that.
What can we expect next from you in the future?
If something challenging comes to me I'll always be ready and excited to take it on.
-Maya Nelluri