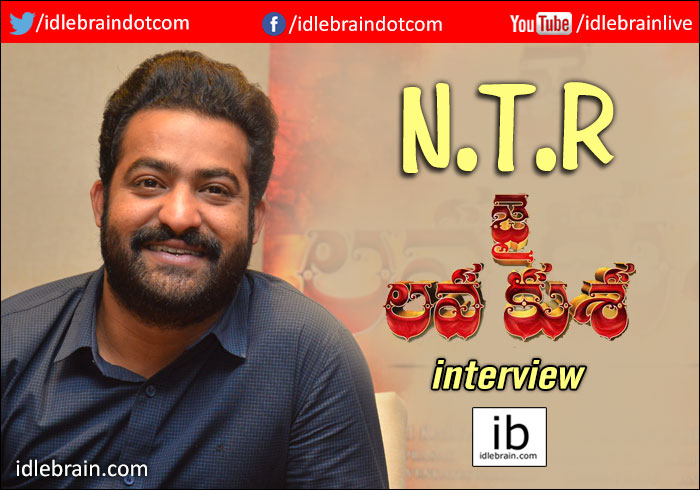 21 September 2017
Hyderabad
Any individual speaking about Jr. NTR aka Tarak utters words or phrases like perfection, inspiration, sea of talent, or unparalleled superstar. But how does this acting genius perceive himself? Just hours after the release of this season's most eagerly awaited film – Jai Lava Kusa, starring the young tiger, we bring to you a compilation of Jr. NTR's own observations and opinions about the film and other aspects of his life.
Having completed 17 years in the industry, what still drives you?
It's primarily because of the passion and interest towards something I like. There's also the constant love, attention and support that fans keep giving us.
Did Jai Lava Kusa feel like you were doing one film or multiple?
It feels like I've done 100 films! *Laughs* It demanded that much intensity actually! We all want that opportunity to prove ourselves and excel and this film provided me that. We had to work very hard but we had to do it to deliver what we wanted to. It is the result which is important.
Did you have to do a lot of preparation for the film?
For Lavudu and Kusudu I had reference points from my own films. Take Raja from Yamadonga for example, he was a sort of a reference for Kusudu. As for Lavudu my role in Nannaku Prematho was a reference point because I was to underplay. So it was easier to achieve them. But for Jai there was no reference. We didn't find anything anywhere so we ended up doing a lot of research; that's not to say that we reinvented the wheel. There was a lot of character preparation. Imagine a person who admires Raavana. Usually if we admire someone we embody their qualities. We started with the question how was Raavana? It is said that during the battle even a God like Rama saw Raavana on the battlefield and stopped in his tracks for a moment. He saw his aura and lustre and started weaving a poem. So the way he is, walks, talks, body parts, everything had to be thought about. Imagine the king who ruled 18 worlds. How would he be? He became the king of kings after capturing so many worlds so how would his ego be? He would be very egotistical. And even his smile or laugh, they should be more like a sarcastic smirk always. There should be sarcasm even if he laughs whole heartedly. He is also a man who intensely stared into the souls of multitudes of people so what would his gaze be like? He is someone who argued with and orated to millions in all those battles so what would his voice be like? He is also a Shiva devotee; someone who daily loudly chanted to appease his chosen God. So how harsh would his voice be? That's how it was decided that Jai's voice should be coarse.
Why the stutter?
All his traits put together was how we envisioned Jai's character. It was the most important aspect of the film because almost all of it is through Jai's eyes. Consider that Jai doesn't talk much. Why does he need to talk when his aura is such? But there was to be another reason why he developed the habit of not speaking much so the stutter came into the picture. But our thought process was that even with the stutter we wanted to induce fear in other's minds when Jai spoke. There had to be even more fear in others when the stutter comes forth. Because when you are watching the movie there should be no chance that you will find it comical.
So does he yell?
Raavana doesn't yell. It has to be very intense and fearsome. It was very difficult to get that voice, even for me.
Does he dance?
Jai dances but not the way in which you think. He does thandavam. *Laughs* Not Shiva thandavam, he does Raavana thandavam, which is the climax song, 'swing zara'.
Which character did you enjoy playing the most?
I enjoyed Raavana's character more. *Laughs* It is new to me. Also, it is said that if we toil upon something we grow close to it so that might be why.
Which of the three characters comes closest to the real NTR?
I have all three shades in me. Not just me, everyone has all three. There is good, bad and mischievous in everyone. There are more but we concentrated on these.
When we read Ramayanam or Mahabharatam, we will come to notice that these stories should and do exist in our lives. Each character in the stories has a meaning to them. When we talk about Ramudu, the first thing that comes to mind is that he is a good man, very soft, great son, brother, husband. Ramudu's role was split into these characters. Raavana on the other hand is the antihero, one who kidnaps Sita. When I was looking into why I was named Taraka Ram, I found out that it is to get those characteristics into us. The reason their mother in the movie names them Jai Lava Kusa is so they become like that. But they become more like Rama Lakshmana and Raavana instead.
How was the experience working with MOSYS?
When you have a robotic arm going right beside you while you are acting, it is very disturbing and overwhelming so it took us some time to get used to. We wanted MOSYS because it can get into any nook and corner and is more practical. It is much easier than working with BOLT. BOLT is massive, more hardcore; we probably would have needed a room to mount on. We were shooting in rooms and small spaces so MOSYS was best.
Did you have to take special care in this project because it is produced by your brother?
Special care no, but there was special pressure because it's my brother's banner. Everything is very open in today's industry. The relation between producer and hero is always the same but in this film there were no tags. We did away with the tags because it is a home banner. There were plenty of decisions I made, plenty he made and also plenty we made together. The point is to deliver something good. When we work together as brothers, who would be happiest? First parents, then kids, then fans. So it is important that our parents, children and fans should like it. That was the reason for the pressure.
How many stories did you listen to after the success of Janatha Garage, before accepting Jai Lava Kusa?
I don't know how many but there were a lot. But it is not because of the success of Janatha Garage. I've said this a million times, for me box office results are not the parameter. For me, the most important thing is that no one should say chi, I'm ok if they feel it's ok, they tried, because of small flaws it didn't work, but they tried for a good story. The good story part is what matters to me. I've experienced the lows; I came from them so I know their importance. Also, more than the fact that this was a movie after Janatha Garage, it was very important that we chose the right script because we were doing a film in NTR Arts. The fact that it was about brothers was coincidental.
What do you look for when you pick a story?
I'm a very emotional person and I like drama. There are many genres in cinema but if you analyse you will notice that almost all the super hits are emotional films. That is as long as it doesn't become mellow. As for me, I find emotion and drama very interesting. Even when I heard the script for Jai Lava Kusa that was the part that attracted me, not the three characters.
What sort of roles do you accept?
As an actor my job is to accept that which excites or challenges me; or can excite the audience. We don't know anyone's longevity in this industry; we can't predict it. So as long as we are here and as long as age permits, if we can do as many roles as possible, it will give us as much happiness as possible.
Does your son watch your movies?
My kid doesn't watch films. He keeps watching cartoons, which is what kids his age should do. And I don't think we should force them into anything they are not interested in; we shouldn't drag them into lives or careers that they are not into. And at 3.5 years I don't even think he knows that his daddy is a hero.
Has Big Boss contributed to your image?
Image has various definitions; it depends on each individual's perception. But I have to say that it's been the right mode to become close to every Telugu person. It's been a blessing. Usually it's only during the pre film release interactions that we become close to the viewers but to be able to be close to and interact with audiences every week is really a blessing. I'm very lucky to have got that chance.
Will you stay with Big Boss in the future?
Future is very unpredictable so I cannot say anything about the next season. I took on Big Boss because it was challenging and exciting to me. And the format was very new. From the beginning there was a feeling in me that audience will accept new ideas, be it in cinema or otherwise. There was a lot of anticipation and doubt within everyone regarding the shows acceptance but now it is such a big success.
What is your perception of all the news floating around on social media about you and your future projects?
There is new news every second on social media. *Laughs* Once upon a time we had to wait for the morning news paper to know the news. After that came the two editions and then electronic media and now there is a social media where every second there is new news. Even now when I'm sitting in front of you there will be some news about me out there. *Laughs*
Does it bother you?
It is a package, there is no good and bad. Negativity and positive are two sides of a coin. So just move on. It's about whether you can face yourself in the mirror. I'm of the belief that you should enjoy it all. It's your personal choice how much you let another person or thing affect your life by giving it importance.
-Maya Nelluri