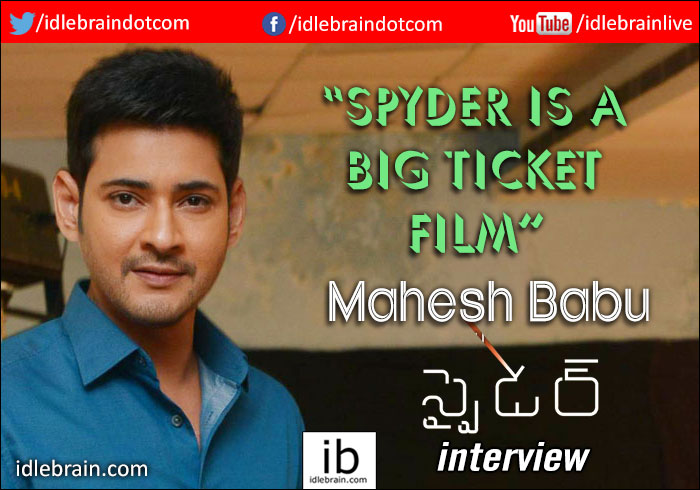 25 September 2017
Hyderabad
Mahesh Babu's first bilingual film Spyder is releasing worldwide on 27 September. He has had a group interview with Telugu film scribes and here are excerpts of the interview -
Tell us about Spyder?
I am very excited as the film is gearing up for the release in 2 days. The entire team worked very hard for the movie. More than 1000 team members worked for this film for over one and half year. We shot the film in 190 working days. We (me and Murugadoss) had been trying to work together for the past 10 years and finally it happened with Spyder. It's my bilingual film. It's like a dream come true.
What is the most exciting aspect for you in this film?
Working with a pan-India director like Murugadoss is the most exciting aspect for me.
If we look at the glimpse of Spyder, there is a robotic spider?
Glimpse of Spyder was a concept teaser. The robotic spyder was created just for that glimpse to introduce hero's character innovatively. It will not be there in the film. I don't want audiences to get confused. There will not be a robotic spider in the film.
Spyder theatrical trailer looks larger than life. Tell us about hero character?
He works as a spy in an intelligence beauro.
Tell us about working in two languages at the same time?
I know both Telugu and Tamil fluently. I thought that doing one take each for two languages would be easy. But after a few days, I realised that it was tough and exhausting. The entire film is shot twice - once in Telugu and once in Tamil. A few of the actors are different in Telugu and Tamil version. Each shot used to take around 5 takes. It's like remaking a film parallelly on the same day. It was a new experience. When I joined Koratala Siva's film shoot after completing Spyder, the work appeared very easy. I grew as an actor with Spyder. We shot the film in 190 working days. I give credit to the director for making sure that energy levels were high throughout.
Is there any biological warfare aspect in the film?
No. We have been very faithful to our theatrical trailer. You get what you see in that. There are lots of exciting highlights in the film. We are holding them back so that audiences will relish them on the big screen. Spyder is a big ticket film. The director wants audiences to enjoy the whole thing in theater.
How is it like working with SJ Surya as an actor as you have already worked with him as a director?
Villain character is very important for Spyder. Spyder is a faceoff between hero and villain. Two months after narrating the subject, Murugadoss informed that SJ Surya were to play villain. I didn't understand first. It took me two days to sink in and then I realised that he was perfect. I have seen his Tamil films. He performs brilliantly as an actor. I don't think anybody else would have played villain character as good as SJ Surya in Spyder.
There is not much of physical interaction between hero and villain in the film. There is an invisible villain to hero in the film. It's an unique concept that way. I don't think any other film has dealt with this before.
Is there any message in the film?
A few of Murugadoss films like Ramana and Kathi have messages delivered in a strong way. Films like Ghajani, Thupaki and Spyder have messages in backlayers in a subtle way.
You had night shoots at Ahmedabad. Tell us about that?
It was a strange schedule. We had permission to shoot the film from 1 am to 5 am for 27 days. We didn't see daylight during that period. We didn't know how a day looks like in Ahmedabad.
The advance booking in India and USA is mind boggling?
I am very much excited to see the euphoria created by Spyder. The audiences should be satisfied in the morning show. I waiting for the morning show crowds to say 'super hit'. There is a huge potential for Spyder as it's the first real bilingual from a Telugu big star. That potential will be realized when we get a blockbuster talk.
Tell us about working with cinematographer Santosh Sivan?
I grew up watching his films like Roja and Dalapathi. I dreamt of working with him. I have tried him many time in the past. But he chooses his work. He told us that his working style doesn't go well with Telugu directors. When we announced Spyder, Santosh Sivan himself called and said that he would do the film.
Tell us about actress Rakul Preet Singh?
I have to give a lot of credit to Rakul. I knew both Telugu and Tamil proficiently. But, Rakul didn't know Tamil, but kept the pace of working together with us to make sure that shooting was smooth.
Tell us about music by Harris Jayaraj?
His music always kicks in slowly. His songs grow on you. But the background score he has done for Spyder will be talked about. It's stunning! Hats off to him!!
How big is Tamil actor Bharath's role in Spyder?
I think he did this film out of his respect for Murugadoss. It is very kind of him to accept it and do it. It's not a cameo, but a very important role.
There is a difference of 43 seconds between Tamil version and and Telugu version runtime?
Yes. Probably due to the logo animation of Lyca for Tamil version (giggles). The runtime of 2:23 hours is very important for a racy action thriller like Spyder. Audiences have to sit at the edge of the seat and should not deviate even for a second.
When are you going to do a film with Rajamouli?
We are committed to work with each other once both of us are free from our present commitments.
When is your film with Koratala Siva going to release?
We will announce in 20 days.